What a month..everything seemed to happen! I didn't think I read many books at all because we were so busy, but I did get a few in! I have to get a lot of work done this month, so maybe this will be the month that I won't get as much read, who knows…
I am loving some of the book titles a few of you have sent in! Thankfully they were at the library! There are some that I am still waiting for, but that's ok.. Feel free to send more titles for me to check out! 🙂
Here is what I read in May and let me know how you are doing on your Goodreads challenge!
Unbecoming by Jenny Downham – Three women – three secrets – one heart-stopping story. Katie, seventeen, in love with someone whose identity she can't reveal. Her mother Caroline, uptight, worn out and about to find the past catching up with her. Katie's grandmother, Mary, back with the family after years of mysterious absence and 'capable of anything', despite suffering from Alzheimers. As Katie cares for an elderly woman who brings daily chaos to her life, she finds herself drawn to her. Rules get broken as allegiances shift. Is Mary contagious? Is 'badness' genetic? In confronting the past, Katie is forced to seize the present. As Mary slowly unravels and family secrets are revealed, Katie learns to live and finally dares to love. Funny, sad, honest and wise, Unbecoming is a celebration of life, and learning to honour your own stories.
What I thought: This book was pretty enjoyable to me! The characters were well done, their personalities matched the character and the way it was written. The storyline was different than what I have been reading lately too which was nice…
Bright Of the Grand Canyon by Marguerite Henry – Long ago, a lone little burro roamed the high cliffs of the Grand Canyon and touched the hearts of all who knew him: a grizzled old miner, a big-game hunter, even President Teddy Roosevelt. Named Brighty by the prospector who befriended him, he remained a free spirit at heart. But when a ruthless claim-jumper murdered the prospector, loyal Brighty risked everything to bring the killer to justice.
Brighty's adventures have delighted generations of readers, and he has become the symbol of a joyous way of life. Some people say that you can even see his spirit roving the canyon on moonlit nights-forever wild, forever free.
What I thought: Even though this was geared more toward children, I really enjoyed it! The story was well told and I love how they put so much personality into an animal the way they did. 🙂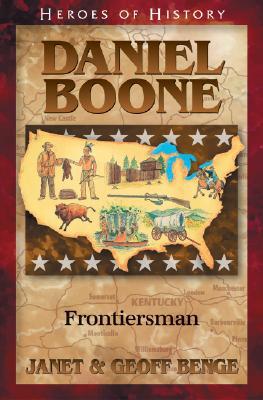 Daniel Boone Frontiersman by Janet & Geoff Benge – Heroes of History is a unique biography series that brings the shaping of history to life with the remarkable true stories of fascinating men and women who changed the course of history. In search of a land to call his own, Daniel Boone fearlessly led a band of brave settlers into bountiful Kentucky wilderness, where his heroic accomplishments on the frontier made him an American legend for all time (1734-1820). Gr. 4-up
What I thought: Yes, another book for school.. This was quite fascinating though! I wrote a review about it earlier this month. I would love to read more of these books for school and I love the study guides with them!
Baggage by S.G. Redling – Over the years, terrible things keep happening to Anna Ray on February 17. First, there was the childhood trauma she's never been able to speak about. Then, to her horror, her husband killed himself on that date.
A year later and a thousand miles away, Anna tries to find solace in the fresh start of a new job in a new place. She takes comfort in her outspoken cousin Jeannie, the confidant and best friend who's there whenever she needs help. On the day of the dreaded anniversary, Anna and Jeannie hit the town, planning to ease the pain with an alcohol-induced stupor and then sleep.…
When Anna awakes the next morning, she thinks she can put one more February 17 behind her, but fate is about to intervene in the form of two gruesome murders with eerie similarities to her violent past. This time, however, she won't be an abandoned daughter or a grieving widow. This time, she'll be a suspect.
What I thought – I had high hopes for this book, but it was just ok. I got into it fine but..it was just ok.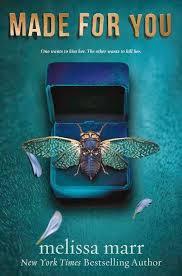 Made For You by Melissa Marr – When Eva Tilling wakes up in the hospital, she's confused—who in her sleepy little North Carolina town could have hit her with their car? And why? But before she can consider the question, she finds that she's awoken with a strange new skill: the ability to foresee people's deaths when they touch her. While she is recovering from the hit-and-run, Nate, an old flame, reappears, and the two must traverse their rocky past as they figure out how to use Eva's power to keep her friends—and themselves—alive. But while Eva and Nate grow closer, the killer grows increasingly frantic in his attempt to get to Eva.
For the first time, New York Times bestselling author Melissa Marr has applied her extraordinary talent to contemporary realism. Chilling twists, unrequited obsession, and high-stakes romance drive this Gothic, racy thriller—a story of small-town oppression and salvation. Melissa's fans, and every YA reader, will find its wild ride enthralling.
What I thought – This started out like it could be very good and then it was just eh. I like it well enough, like the last book, but I think it just petered out for me.
Mother & Son by Emerson Eggerichs, Ph.D – The idea of moms respecting their sons may sound alien to some, but it seems to ignite curiosity across the board. It is easy to relate to the need for all of us to feel a mother's love, but is that the same thing as respect? Even for young boys, the effect of respect is nothing short of astounding when applied properly.
Moms yearn to learn anything that better helps them with their sons. After all, they love their boys, but many find them more difficult to parent than their girls, especially from age four and up.
What makes this all the more urgent is that moms are coaching fathers to love their daughters, but no one has said boo to moms on specific ways to show respect to their sons, at least not in a way that is applicable and fully explained. All realize that little girls need daddy's love, but who is strongly promoting the truth that little boys (and big ones) need Mom's respect? No wonder mothers feel left in the dark on this topic.
Just as Emerson Eggerichs transformed millions of marital relationships with a biblical understanding of love and respect, he now turns these principles to one of the most important relationships of all, a mother and her son.
What I thought: I reviewed this book as well just the other day AND I have a contest so you can win your own copy! 🙂 But I loved the message of this book and it makes total sense!
DC Trip by Sara Benincasa – Alicia Deats is a new teacher chaperoning her very first high school trip to Washington DC, and nothing could be more terrifying than a class full of horny, backstabbing, boundary-pushing teenagers under her watch. To make matters worse, she embarrassed herself with her co-chaperone Bryan Kenner with one too many margaritas and an ill-placed vomiting incident at last year's teacher mixer and is hoping this trip can be a fresh start for them. Alicia believes in positive reinforcement and trust to keep her students out of trouble, but best friend high school sophomores Gertie, Sivan, and Rachel have a different idea: they plan to take full advantage of the un-parented freedom that a trip to DC offers. DC TRIP by novelist-comedian Sara Benincasa is an honest and irreverent journey of sexual confusion, bar shots, drag queens, and pot cookies in the Rose Garden.
What I thought: I thought it was a pretty funny book and that's what had me reading it pretty quickly, just to see what happened. It may not be the most realistic storyline ever, but honestly are any of the books I read? lol. It was a fun read!
Ok, that's it for May! I am currently reading a lot of thick books, not sure if I will finish them in June or not, but stay tuned next month to find out! 🙂