The last couple weeks Lauren has been playing around with a new app on the iPad from Star Toaster called Orphs of the Woodlands at Tangletree. It's not really a book…and it's not really a game… It's kind of both!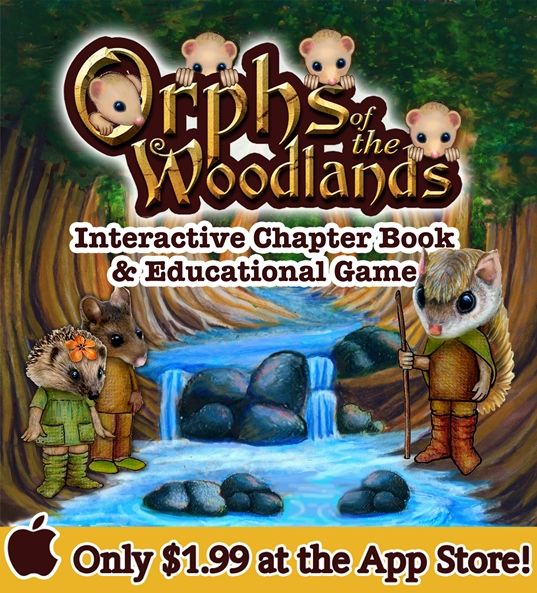 How does that work you ask? Well, let me tell you… It is a book that you can read on the app like normal. But all the while you are trying to accrue enough stars so that you can help take care of the Orphs. You know, orphans… Speaking of that, as you read there are certain highlighted words. Some let you know what the word means, some let you know if it is say, a simile or something else…
So, in this example, we clicked on Orphs and it gave the explanation on what they are. Each word that is underlined is associated with a different color. So the light blue colors are definitions and they also give synonyms to help you understand. Purple is Character and that usually gives one character and what it means with an example. Green is Science and it covers quite a few things, I remember a weasel being one thing! Darker blue is Vocabulary and it will let you know the word and if it is a homonym or other such thing.
So, as you are reading and clicking on these words, you can come to a section where you need to purchase something to keep the Orphs alive. It starts out simple and then things cost more and more. Stars are the currency in the land, so you exchange stars for the different things that you need throughout the game. You end up at Stumptown where everything happens, the screen looks like this..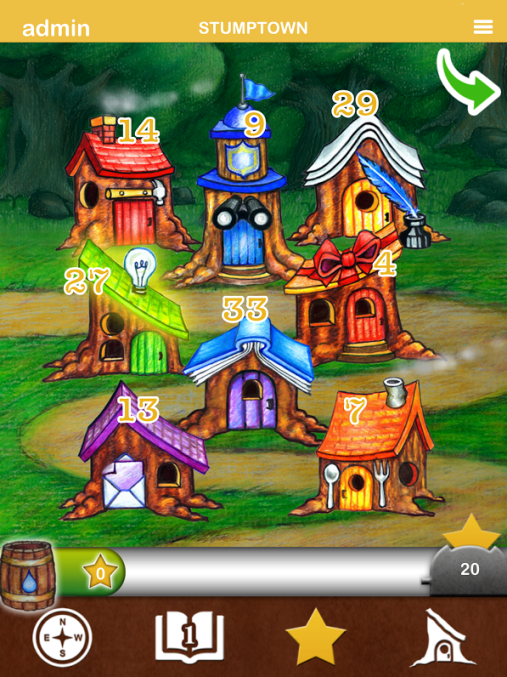 You can see the different houses. As you click on each house you will see another screen that shows you a couple choices: Job Training and Help Wanted.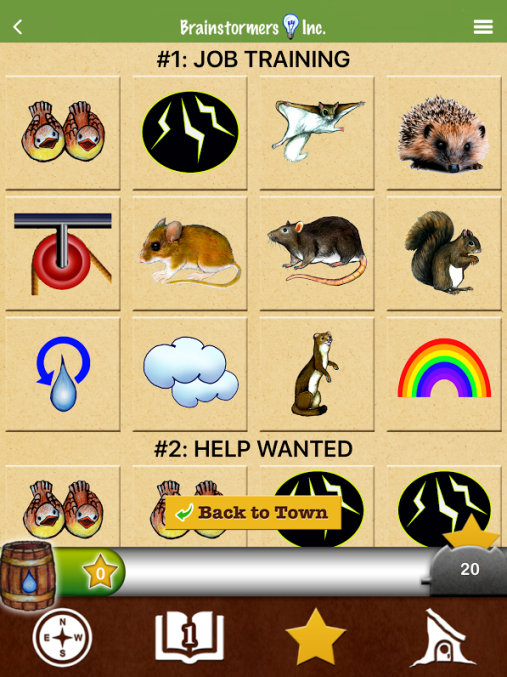 You click on the Job Training section and do everything that it asks, it could be reading about flying squirrels or learning about rainbows. Then you can click on the coordinating Help Wanted squares. Those are usually multiple choice questions or something similar. Once you do what that asks, you are then able to earn your stars! As you go through the story you will continuously need new things!
At this point, Lauren was working towards getting a stove, you can see that it costs 100 gold stars! She had to do quite a few jobs in order to earn that amount! As you read you will keep learning, not just about the story, but all of the other extra things as well!
You can check on the progress your child is making too! This shows an example of what you might see. Notice all of the different categories!
At the end, you get a nice little congratulations video for finishing. There are going to be updates added, so you will be able to keep going with the app. At this point they ask for your email address so they can notify you of upcoming additions to the app.
Now, the app is suggested for ages 9-11. I could see younger kids using this as well. Lauren is turning 13 next week and while some of it seemed beneath her age, she did enjoy learning different things, especially about the animals. She finished the whole story pretty quickly without me asking her to, so that says something. 🙂 But I definitely see how this can help children, with reading, with learning grammar and other things…it is great for only $1.99…
If you want to read what other families with different aged kids thought about it, feel free to click the banner below! 🙂

Orphs of the Woodlands at Tangletree {Review}