I have been a fan of Apologia Educational Ministries for years now. We have loved all of their curriculum that we have used. I was excited to try out the Exploring Creation with Astronomy, 2nd Edition because that was one that we hadn't tried yet and all of my kids love Astronomy!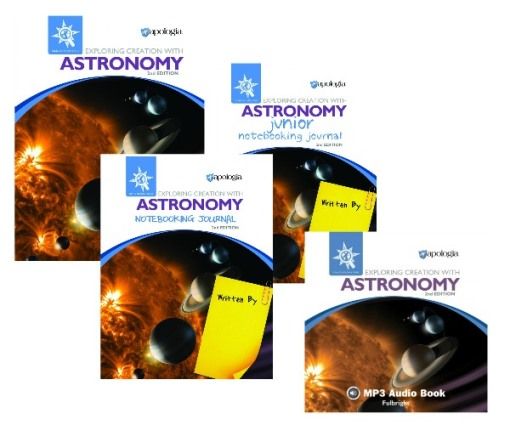 One thing that I noticed was that it meant for younger kids than what I have, but…with Apologia, their curriculum is so thorough that you can use this for a lot of different ages and they will definitely learn something! We have used the Human Anatomy and Physiology before even though it was meant for younger grades. I know I never learned anything like that when I was in school!
So you can see why I was so excited to try out the Astronomy! We had the textbook, the regular notebooking journal as well as the junior notebooking journal and also the MP3 audio book.
If you have never used Apologia, you are in for a treat! They mix science with a Christian viewpoint in such a way that it just makes sense. There are also plenty of activities and fun facts just in the main textbook that your kids won't get bored just reading like in some other textbooks.
The Astronomy book is broken down into 14 lessons. You can work on them on your own timeframe, but if you want suggestions, the notebooking journals have lists on how to spread out all of the lessons.
The first lesson is  'What is Astronomy', which is a great start to this book. The rest of the lessons cover the sun, moon, space rocks, all of the planets individually, Kuiper Belt and the Dwarf Planets and last is Stars, Galaxies, and Space Travel. Even though there are only 14 lessons, each lesson is packed full of information. And if you wanted to make sure it lasted a full year, you could always use the new Astronomy Science Kit as well as breaking things down throughout the book for extra studies. If you are a fieldtrip family, there are so many fieldtrips you could work into with studying Astronomy…and you can use the Field Trip Journal from Apologia as well. We live fairly close to a Planetarium and Science Center and we haven't been yet, so I am looking forward to actually having a reason to go!
The main book alone is such a great thing by itself, but in my opinion, it is so worth it to get the notebooking journals that go with it. We have done that with all of the sciences we have done if they were available. And if you do school together as a family as I do, you will be happy to know that you can have one child working in one level of notebook and another working in a different level. They are still learning from the same main book, but the projects in the notebook will be slightly different.
For example, lesson 3 is all about Mercury. The lesson is nine pages. There is some information about Mercury as well as some planet talk in general just because it is the first planet discussed in the book. After a few pages there is an activity to make craters. Then, there is more of the lesson. I had to laugh because one section asked the child to find out how old their grandmother was in 1974 and they gave the example of her being born in 1968 and therefore she would be six years old. Well, I was alive in 1974 so I felt kind of silly about that as I am not close to being a grandma. Anyway, it had to do with the Mariner 10 visiting Mercury. There is a little more of the lesson and then another activity. This time it was making a model of Mercury.

We did that activity too, although it didn't turn out like their example, it was still fun. All the activities are pretty simple and most of the items you need you already have at home. If you wanted to do the extra activities, that's where the science kit comes from.
The regular notebooking journal for lesson 3 has about 13 pages. There is a space to write down facts and personal reflections, the little math activity that I mentioned above, spaces to jot down info about each activity, a copywork verse in regular and cursive, a minibook that you can assemble about Mercury, a crossword puzzle, a page that lets you draw a picture and/or list the books you read about Mercury, a scrapbook page, and lastly a section of questions that acts like a little quiz about the whole lesson. It is pretty dang thorough and surely your child won't get bored…
The junior notebook also has 13 pages. It is all pretty similar…the crossword puzzle has some letters filled in already and the last two pages are coloring pages with Bible verses as opposed to the little quiz questions.
So, children will definitely be able to work on this book together even if they are at different age levels. What I usually do is read from the book aloud and then we can do all of the activities listed in the journal for that day. I really do appreciate when the curriculum offers a schedule of what to do, it makes my life so much easier and gives me a stopping point.
I didn't use the MP3 CD as we just read the book aloud, but I could see how it would be useful! I am sure I will use it eventually! Maybe on those days that I just want to rest my voice a while..right? 🙂
If you want to read what others thought of their experience with Apologia Astronomy feel free to click the banner below! Maybe they answered some questions you may have, or maybe they used the CD and talked about it…

Apologia Astronomy {Review}