This year of our homeschool we have started using more online choices than we ever did in the past. It has been eye opening, that there is so much available online. I used to only have a desktop computer and it just made it awkward, so now that I have a laptop and can use it at the homeschool table, it opens up a bunch of new opportunities for us! I was excited to try the CHSH Download Club from CHSH-Teach.com.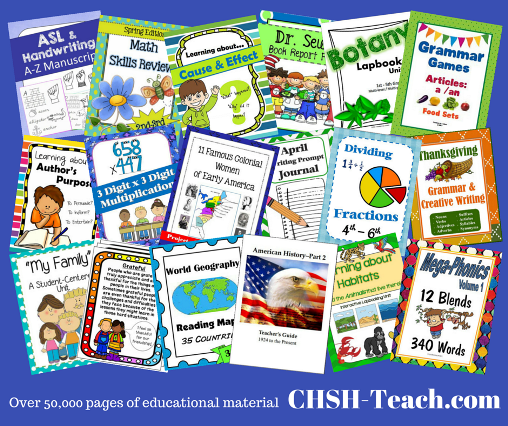 This is a unique site..it has items offered by all sorts of people, not just one person! As you first visit the site, you are greeted by a calendar that lets you know what has happened during the month in the past.
As you can see, if you click on the date it lets you know what happened and when. You can click on any day as well as change months for future planning, in case you wanted to use these dates for teaching later on. Things like that come in handy if you are doing unit studies on a particular subject, or if you want to just fill in some empty spots with random learning opportunities!
Now, the site kind of looks overwhelming when you first look at it, but it is pretty easy once you play around with it… As you scroll down from the calendar you can see the teaching resources offered. It is broken down by by subject, and those include Math, Language Arts, Science, Bible, Languages, Social Studies, Health, Electives, and Arts, Music, and Crafts. You can click on some of the most popular subject choices listed there, or if is is a popular category you can click on the 'see all' button to see everything offered.
Another break down is by grade. Preschool/Kindergarten, 1st-3rd, 4th-8th and then high school. There are lot more choices for the earlier grades than the high school grades, but I was very impressed with the high school choices! I will get into that later…
You can use the month section and that lists holidays, seasons, and other things that happen in certain months. It has Olympics as a selection as well as 9/11 items offered. This can be used in conjunction with the main calendar shown above if you want to see what falls in a certain day of that month or season, and work your studying around that time…
The last two categories are Organization and Miscellaneous. The organization section deals with forms you may want to use, 'how to' suggestions, flashcards, and other things you would want to print. The Miscellaneous section is broken down into Curriculum Treasures from the past, Fun pages, and Lapbooking/Notebooking items.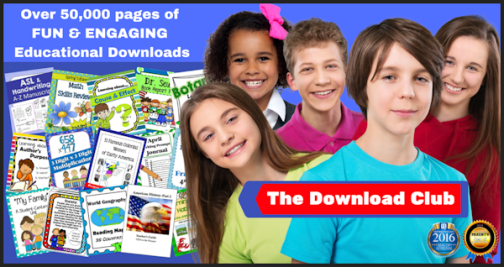 There really is something for everyone! Since I have all teens, I mainly focused on the high school section. But a few of the things we were interested in were for more ages… All of my kids have an instrument that they were interested in learning. But none of them have really learned how to read music! Not the right way to go about that, but the truth is out there now, lol. So we went to the music section and they had flash cards for helping in that area! It automatically brought me back to my band days in elementary school and 'every good boy deserves fudge'…ha! But I can see checking this area out more…
There was also a section on economics…wow, this was huge and very thorough! The student guide itself is 233 pages and the teacher guide is 127! It isn't just some ten page deal… The text really breaks it down to where it is easier to understand.. There are some questions, vocabulary words and just a bunch of information written in an easy way.
One other section that we checked out was the architecture! I think Ryan would make a great architect but who knew if he would be interested in that at all.. But when I clicked on this one, it went a completely different way than I thought it would! Since it is Christian based, it starts out super far back in Bible times as far as structures go.. It then goes into the Pyramids, the Hoover Dam, and the Sydney Opera House…and all sorts of other structures! The included activities suggest movie clips to watch, mapping and timelines to fill out, photos to look at…and more! There are answers to the questions too.. I love this section!
We also messed around with a lot of the math section, a lot of review stuff for us, but it definitely came in handy. I am looking forward to continuing with what we have already chosen and also to choose more things!
If you go and check out the website, there are some free things that you can check out..but the good stuff is all in the download club. It is $25 for the year or $99.99 for a lifetime account! With 50,000 downloadable pages, both are great deals..
If you want to read what others thought about their time with Christian HomeSchool Hub, more than likely with different age choices, feel free to click the link below!

Christian HomeSchool Hub {Review}