A while back we used one of those grocery meal delivery services that the kids would each cook a meal from. It really helped them get the confidence they needed to know they could make a meal like that. It started adding up the more we did, so we put that on pause for a while. I was excited to try out the Everyday Cooking cookbook from Everyday Homemaking. It turned out to be a wonderful thing for our kids to use recipes from!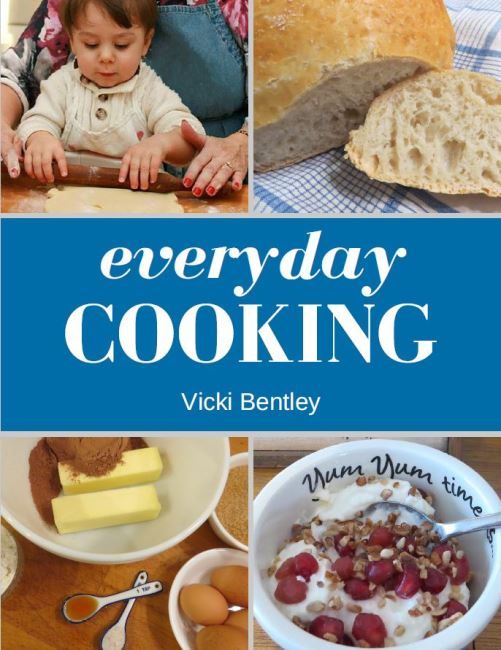 I received the e-book version of the cookbook, although a printed coil-bound book is available as well! I am much better with printed things so I think I would prefer the printed one, or to take the e-book somewhere to get it printed. It is almost 200 pages, so I wouldn't want to print it here!
There are so many recipes in this book! And I appreciate the variety! The cookbook is filled with whole food cooking mixed in with some your (new) favorite chocolate cake recipes. It is a lovely mix of recipes that will surely find you being able to make something for everyone.
The idea started as a small section in the author's homeschooling manual called Home Education 101. Apparently she started getting a following and decided to put them all together in a book!
The book is very simply laid out. The different sections are separated by pages for notes, maybe things you would add or change, or maybe you thought of your own recipe. I wish there were more photos, as that always sells me on trying recipes, but the recipes are very easy to read and go well with the simplicity.
We tried quite a few of the recipes! I didn't get photos of all of them, but I wanted to share the ones that I did..


First of all was the stuffed shells. Now this isn't the easiest to photograph, especially since it was a dinner item, but there ya go. We kinda went overboard on throwing more cheese on top, lol.
I've made this once before a couple years ago with a different recipe and as I was going through the recipes, I realized I was in the mood for pasta so I looked closer at the ingredients. Well, it said I could substitute cottage cheese for ricotta and since I didn't have ricotta, that worked…and I had all the rest of the ingredients!
The recipe was very easy to make and I had Ryan help with stuffing the shells.. It was very tasty and the cottage cheese didn't change it in anyway that I could think of! It also made more than I thought it would! We all had an extra serving as well.. :ahem:
We also tried the fruit salad dressing. It is so simple, and the ingredients are kinda crazy to me, but it works!! I have a go-to recipe that I usually use, but it is a hassle really to make very often. This one I actually cut the recipe in half since I am the only one that eats much fruit really, yay for sensory issues! lol But the recipe doesn't make a ton anyway, so it would be perfect for a typical household.. I also just used vanilla rather than fruit flavored yogurt, as I like it better. Had to go with the red, white, and blue theme with the fruit also…
Another recipe that grabbed my attention was the chocolate oatmeal cookies. I don't use oatmeal to all it's advantages, so I thought I should try them! I had to go to the store for trash bags anyway, so I picked up some plain oats as I was out anyway.. I had everything else though!
The recipe is actually very easy and not too involved as far as cookies go which is great, since our week has been kind of crazy. I am blaming it all on the eclipse…am I right??
I loved the addition of the oats in these cookies! I don't know why I never make oatmeal cookies of any kinds, but I know I will definitely use this recipe again!
The first half of the book is recipes through and through and then there are some tips in the second half that are very useful! I have always wanted to make my own vanilla, but I never have vodka around, lol.
There is also a pressure cooker area, but it deals mostly with Instant Pots and we have a different brand, so honestly I haven't looked at it took closely. I will though, and see if I think it can work with the one we have.
The very back has a section for students, a food and nutrition mini-unit. It says it takes about 1-2 weeks, but there are 13 things that your child should do.. She mentions that her children did it as a junior high/high school age and made it a part of a home economics credit. So many great things that build on why I want my kids to cook often while they are still at home!
I think this is such a great book and am looking forward to using it more! If you are interested, there is a coupon for 10% off your purchase on her site! The Everyday Family Chore System and/or Everyday Cooking (print or e-book) through Labor Day! The code is TOS10books.
If you want to read what others thought of the cookbook, or were interested in what they thought of the Chore System book, feel free to click the banner below!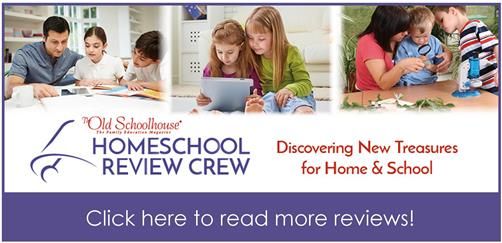 Everyday Cooking