Woah, I didn't read much this month at all! I was stuck with one book for quite some time and that slowed down my reading of other books. This month my mom and brother will be visiting, so I don't know how much I will read either…
But, in case you were wondering….here is what I read in April. 🙂
First Love by James Patterson and Emily Raymond – Axi Moore is a "good girl": She studies hard, stays out of the spotlight, and doesn't tell anyone that what she really wants is to run away from it all. The only person she can tell is her best friend, Robinson–who she also happens to be madly in love with.
When Axi impulsively invites Robinson to come with her on an unplanned cross-country road trip, she breaks the rules for the first time in her life. But the adventure quickly turns from carefree to out-of-control…
A remarkably moving tale with its origins in James Patterson's own past, First Love is testament to the power of first love–and how it can change the rest of your life.
What I thought: I really enjoyed how this story was written. I had no idea the way the story was going to go, it was a surprise for sure! It was a very short easy read for the most part. The characters were intriguing…
Cartwheel by Jennifer duBois – When Lily Hayes arrives in Buenos Aires for her semester abroad, she is enchanted by everything she encounters: the colorful buildings, the street food, the handsome, elusive man next door. Her studious roommate Katy is a bit of a bore, but Lily didn't come to Argentina to hang out with other Americans.
Five weeks later, Katy is found brutally murdered in their shared home, and Lily is the prime suspect. But who is Lily Hayes? It depends on who's asking. As the case takes shape—revealing deceptions, secrets, and suspicious DNA—Lily appears alternately sinister and guileless through the eyes of those around her: the media, her family, the man who loves her and the man who seeks her conviction. With mordant wit and keen emotional insight, Cartwheel offers a prismatic investigation of the ways we decide what to see—and to believe—in one another and ourselves.
Jennifer duBois's debut novel, A Partial History of Lost Causes, was a finalist for the PEN/Hemingway Award for Debut Fiction and was honored by the National Book Foundation's 5 Under 35 program. In Cartwheel, duBois delivers a novel of propulsive psychological suspense and rare moral nuance. Who is Lily Hayes? What happened to her roommate? No two readers will agree. Cartwheel will keep you guessing until the final page, and its questions about how much we really know about ourselves will linger well beyond.
What I thought: Well, I think I expected more from this book. I liked it, overall, but not a strong like. lol. Parts seemed to drag, although I enjoyed some of the extra scenes written. I still don't understand parts of the book…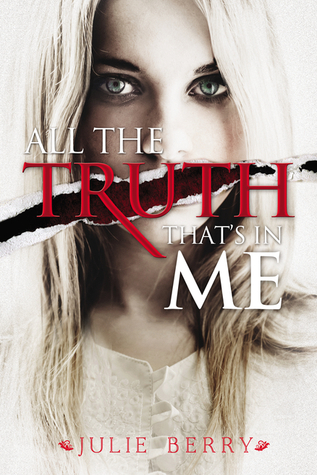 All The Truth That's In Me by Julie Berry – Four years ago, Judith and her best friend disappeared from their small town of Roswell Station. Two years ago, only Judith returned, permanently mutilated, reviled and ignored by those who were once her friends and family. Unable to speak, Judith lives like a ghost in her own home, silently pouring out her thoughts to the boy who's owned her heart as long as she can remember—even if he doesn't know it—her childhood friend, Lucas. But when Roswell Station is attacked, long-buried secrets come to light, and Judith is forced to choose: continue to live in silence, or recover her voice, even if it means changing her world, and the lives around her, forever. This startlingly original novel will shock and disturb you; it will fill you with Judith's passion and longing; and its mysteries will keep you feverishly turning the pages until the very last.
What I thought: I really enjoyed this book! I was surprised at the time period that this took place, there really wasn't a mention of that in the description. The story line was great, the main character told a great story!
The Ghost in the Tokaido Inn by Dorothy and Thomas Hoobler – While attempting to solve the mystery of a stolen jewel, Seikei, a merchant's son who longs to be a samurai, joins a group of kabuki actors in eighteenth-century Japan.
What I thought: We read this together for school. It was an enjoyable story, a lot of history mentioned that was pretty fascinating. Interesting that the Judge mentioned in the story was a real person, although this particular story is not real.
As usual, let me know any good books that you have read lately! Or let me know if you have read any of these, and what you thought! 🙂