Yes… I am so far behind on blogging. There are so many things that I wanted to do on here this month, but alas, time got away from me! In a serious way!
My mom and brother came to visit and that took up half the month. The other half? Well, I think I just blanked on that whole time.  One of those things that I had too much to do so I just gave up and didn't get any of it done… Please tell me I am not the only one that does this…
This month will be better…she says hopefully. 🙂
Anyway…this is what I read in May!
City of Darkness and Light by Rhys Bowen – Molly and Daniel Sullivan are settling happily into the new routines of parenthood, but their domestic bliss is shattered the night a gang retaliates against Daniel for making a big arrest. Daniel wants his family safely out of New York City as soon as possible. In shock and grieving, but knowing she needs to protect their infant son Liam, Molly agrees to take him on the long journey to Paris to stay with her friends Sid and Gus, who are studying art in the City of Light.
But upon arriving in Paris, nothing goes as planned. Sid and Gus seem to have vanished into thin air, and Molly's search to figure out what happened to them will lead her through all levels of Parisian society, from extravagant salons to the dingy cafes where starving artists linger over coffee and loud philosophical debates. And when in the course of her search she stumbles across a dead body, Molly, on her own in a foreign country, starts to wonder if she and Liam might be in even more danger in Paris than they had been at home.
As Impressionism gives way to Fauvism and Cubism, and the Dreyfus affair rocks France, Molly races through Paris to outsmart a killer in City of Darkness and Light, Rhys Bowen's most spectacular Molly Murphy novel yet.
What I thought: I enjoyed this book! The main character was written well. I could have done with a better end part, but it is what it is… I enjoyed reading about this time period and some of the artists mentioned…
The Stench of Honolulu by Jack Handey – Are you a fan of books in which famous tourist destinations are repurposed as unlivable hellholes for no particular reason? Read on!
Jack Handey's exotic tale is full of laugh-out-loud twists and unforgettable characters whose names escape me right now. A reliably unreliable narrator and his friend, who is some other guy, need to get out of town. They have a taste for adventure, so they pay a visit to a relic of bygone days-a travel agent-and discover an old treasure map. She might have been a witch, by the way. Our heroes soon embark on a quest for the Golden Monkey, which takes them into the mysterious and stinky foreign land of Honolulu. There, they meet untold dangers, confront strange natives, kill and eat Turtle People, kill some other things and people, eat another thing, and discover the ruins of ancient civilizations.
As our narrator says, "The ruins were impressive. But like so many civilizations, they forgot the rule that might have saved them: Don't let vines grow all over you."
What I thought: Ok, I am a fan of Deep Thoughts and so I thought I would give this book a go. I liked it for the silliness that it is. I definitely chuckled a few times and other times I was almost embarrassed to be reading it.. Very quick read!
The Hive by Gill Hornby – It's the start of another school year at St. Ambrose. While the children are busy in the classroom, their mothers are learning sharper lessons. Lessons in friendship. Lessons in betrayal. Lessons in the laws of community, the transience of power…and how to get invited to lunch.
Beatrice — undisputed queen bee. Ruler, by Divine Right, of all school fundraising, this year, last year, and, surely, for many to come.
Heather — desperate to volunteer, desperate to be noticed, desperate to belong.
Georgie — desperate for a cigarette.
And Rachel — watching them all, keeping her distance. But soon to discover taht the line between amused observer and miserable outcast is a thin one.
THE HIVE is a wickedly funny and brilliantly observed story about female friendship, power plays, and the joys and perils (well, mainly perils) of trying to do one's part.
What I thought: Ok, this book was written by someone in England and I could NOT keep up with all of the terminology and slang used. I just guessed at a lot of it. I can see the idea that the author had for the storyline, but I think it could have been written differently. The switching of characters was confusing at times. I did witness a bunch of girls acting this way though, desperately wanting to be acccepted, so there is truth in what she is saying. The book was ok, and it took me a long time to get through.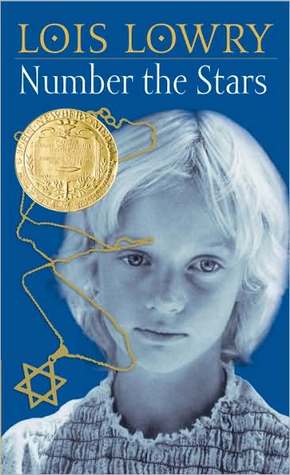 Number the Stars by Lois Lowry – Ten-year-old Annemarie Johansen and her best friend Ellen Rosen often think of life before the war. It's now 1943 and their life in Copenhagen is filled with school, food shortages, and the Nazi soldiers marching through town. When the Jews of Denmark are "relocated," Ellen moves in with the Johansens and pretends to be one of the family. Soon Annemarie is asked to go on a dangerous mission to save Ellen's life.
What I thought: Yes, I am late to the game on this book…but we read it for school.. 🙂 I really enjoyed this book, as short as it was. I liked what the author wrote in the back of the book too, that was interesting.
Pretenders by Lisi Harrison – It takes place at a high school in New Jersey. Summer is over. Sophomore year begins tomorrow. Outfits are being planned. Lunch buddies are being secured. Texts are flying. All seems normal when…ping! Everyone in the sophomore class gets an email.
SUBJECT: The Phoenix Five: License To Spill.
Attached is a mega document.
A letter from a mysterious student starts the book. It explains that at the end of each year the school yearbook- The Phoenix- names the five most outstanding freshman. She (or he) always suspected that last years' five (3 girls, 2 boys) were phonies. She (or he) always thought they tried too hard to be popular. But she (or he) never had the proof. Until now. She (or he) stole the secret diaries they were asked to keep by their English teacher. She (or he) has compiled them into a book.
This is that book.
What I thought: Ok… I was really liking this book and the stories it was telling. The author has a great way of personalizing her characters. I didn't quite understand how the book had anything to do with the Phoenix 5 that was briefly mentioned, and I am assuming that will all come out in the sequel? I think there should have been a little more in the letter leading up to all of the journal entries and a totally different ending. I don't think books should have a 'to be continued' feel to them, there should be a definite ending of some sort. But maybe that is just me..
Anyway, have you read any of these? What did you think? Let me know any titles you have read recently!! 🙂