I can't believe half of the year is over.. Maybe because with the ice storm, winter seemed to stay longer in my thoughts than before. Hard to imagine that in just a couple months it will be Fall again!
June only had me reading four books, I knew it wasn't going to be a lot. I had a lot of deadlines to meet all at the same time it seemed… Of course right now I have started a book that is kind of slow going at the moment. I hope it picks up!
Here is what I read in June!
The Summer I Saved the World…in 65 Days by Michele Weber Hurwitz – It's summertime, and thirteen-year-old Nina Ross is feeling kind of lost. Her beloved grandma died last year; her parents work all the time; her brother's busy; and her best friend is into clothes, makeup, and boys. While Nina doesn't know what "her thing" is yet, it's definitely not shopping and makeup. And it's not boys, either. Though . . . has Eli, the boy next door, always been so cute?
This summer, Nina decides to change things. She hatches a plan. There are sixty-five days of summer. Every day, she'll anonymously do one small but remarkable good thing for someone in her neighborhood, and find out: does doing good actually make a difference? Along the way, she discovers that her neighborhood, and her family, are full of surprises and secrets.
In this bighearted, sweetly romantic novel, things may not turn out exactly as Nina expects. They might be better.
What I thought: This is totally a teen book…I wouldn't even classify it as YA. But it was cute. And if filled the quick read that I needed this month. It is a nice story of someone trying to do a certain number of 'nice' things. I would definitely recommend this book…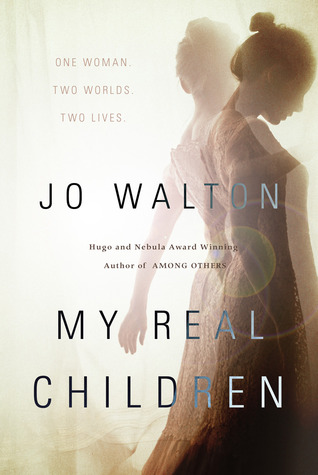 My Real Children by Jo Walton – It's 2015, and Patricia Cowan is very old. "Confused today," read the notes clipped to the end of her bed. She forgets things she should know—what year it is, major events in the lives of her children. But she remembers things that don't seem possible. She remembers marrying Mark and having four children. And she remembers not marrying Mark and raising three children with Bee instead. She remembers the bomb that killed President Kennedy in 1963, and she remembers Kennedy in 1964, declining to run again after the nuclear exchange that took out Miami and Kiev.
Her childhood, her years at Oxford during the Second World War—those were solid things. But after that, did she marry Mark or not? Did her friends all call her Trish, or Pat? Had she been a housewife who escaped a terrible marriage after her children were grown, or a successful travel writer with homes in Britain and Italy? And the moon outside her window: does it host a benign research station, or a command post bristling with nuclear missiles?
Two lives, two worlds, two versions of modern history. Each with their loves and losses, their sorrows and triumphs. My Real Children is the tale of both of Patricia Cowan's lives…and of how every life means the entire world.
What I thought: Woah…what an interesting idea for a book. I am sure there have been other similar stories, but I loved the way this one was told. A woman having lived two different lives.. and during the story, you imagine that one of them is true..but then you realize that she remembers both lives.
This Dark Road to Mercy by Wiley Cash – The critically-acclaimed author of the New York Times bestseller A Land More Kind Than Home returns with a resonant novel of love and atonement, blood and vengeance, involving two young sisters, a wayward father, and an enemy determined to see him pay for his sins
When their mother dies unexpectedly, twelve-year-old Easter and her six-year-old sister Ruby are shuffled into the foster care system in Gastonia, North Carolina, a town not far from the Appalachian mountains. But just as they settle into their new life, their errant father, Wade, an ex-minor league baseball player whom they haven't seen in years, suddenly appears and wants to spend more time with them. Unfortunately, Wade has signed away legal rights to his daughters, and the only way he can get Easter and Ruby back is to steal them away in the middle of the night.
Brady Weller, the girls' court-appointed guardian, begins looking for Wade, and he quickly turns up unsettling information linking Wade to a recent armored car heist, one with a whopping $14.5 million missing. But Brady Weller isn't the only one hunting the desperate father. Robert Pruitt, a shady and mercurial man nursing a years-old vendetta, is also determined to find Wade and claim his due.
What I thought: I enjoyed this story. That's pretty much what it was, a story…someone telling events that happened. I didn't get into the characters as much in this book. I had an issue with how it ended.. It wasn't a strong ending for me. I still did enjoy the story though..
To Kill a Mockingbird by Harper Lee – The unforgettable novel of a childhood in a sleepy Southern town and the crisis of conscience that rocked it, To Kill A Mockingbird became both an instant bestseller and a critical success when it was first published in 1960. It went on to win the Pulitzer Prize in 1961 and was later made into an Academy Award-winning film, also a classic.
Compassionate, dramatic, and deeply moving, To Kill A Mockingbird takes readers to the roots of human behavior – to innocence and experience, kindness and cruelty, love and hatred, humor and pathos. Now with over 18 million copies in print and translated into forty languages, this regional story by a young Alabama woman claims universal appeal. Harper Lee always considered her book to be a simple love story. Today it is regarded as a masterpiece of American literature.
What I thought: What can I say about this book that so many people have read? lol. It was a great story. I hated some of the language in it since we were reading it in school. But it is such an interesting story…
Let me know what books you have read lately and enjoyed! I have a list here to take with me to the library next time. We live in the middle of nowhere so some of your suggestions might be on the list a while, lol.