Ok so…I am sucking on the whole blog thing lately.  Two whole posts a month…wow…the excitement, lol. It will get better though… I was going to attempt Blogtober, but I am going to be gone for a week or so and I probably won't have access to a computer, so I don't know how that would work either… Ah…we will see. 🙂
So, this is what I read in September!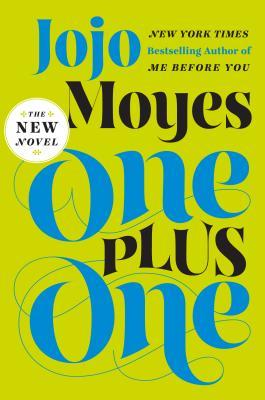 One Plus One by Jojo Moyes – Suppose your life sucks. A lot. Your husband has done a vanishing act, your teenage stepson is being bullied and your math whiz daughter has a once-in-a-lifetime opportunity that you can't afford to pay for. That's Jess's life in a nutshell—until an unexpected knight-in-shining-armor offers to rescue them. Only Jess's knight turns out to be Geeky Ed, the obnoxious tech millionaire whose vacation home she happens to clean. But Ed has big problems of his own, and driving the dysfunctional family to the Math Olympiad feels like his first unselfish act in ages . . . maybe ever.
What I thought: I thought this was a cute story. I like when they give so much character to the younger people in the story. This author is good at doing that. Not sure why I am driven to the UK authors, but I think I am getting the hang of certain words now….ha!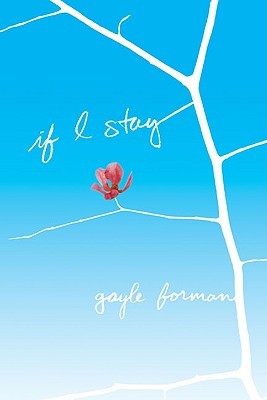 If I Stay by Gayle Forman – Just listen, Adam says with a voice that sounds like shrapnel.
I open my eyes wide now.
I sit up as much as I can.
And I listen.
Stay, he says.
Choices. Seventeen-year-old Mia is faced with some tough ones: Stay true to her first love—music—even if it means losing her boyfriend and leaving her family and friends behind?
Then one February morning Mia goes for a drive with her family, and in an instant, everything changes. Suddenly, all the choices are gone, except one. And it's the only one that matters.
If I Stay is a heartachingly beautiful book about the power of love, the true meaning of family, and the choices we all make.
What I thought: Well, I had accidentally picked up the sequel to this book before I had a chance to read this one! So, I had to wait for this one to come back in at the library.. I am glad I didn't read them out of order! This was a great book! I can't say a lot about it without giving away the whole plot though. It was definitely full of emotion that you could totally get into!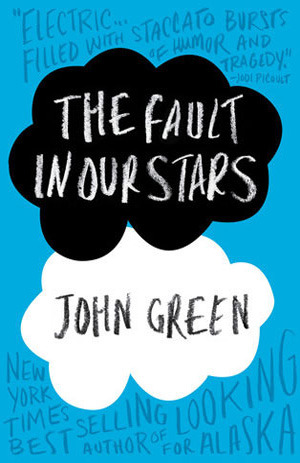 The Fault In Our Stars by John Green – Despite the tumor-shrinking medical miracle that has bought her a few years, Hazel has never been anything but terminal, her final chapter inscribed upon diagnosis. But when a gorgeous plot twist named Augustus Waters suddenly appears at Cancer Kid Support Group, Hazel's story is about to be completely rewritten.
What I thought: Well, I think I read this earlier in the year, or maybe last year…but it was a book club book for the kids to read in September. I read it out loud as I know there were parts in it that I just didn't think needed to be mentioned about to a child or two of mine.. 😉 Again though, I liked the book…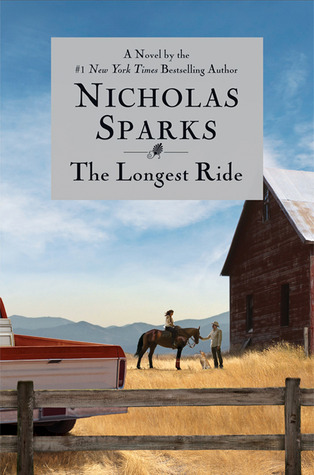 The Longest Ride by Nicholas Sparks – Ira Levinson is in trouble. At ninety-one years old, in poor health and alone in the world, he finds himself stranded on an isolated embankment after a car crash. Suffering multiple injuries, he struggles to retain consciousness until a blurry image materializes and comes into focus beside him: his beloved wife Ruth, who passed away nine years ago. Urging him to hang on, she forces him to remain alert by recounting the stories of their lifetime together – how they met, the precious paintings they collected together, the dark days of WWII and its effect on them and their families. Ira knows that Ruth can't possibly be in the car with him, but he clings to her words and his memories, reliving the sorrows and everyday joys that defined their marriage.
A few miles away, at a local rodeo, a Wake Forest College senior's life is about to change. Recovering from a recent break-up, Sophia Danko meets a young cowboy named Luke, who bears little resemblance to the privileged frat boys she has encountered at school. Through Luke, Sophia is introduced to a world in which the stakes of survival and success, ruin and reward — even life and death – loom large in everyday life. As she and Luke fall in love, Sophia finds herself imagining a future far removed from her plans — a future that Luke has the power to rewrite . . . if the secret he's keeping doesn't destroy it first.
Ira and Ruth. Sophia and Luke. Two couples who have little in common, and who are separated by years and experience. Yet their lives will converge with unexpected poignancy, reminding us all that even the most difficult decisions can yield extraordinary journeys: beyond despair, beyond death, to the farthest reaches of the human heart.
What I thought: Well, I was an extra in the film a while back, so I figured that I should read the book! Kind of upset that someone I was sat next to during filming told me the ending, but it was a wonderful story anyway! I am excited to see the film! I know I probably won't even see myself, but still. 😉 I love that there were a couple stories within the one main story and how it all came together. Of course it has to be a movie, lol.
After the End by Amy Plum –
World War III has left the world ravaged by nuclear radiation. A lucky few escaped to the Alaskan wilderness. They've survived for the last thirty years by living off the land, being one with nature, and hiding from whoever else might still be out there.
At least, this is what Juneau has been told her entire life.
When Juneau returns from a hunting trip to discover that everyone in her clan has vanished, she sets off to find them. Leaving the boundaries of their land for the very first time, she learns something horrifying: There never was a war. Cities were never destroyed. The world is intact. Everything was a lie.
Now Juneau is adrift in a modern-day world she never knew existed. But while she's trying to find a way to rescue her friends and family, someone else is looking for her. Someone who knows the extraordinary truth about the secrets of her past.
What I thought: I enjoyed the story quite a bit. Some of it was no as believable as I would have liked, but overall it was a good story. The ending had me thinking that they were going to write a sequel as I don't think it would end the way it did without one. We will see!
That's all I read for September! Let me know what you read and send me some titles! I am going to be flying a bit here soon, so I am sure I will be reading more then… 🙂