Howdy!
Between storms that left us without power and me not feeling well, I didn't get to post all that I wanted to this last week! I still had one giveaway to do and I still need to pick the winners for the Red Cup Living contest! But, since I wasn't on the computer, I did get some reading done! 😉 With our books that we are reading for school, I am quite ahead of schedule, so I may just up my goal if I see that being a trend.
So, here is what I read in February and maybe you can share what books you read! 🙂
Rasmus and the Vagabond by Astrid Lindgren – After running away from the orphanage, nine-year-old Rasmus finds the outside world cold and unfriendly until he meets "Paradise Oscar" who helps him find a new home.
What I thought: I wrote a review here if you wanted to read more about this book. 🙂
Nourished: A Search for Health, Happiness, and a Full Night's Sleep by Becky Johnson and Rachel Randolph – With humor, honesty and faith Becky Johnson and her daughter Rachel Randolph determine to tackle the stuff that is stressing them out, once and for all. From interviews with friends and lots of research they came up with The Ten Most Common Stressors That Mess with a Woman s Mind: daily challenges that routinely steal her sense of peace and joy. Together Becky and Rachel cook up a plan to live a less depleted and more nourished life. Opposites in many ways mom and daughter share their successes and failures as they make peace with their imperfect bodies, create living spaces they love, get wiser in their relationships, tame jam-packed schedules, settle into God s love, and more. In short, they stumble and journey together toward a life that better nourishes them body, mind, soul and spirit."
What I thought: Again, I wrote a review on my blog here if you wanted to check it out. 🙂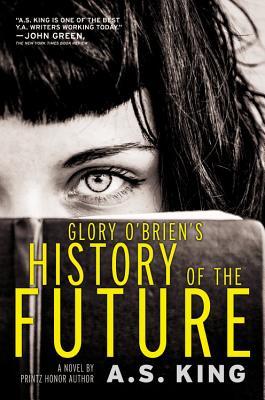 Glory O'Brien's History of the Future by A.S. King – In this masterpiece about freedom, feminism, and destiny, Printz Honor author A.S. King tells the epic story of a girl coping with devastating loss at long last–a girl who has no idea that the future needs her, and that the present needs her even more.
Graduating from high school is a time of limitless possibilities–but not for Glory, who has no plan for what's next. Her mother committed suicide when Glory was only four years old, and she's never stopped wondering if she will eventually go the same way…until a transformative night when she begins to experience an astonishing new power to see a person's infinite past and future. From ancient ancestors to many generations forward, Glory is bombarded with visions–and what she sees ahead of her is terrifying: A tyrannical new leader raises an army. Women's rights disappear. A violent second civil war breaks out. And young girls vanish daily, sold off or interned in camps. Glory makes it her mission to record everything she sees, hoping her notes will somehow make a difference. She may not see a future for herself, but she'll do anything to make sure this one doesn't come to pass.
What I thought: I thought this book was downright odd. Maybe I was just too old for it, lol. I see a good storyline somewhere in there…..but… :shrug:
The Golden Goblet by Eloise Jarvis McGraw – Ranofer struggles to thwart the plottings of his evil brother, Gebu, so he can become master goldsmith like their father in this exciting tale of ancient Egyptian mystery and intrigue.
What I thought: We read this in school and I really enjoyed the book. It went great with our studies of Ancient Egypt. It mentioned a lot of historical things that worked in perfectly. The story was great too, all the way to the end, even though you could pretty much guess what was going to happen. Some humor in the book too.. 🙂
The All-Girl Filling Station's Last Reunion by Fannie Flagg –
Mrs. Sookie Poole of Point Clear, Alabama, has just married off the last of her daughters and is looking forward to relaxing and perhaps traveling with her husband, Earle. The only thing left to contend with is her mother, the formidable Lenore Simmons Krackenberry. Lenore may be a lot of fun for other people, but is, for the most part, an overbearing presence for her daughter. Then one day, quite by accident, Sookie discovers a secret about her mother's past that knocks her for a loop and suddenly calls into question everything she ever thought she knew about herself, her family, and her future.
Sookie begins a search for answers that takes her to California, the Midwest, and back in time, to the 1940s, when an irrepressible woman named Fritzi takes on the job of running her family's filling station. Soon truck drivers are changing their routes to fill up at the All-Girl Filling Station. Then, Fritzi sees an opportunity for an even more groundbreaking adventure. As Sookie learns about the adventures of the girls at the All-Girl Filling Station, she finds herself with new inspiration for her own life.
What I thought: First of all, I think the title of the book is a little misleading as that was such a tiny part of the story.. But other than that, I enjoyed the book. It was two stories in one and they tied in together in a way. I like how you got to know the characters in the story.
Home is Where My People Are by Sophie Hudson – All roads lead to home. It's easy to go through life believing that we can satisfy our longing for home with a three-bedroom, two-bath slice of the American dream that we mortgage at 4 percent and pay for over the course of thirty years. But ultimately, in our deepest places, we're really looking to belong and to be known. And what we sometimes miss in our search for the perfect spot to set up camp is that wherever we are on the long and winding road of life, God is at work in the journey, teaching us, shaping us, and refining us–sometimes through the most unlikely people and circumstances. In "Home Is Where My People Are," Sophie Hudson takes readers on a delightfully quirky journey through the South, introducing them to an unforgettable cast of characters, places, and experiences. Along the way, she reflects on how God has used each of the stops along the road to impart timeless spiritual wisdom and truth. Nobody embodies the South like Sophie Hudson, and this nostalgic celebration of home is sure to make even those north of the Mason-Dixon line long to settle in on the front porch with a glass of sweet tea and reflect on all of the people in our lives who–related or not–have come to represent home. Because at the end of the day, it's not the address on the front door or even the name on the mailbox that says home, but the people who live and laugh and love there, wherever "there" might happen to be.
What I thought: I totally understood where the author was coming from. In so many of her short stories I saw images of my own life. Moving so many times, cross country and back and then back again, friends…all of these experiences help make you who you are, and help you know where home is. 🙂
Amos Fortune free man by Elizabeth Yates – When Amos Fortune was only fifteen years old, he was captured by slave traders and brought to Massachusetts, where he was sold at auction. Although his freedom had been taken, Amos never lost his dignity and courage. For 45 years, Amos worked as a slave and dreamed of freedom. And, at age 60, he finally began to see those dreams come true.
What I thought: I thought this was such a well told story. It went through different years in his life and the things he was going through during each span. Brought to light things that went on back in this time period. We were also studying this era in school and this book helped the kids picture what he was going through.
Well, that's it! Let me know what books you have loved lately! 🙂