Gotta love the 31 day months! I guess i read a lot! Given, we did have another school book involved, but still! I think I will be good and ready for the next Outlander book now, since I am so far ahead in my reading for the year… 😉
Have you read anything wonderful this month? Let me know!! My library is small, but they get titles eventually! Well, usually, lol.
Here is what I read in March!
Girl in Reverse by Barbara Stuber – When Lily was three, her mother put her up for adoption, then disappeared without a trace. Or so Lily was told. Lily grew up in her new family and tried to forget her past. But with the Korean War raging and fear of "commies" everywhere, Lily's Asian heritage makes her a target. She is sick of the racism she faces, a fact her adoptive parents won't take seriously. For Lily, war is everywhere—the dinner table, the halls at school, and especially within her own skin.
Then her brainy little brother, Ralph, finds a box hidden in the attic. In it are a baffling jumble of broken antiques—clues to her past left by her "Gone Mom." Lily and Ralph attempt to match these fragments with rare Chinese artifacts at the art museum. She encounters the artistic genius Elliot James, who attracts and infuriates Lily as he tries to draw out the beauty of her golden heritage. Will Lily summon the courage to confront her own remarkable creation story? The real story, and one she can know only by coming face-to-face with the truth long buried within the people she thought she knew best.
What I thought: I enjoyed this book! I thought it was well told and the characters were written well. I had no idea what to expect by reading the 'about' section so I was happy that I liked it…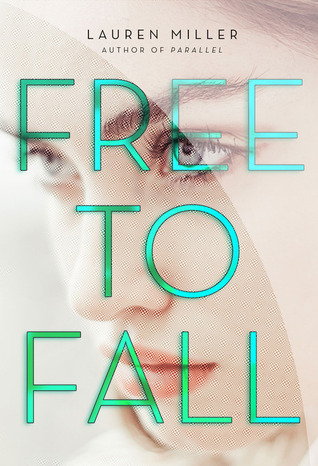 Free to Fall by Lauren Miller – What if there was an app that told you what song to listen to, what coffee to order, who to date, even what to do with your life—an app that could ensure your complete and utter happiness?
What if you never had to fail or make a wrong choice?
What if you never had to fall?
Fast-forward to a time when Apple and Google have been replaced by Gnosis, a monolith corporation that has developed the most life-changing technology to ever hit the market: Lux, an app that flawlessly optimizes decision making for the best personal results.
Just like everyone else, sixteen-year-old Rory Vaughn knows the key to a happy, healthy life is following what Lux recommends. When she's accepted to the elite boarding school Theden Academy, her future happiness seems all the more assured. But once on campus, something feels wrong beneath the polished surface of her prestigious dream school.
Then she meets North, a handsome townie who doesn't use Lux, and begins to fall for him and his outsider way of life. Soon, Rory is going against Lux's recommendations, listening instead to the inner voice that everyone has been taught to ignore — a choice that leads her to uncover a truth neither she nor the world ever saw coming.
What I thought: I really liked this and I was surprised by that. I thought it might have a slight cheese factor, but it really was told well. I could totally see this happening in our world too, as crazy as that is…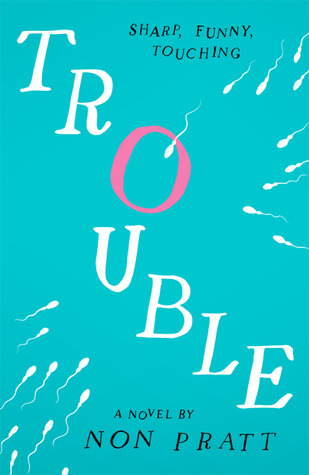 Trouble by Non Pratt – In this dazzling debut novel, a pregnant teen learns the meaning of friendship—from the boy who pretends to be her baby's father.
When the entire high school finds out that Hannah Shepard is pregnant via her ex-best friend, she has a full-on meltdown in her backyard. The one witness (besides the rest of the world): Aaron Tyler, a transfer student and the only boy who doesn't seem to want to get into Hannah's pants. Confused and scared, Hannah needs someone to be on her side. Wishing to make up for his own past mistakes, Aaron does the unthinkable and offers to pretend to be the father of Hannah's unborn baby. Even more unbelievable, Hannah hears herself saying "yes."
Told in alternating perspectives between Hannah and Aaron, Trouble is the story of two teenagers helping each other to move forward in the wake of tragedy and devastating choices. As you read about their year of loss, regret, and hope, you'll remember your first, real best friend—and how they were like a first love.
What I thought –  Parts of this were ok. Parts I just didn't like reading about. I think that is what made me cringe at this book. I don't want to say too much as it will give it away, but yeah. It was a good, ok story…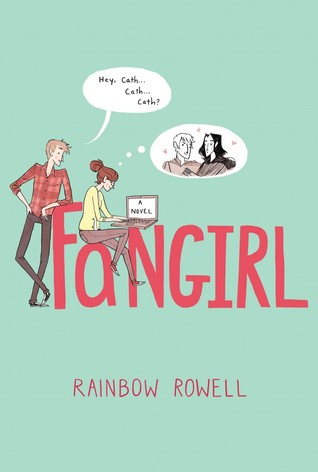 Fangirl by Rainbow Rowell – A coming-of-age tale of fan fiction, family and first love.
Cath is a Simon Snow fan.
Okay, the whole world is a Simon Snow fan…
But for Cath, being a fan is her life—and she's really good at it. She and her twin sister, Wren, ensconced themselves in the Simon Snow series when they were just kids; it's what got them through their mother leaving.
Reading. Rereading. Hanging out in Simon Snow forums, writing Simon Snow fan fiction, dressing up like the characters for every movie premiere.
Cath's sister has mostly grown away from fandom, but Cath can't let go. She doesn't want to.
Now that they're going to college, Wren has told Cath she doesn't want to be roommates. Cath is on her own, completely outside of her comfort zone. She's got a surly roommate with a charming, always-around boyfriend, a fiction-writing professor who thinks fan fiction is the end of the civilized world, a handsome classmate who only wants to talk about words… And she can't stop worrying about her dad, who's loving and fragile and has never really been alone.
For Cath, the question is: Can she do this?
Can she make it without Wren holding her hand? Is she ready to start living her own life? Writing her own stories?
And does she even want to move on if it means leaving Simon Snow behind?
What I thought: I have liked every book Rainbow Rowell has written that I have read…and this is no exception. Cute storyline, very believable too for the most part. I enjoyed reading this book and would have liked for it to continue. 🙂
Out of my Mind by Sharo M. Draper – If there is one book teens and parents (and everyone else) should read this year, Out of My Mind should be it. (Denver Post).
Melody is not like most people. She cannot walk or talk, but she has a photographic memory; she can remember every detail of everything she has ever experienced. She is smarter than most of the adults who try to diagnose her and smarter than her classmates in her integrated classroom – the very same classmates who dismiss her as mentally challenged, because she cannot tell them otherwise. But Melody refuses to be defined by cerebral palsy. And she's determined to let everyone know it – somehow.
In this breakthrough story, reminiscent of The Diving Bell and the Butterfly, from multiple Coretta Scott King Award-winner Sharon Draper, readers will come to know a brilliant mind and a brave spirit who will change forever how they look at anyone with a disability.
What I thought: It was quite interesting getting in the mind of Melody in this book. I can imagine there are a lot of people out there going through the same thing. It didn't totally have the happily ever after ending that I thought it would have and in fact, the ending was just kind of…eh. Good quick read though!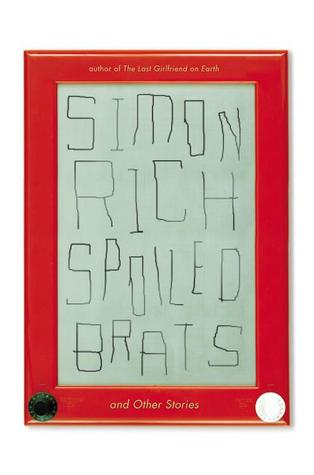 Spoiled Brats: Stories by Simon Rich – In his collection SPOILED BRATS, Simon Rich takes his absurd, culture-skewering style to new heights, marrying the literary polish of writers like Karen Russell and George Saunders with the humor of Steve Martin to deliver truly dazzling tales.
SPOILED BRATS is about the battles we fight with the ones who love us most: our parents. In "Family Business," a young chimpanzee offends his working class father by choosing to become a research animal instead of joining the family grub-hunting business. In "Proud Mom," a young mother is so besotted she doesn't realize her child is actually, truly a monster. And in "Animals," the fate of a terrified classroom hamster hangs in the balance when a notorious kid is picked for hamster care duty.
What I thought: Um. No. Totally not what I thought it would be from reading the little preview. I thought it would be humorous with some truths mixed in and well…it just wasn't funny much at all. Maybe it needs someone with a different sense of humor. 😛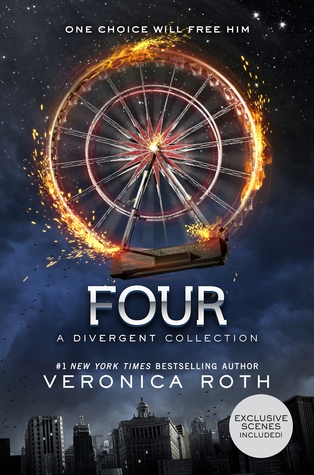 Four by Veronica Roth – Two years before Beatrice Prior made her choice, the sixteen-year-old son of Abnegation's faction leader did the same. Tobias's transfer to Dauntless is a chance to begin again. Here, he will not be called the name his parents gave him. Here, he will not let fear turn him into a cowering child.
Newly christened "Four," he discovers during initiation that he will succeed in Dauntless. Initiation is only the beginning, though; Four must claim his place in the Dauntless hierarchy. His decisions will affect future initiates as well as uncover secrets that could threaten his own future—and the future of the entire faction system.
Two years later, Four is poised to take action, but the course is still unclear. The first new initiate who jumps into the net might change all that. With her, the way to righting their world might become clear. With her, it might become possible to be Tobias once again.
From #1 New York Times bestselling author Veronica Roth comes a companion volume to the worldwide bestselling DIVERGENT series, told from the per-spective of the immensely popular character Tobias. The four pieces included here—THE TRANSFER, THE INITIATE, THE SON, and THE TRAITOR—plus three additional exclusive scenes, give readers an electrifying glimpse into the history and heart of Tobias, and set the stage for the epic saga of the DIVERGENT trilogy.
What I thought: Yes! This was such a necessary book to write and I am so glad she did. It was interesting to see Four's story play out! It explained some things too! Ahh, now I want to re-read the other books again!!
Ok, that's it for March! I am hoping for some good books in April! 🙂