So, I realize I have not been around much lately. With random health issues that had me going to numerous doctors and also a trip to the ER, and Ryan going to dr's as well..it's just been crazy around here.
I did get a little reading done though!
This is what I read in May and I am getting close to my goal already and the year is only almost half over!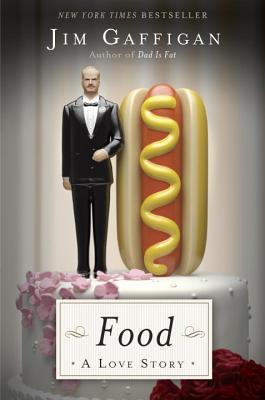 Food by Jim Gaffigan – "What are my qualifications to write this book? None really. So why should you read it? Here's why: I'm a little fat. If a thin guy were to write about a love of food and eating I'd highly recommend that you do not read his book."
Bacon. McDonalds. Cinnabon. Hot Pockets. Kale. Stand-up comedian and author Jim Gaffigan has made his career rhapsodizing over the most treasured dishes of the American diet ("choking on bacon is like getting murdered by your lover") and decrying the worst offenders ("kale is the early morning of foods"). Fans flocked to his New York Times bestselling book Dad is Fat to hear him riff on fatherhood but now, in his second book, he will give them what they really crave—hundreds of pages of his thoughts on all things culinary(ish). Insights such as: why he believes coconut water was invented to get people to stop drinking coconut water, why pretzel bread is #3 on his most important inventions of humankind (behind the wheel and the computer), and the answer to the age-old question "which animal is more delicious: the pig, the cow, or the bacon cheeseburger?"
What I thought: At first I thought of how funny a lot of this book reminded me of Jeffy…hahaha… There were a lot of funny bits. I think a little throughout the book it kinda started to get old, but there were still funny bits…It was ok. 🙂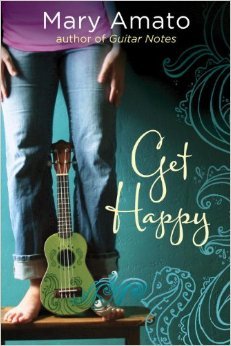 Get Happy by Mary Amato – In this poignant, realistic, contemporary YA by a state master list star, perfect for fans of Sarah Dessen and Gayle Forman, a young songwriter builds a substitute family with her friends in place of the broken family she grew up with.
A hip high school girl who loves music, writes songs, and is desperate for a ukelele, learns to her shock that her father did not abandon her years ago and has been trying to keep in touch. She begins to investigate him, only to discover that he has a new life with a new family, including the perfect stepdaughter, a girl who Minerva despises.
What I thought: I liked this book ok. It was a cute story. It kind of went off in a way that I didn't expect. But that's ok. It was a very quick read, which I needed…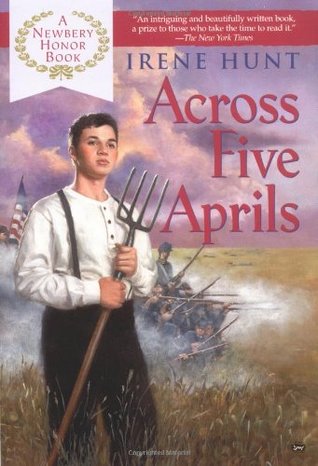 Across Five Aprils by Irene Hunt – The Newbery Award winning author of Up a Road Slowly presents the unforgettable story of Jethro Creighton—a brave boy who comes of age during the turbulent years of the Civil War.
What I thought: This was a school book that we read. It was interesting to hear a different side of things that were going on during this time… It wasn't a totally fascinating book, but I appreciated the story anyway. 🙂
When by Victoria Laurie – Maddie Fynn is a shy high school junior, cursed with an eerie intuitive ability: she sees a series of unique digits hovering above the foreheads of each person she encounters. Her earliest memories are marked by these numbers, but it takes her father's premature death for Maddie and her family to realize that these mysterious digits are actually death dates, and just like birthdays, everyone has one.
Forced by her alcoholic mother to use her ability to make extra money, Maddie identifies the quickly approaching death date of one client's young son, but because her ability only allows her to see the when and not the how, she's unable to offer any more insight. When the boy goes missing on that exact date, law enforcement turns to Maddie.
Soon, Maddie is entangled in a homicide investigation, and more young people disappear and are later found murdered. A suspect for the investigation, a target for the murderer, and attracting the attentions of a mysterious young admirer who may be connected to it all, Maddie's whole existence is about to be turned upside down. Can she right things before it's too late?
What I thought: I really liked this book. I could see it being a movie or something. It made you think about what you would do in that sort of situation!
Come Home by Lisa Scottoline – Jill Farrow is a typical suburban mom who has finally gotten her and her daughter's lives back on track after a divorce. She is about to remarry, her job as a pediatrician fulfills her—though it is stressful—and her daughter, Megan, is a happily over-scheduled thirteen-year-old juggling homework and the swim team.
But Jill's life is turned upside down when her ex-stepdaughter, Abby, shows up on her doorstep late one night and delivers shocking news: Jill's ex-husband is dead. Abby insists that he was murdered and pleads with Jill to help find his killer. Jill reluctantly agrees to make a few inquiries and discovers that things don't add up. As she digs deeper, her actions threaten to rip apart her new family, destroy their hard-earned happiness, and even endanger her own life. Yet Jill can't turn her back on a child she loves and once called her own.
What I thought: One of my favorite authors, she really hasn't disappointed me yet! This was another good book. I love that there are always twists and turns in the story. 🙂 I finished this one late last night, so I barely made the cut…lol.
I hope to get more caught up on the blog soon! I am done with the dr's for a few months thankfully…  I do have some posts planned, I need to show my last Stitch Fix box and some pasta recipes… All sorts of them.. So stay tuned!! 🙂