Wellll, lookee here, it is already August! Crazy how that happens! And I haven't blogged as much as I said I was going to. After this weekend, I am thinking life will get back to normal and I will be good to go again. 🙂
Since I am counting books that we read in school, I am thinking I should up my books read challenge number. Some of the books are pretty small. I enjoy them though! The boys are frustrated that they have had mostly girl main characters lately, but I think our next book that we are going to start on Monday has a boy in it…
Anyway, here is what I read in July and again, let me know any good titles of books! I haven't gone to the big library much so I am dependent on the small library, but any titles are great!! 🙂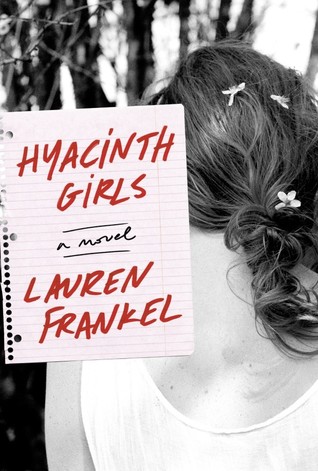 Hyacinth Girls by Lauren Frankel – Thirteen year old Callie is accused of bullying at school, but Rebecca knows the gentle girl she's raised must be innocent. After Callie is exonerated, she begins to receive threatening notes from the girl who accused her, and as these notes become desperate, Rebecca feels compelled to intervene. As she tries to save this unbalanced girl, Rebecca remembers her own intense betrayals and best-friendships as a teenager, when her failure to understand those closest to her led to tragedy. She'll do anything to make this story end differently. But Rebecca doesn't understand what's happening or who is truly a victim, and now Callie is in terrible danger.
This raw and beautiful story about the intensity of adolescent emotions and the complex identity of a teenage girl looks unflinchingly at how cruelty exists in all of us, and how our worst impulses can estrange us from ourselves – or even save us.
What I thought – This book was kind of hard to follow for me. And it was pretty depressing too. I don't think this was a good month for me to read this book. It definitely didn't go the way that I thought it would, which is interesting…
Driving with the Top Down by Beth Harbison – Colleen Bradley is married with a teenage son, a modest business repurposing and reselling antiques, and longtime fear that she was not her husband's first choice. When she decides to take a road trip down the east coast to check out antique auctions for her business, she also has a secret ulterior motive. Her one-woman mission for peace of mind is thrown slightly off course when sixteen year old Tamara becomes her co-pilot. The daughter of Colleen's brother-in-law, Tamara is aware that when people see her as a screw-up, but she knows in her heart that she's so much more. She just wishes her father could see it, too.
The already bumpy trip takes another unexpected turn when they stop at the diner that served as Colleen's college hangout and run into her old friend, Bitty Nolan Camalier. Clearly distressed, Bitty gives them a story full of holes: angry with her husband, she took off on her own, only to have her car stolen. Both Colleen and Tamara sense that there's more that Bitty isn't sharing, but Colleen offers to give Bitty a ride to Florida.
So one becomes two becomes three as Colleen, Tamara, and Bitty make their way together down the coast. It's a road trip fraught with tension as Tamara's poor choices come back to haunt her and Bitty's secrets reach a boiling point. With no one to turn to but each other, these three women might just discover that you can get lost in life but somehow, true friends provide a roadmap to finding what you're really looking for.
What I thought: I liked this book a lot! It had a great story line, although I think the general idea has been done often before…the characters were developed nicely. It was an overall enjoyable book!
The Bronze Bow by Elizabeth George Speare – He trains my hands for war, so that my arms can bend a bow of bronze. –from the Song of David (2 Samuel 22:35)
The Bronze Bow, written by Elizabeth George Speare (author of The Witch of Blackbird Pond) won the Newbery Medal in 1962. This gripping, action-packed novel tells the story of eighteen-year-old Daniel bar Jamin—a fierce, hotheaded young man bent on revenging his father's death by forcing the Romans from his land of Israel. Daniel's palpable hatred for Romans wanes only when he starts to hear the gentle lessons of the traveling carpenter, Jesus of Nazareth. A fast-paced, suspenseful, vividly wrought tale of friendship, loyalty, the idea of home, community . . . and ultimately, as Jesus says to Daniel on page 224: "Can't you see, Daniel, it is hate that is the enemy? Not men. Hate does not die with killing. It only springs up a hundredfold. The only thing stronger than hate is love." A powerful, relevant read in turbulent times.
What I thought: Even though this book was one we read for school, I really enjoyed it! There was a great storyline and a lot of things happened that you didn't expect. I totally recommend it!
Lost and Found by Brooke Davis – Millie Bird, seven years old and ever hopeful, always wears red gumboots to match her curly hair. Her struggling mother, grieving the death of Millie's father, leaves her in the big ladies' underwear department of a local store and never returns.
Agatha Pantha, eighty-two, has not left her house—or spoken to another human being—since she was widowed seven years ago. She fills the silence by yelling at passersby, watching loud static on TV, and maintaining a strict daily schedule.
Karl the Touch Typist, eighty-seven, once used his fingers to type out love notes on his wife's skin. Now that she's gone, he types his words out into the air as he speaks. Karl's been committed to a nursing home, but in a moment of clarity and joy, he escapes. Now he's on the lam.
Brought together at a fateful moment, the three embark upon a road trip across Western Australia to find Millie's mother. Along the way, Karl wants to find out how to be a man again; Agatha just wants everything to go back to how it was.
Together they will discover that old age is not the same as death, that the young can be wise, and that letting yourself feel sad once in a while just might be the key to a happy life.
What I thought: I had no idea what was going on in this book half the time. It started out interesting, got a little crazy and then I got completely lost…and the ending was just a big 'huh?'. Ah well…
The Runaway King by Jennifer A. Nielsen – A kingdom teetering on the brink of destruction. A king gone missing. Who will survive? Find out in the highly anticipated sequel to Jennifer A. Nielsen's blockbuster THE FALSE PRINCE!
Just weeks after Jaron has taken the throne, an assassination attempt forces him into a deadly situation. Rumors of a coming war are winding their way between the castle walls, and Jaron feels the pressure quietly mounting within Carthya. Soon, it becomes clear that deserting the kingdom may be his only hope of saving it. But the further Jaron is forced to run from his identity, the more he wonders if it is possible to go too far. Will he ever be able to return home again? Or will he have to sacrifice his own life in order to save his kingdom?
The stunning second installment of The Ascendance Trilogy takes readers on a roller-coaster ride of treason and murder, thrills and peril, as they journey with the Runaway King!
What I thought: I am so glad the kids book club decided to read the next book in this series! We enjoyed the first book so much and this one was great too! Lauren said she heard the possibility of them turning it into a movie, I think that would be a great idea! I totally recommend this for kids and for adults who don't mind a younger book. Great humor in the author's writing!
The Sweetness of Life by Paulus Hochgatterer – A German bestseller, winner of the European Union Prize for Literature, and longlisted for the German Book Prize in 2006, Paulus Hochgatterer has created a chilling psychological thriller a group of damaged people living in a pleasant and seemingly tranquil Austrian village. It's the Christmas holiday, the presents have been opened, and a six-year-old girl is drinking cocoa and playing with her grandfather. The doorbell rings, and the old man gets up. The next time the girl sees her grandfather, he is lying by the barn, his skull broken; his face a red pulp against the white snow. From that time on, she does not speak a single word.
Along with Detective Superintendent Ludwig Kovacs, Raffael Horn, the psychiatrist engaged to treat the silent child, reluctantly becomes involved in solving the murder. Their parallel researches sweep through the town: a young mother who believes her new-born child is the devil; a Benedictine monk who uses his iPod to drown the voices in his head; a high-spending teenager who tortures cats. With his background as a child psychiatrist, Hochgatterer draws back the veil of normality and presents a disconcerting portrait of a winter-held town filled with unsavory inhabitants.
What I thought: When characters switch around quickly in books, I have a hard time unless it is done the right way. I was pretty confused with these characters. Who was the cop, who was the psychiatrist…etc. It was a tough read as well as a lot of German words, so…that just made it difficult. And then the ending? I totally didn't get it. I see where the story was going but….it's just not my cup of tea in the way it was done..
All-of-a-Kind Family by Sydney Taylor – It's the turn of the century in New York's Lower East Side and a sense of adventure and excitement abounds for five young sisters – Ella, Henny, Sarah, Charlotte and Gertie. Follow along as they search for hidden buttons while dusting Mama's front parlor, or explore the basement warehouse of Papa's peddler's shop on rainy days. The five girls enjoy doing everything together, especially when it involves holidays and surprises. But no one could have prepared them for the biggest surprise of all!
What I thought: This was another book we read for school. Obviously I think, lol. It was a cute story, or little scenes throughout a book I guess. I liked reading about life in simpler days. When kids would get excited for a penny. Cute book!
I Will Always Write Back by Caitlin Alifirenka and Martin Ganda – he true story of an all-American girl and a boy from an impoverished city in Zimbabwe and the letter that changed both of their lives forever.
It started as an assignment. Everyone in Caitlin's class wrote to an unknown student somewhere in a distant place. All the other kids picked countries like France or Germany, but when Caitlin saw Zimbabwe written on the board, it sounded like the most exotic place she had ever heard of–so she chose it.
Martin was lucky to even receive a pen pal letter. There were only ten letters, and forty kids in his class. But he was the top student, so he got the first one.
That letter was the beginning of a correspondence that spanned six years and changed two lives.
In this compelling dual memoir, Caitlin and Martin recount how they became best friends –and better people–through letters. Their story will inspire readers to look beyond their own lives and wonder about the world at large and their place in it.
What I thought: Ohh how I loved this book. When I first saw that it was about penpals, that totally got me. I was curious how they were going to do it. The story line was great. I read this book very quickly because I wanted to see how it ended. I love that it is a true story and there are photos in the book as well! Fascinating.
Well, that's it for this month! I am glad that it ended on a good note, I am reading a book now that is pretty difficult, hopefully it doesn't take me all month to read it, lol.