I had set my 2015 Goodreads book goal at 60 for the year. I had set it lower than what I read the previous two years, but I wasn't sure how things would go with our school schedules and such. I ended up reading 67 for the year! Now, granted, some of those were smaller books for school and such, but I also read some big books..so I think it evens out…lol.
This year I set my goal at 62 because I think our school year is going to be a little more hectic than in the past, but I think I can still do 60…so I will try for 62. We will see how it goes! Is anyone else making a book goal for 2016?
Here is what I read in December!
Into the Dangerous World by Julie Chibbaro – 17-year old Ror comes from the boonies and is tough as nails and all she really cares about is drawing and painting and making art. She ends up in the ghetto that was Manhattan in 1984, where she discovers that the walls, the subways, the bridges are covered with art. Before long, she runs into trouble with Trey, the ultimate bad boy and president of Noise Ink, a graffiti crew she desperately wants to join at all costs.
When Ror falls in love with Trey, she realizes she'll do just about anything to get up in the scene. She has some decisions to make: she wants to be a street artist but she doesn't want get shot by the cops; she wants her stuff in the museum but she doesn't want to die waiting to become famous; she wants to makes money selling her work in a gallery but she doesn't want to be a puppet at the mercy of a dealer. The book follows her descent into a dangerous world, where her drawings are her only salvation.
Ror's journey is a seamless blend of words and pictures, cinematic in its scope – a sharp-edged, indelible creation that will live inside your head.
What I thought: This book wasn't like any I have ever read, which is great! I found it kind of weird at first, but it grew on me the more I read. I think it is a good book!
The Shack by Wm. Paul Young – Mackenzie Allen Philips' youngest daughter, Missy, has been abducted during a family vacation, and evidence that she may have been brutally murdered is found in an abandoned shack deep in the Oregon wilderness. Four years later in the midst of his "Great Sadness," Mack receives a suspicious note, apparently from God, inviting him back to that shack for a weekend.
Against his better judgment he arrives at the shack on a wintry afternoon and walks back into his darkest nightmare. What he finds there will change Mack's world forever.
In a world where religion seems to grow increasingly irrelevant The Shack wrestles with the timeless question, "Where is God in a world so filled with unspeakable pain?" The answers Mack gets will astound you and perhaps transform you as much as it did him. You'll want everyone you know to read this book!
What I thought: This book surely didn't go where I thought it would. It was well written and I really enjoyed the way the story went throughout. It kept me questioning things that I thought….
Immaculate by Katelyn Detweiler – Mina is seventeen. A virgin. And pregnant.
Mina is top of her class, girlfriend to the most ambitious guy in school, able to reason and study her way through anything. But when she suddenly finds herself pregnant—despite having never had sex—her orderly world collapses. Almost nobody believes Mina's claims of virginity. Her father assumes that her boyfriend is responsible; her boyfriend believes she must have cheated on him. As news of Mina's story spreads, there are those who brand her a liar. There are those who brand her a heretic. And there are those who believe that miracles are possible—and that Mina's unborn child could be the greatest miracle of all.
What I thought: Ok, has anyone watched Jane the Virgin tv show? It was all quite so similar…but I thought it was a great read and I really like how the characters were written. I liked this book!!

Deadly Design by Debra Dockter – Genetically engineered identical twins Kyle and Connor McAdams were born two years apart. Their parents figured it was safer that way, to increase their odds of survival. Connor was born first, paving an impossibly perfect path for Kyle to follow. He was the best at everything—valedictorian, star quarterback etc. Kyle never thought he'd be able to live up, so he didn't even try.
But when Connor, 18, suddenly drops dead of a heart attack, and Kyle learns of other genetically modified kids who've also died on their eighteenth birthdays, he's suddenly motivated—to save his own life. Like Connor and all the rest, Kyle was conceived at the Genesis Innovations Laboratory, where the mysterious Dr. Mueller conducted experiments on them. The clock's ticking as Kyle searches for answers: who was Dr. Mueller really, and what did he do to cause their hearts to stop at eighteen? He must unravel the clues quickly, before, he too, becomes another perfect, blue-eyed corpse.
What I thought: I really enjoyed this book. I seem to be getting a lot of twin books where one dies. Ack. But I thought this was well written and it makes you really feel the characters..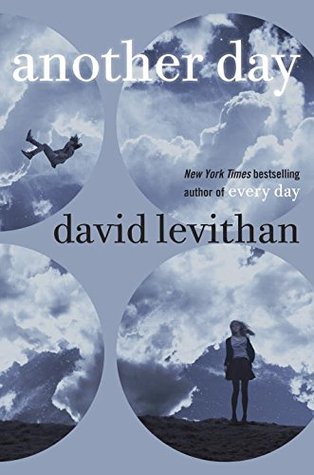 Another Day by David Levithan – Every day is the same for Rhiannon. She has accepted her life, convinced herself that she deserves her distant, temperamental boyfriend, Justin, even established guidelines by which to live: Don't be too needy. Avoid upsetting him. Never get your hopes up.
Until the morning everything changes. Justin seems to see her, to want to be with her for the first time, and they share a perfect day—a perfect day Justin doesn't remember the next morning. Confused, depressed, and desperate for another day as great as that one, Rhiannon starts questioning everything. Then, one day, a stranger tells her that the Justin she spent that day with, the one who made her feel like a real person…wasn't Justin at all.
In this enthralling companion to his New York Times bestseller Every Day, David Levithan tells Rhiannon's side of the story as she seeks to discover the truth about love and how it can change you.
What I thought – I had read Every Day forever ago and was excited to see this book in the library. It was interesting to hear Rhiannon's story. I had forgotten a lot of the first book, but as I read I remembered more and more. It was a good way to explain a few things and I appreciated the way it was done…
Anyway, so that is all that I read in December! What books did you read in December, or even in 2015 that you loved?  Let me know!! 🙂