Before we moved to North Carolina, I had tried out SchoolhouseTeachers.com. I had only done a trial as we were packing up, but it had come through my email and I wanted to check it out. Wow…was all I can say about that then. And wow…is all I can say about that now. ha!

As part of the Schoolhouse Review Crew I was asked to review SchoolhouseTeachers.com again! Exciting! Even better, I was asked to review the
Yearly Membership
! So, instead of only having a month and being slightly overwhelmed with what to do with it, I am able to take advantage of a full year of trying different courses!
Personally, when I log onto a website, I am usually drawn to the menu at the top of the page. It is usually pretty clean and easy to read. That's what I did on this website, although there are buttons if you scroll a tad that are great for visual people…and people like Jeffy who doesn't like reading small type. 😉
The best thing to do after logging on is to click on the 'start here' link. Like I said, the website can be a tad overwhelming if only because there is so much to offer. But there are a lot of helpful links and information just on this page that you will refer to it often! There is a great FAQ section that answers many different questions.
My biggest question was…what do we do first!?! As I was looking around, I noticed the music section. Ryan has a piano and has pretty much taught himself how to play. Kyle has a guitar and has had lessons for a month. Lauren has a violin, but hasn't had a lesson at all! I saw immediately that they had a violin course! Score!! As we clicked on the Beginning Violin course, it brought us to the main page that has information about the course. It explains what type of course it is, what it includes, what age group it is for, it also has an outline. Quite a bit of information on this page. Once you are a member, you can click and go to the lessons.
The Beginning Violin course is taught by Nancy Blue. I like that it tells you about each instructor. This particular course is mostly videos, which makes sense…but it has a couple downloadable music sheets as well. We haven't gone through the whole course yet, but from what we have done so far, Lauren has learned so much! She has played Twinkle and learned many different notes and even a tip on how to hold the violin properly. Nancy has a great way of explaining things that even young children can understand, but she doesn't talk babyish toward an older student.
As you hover over the courses link, you can view the courses by Subject or Grade Level. I like the Grade Level selection, since my kids are older and it gets rid of a lot of the younger stuff that we don't need. If you use the Quick Links link, like shown above, it is a fast way to get to what you need with some extra information. This is the Drama and Speech section on the Quick Links window.
I was interested in the Public Speaking course. That is something that my kids don't do all that often, and now that I am seeing that one of the classes that Ryan needs to take in college is Public Speaking, I think that is a great idea to get some of that done now, so they are all a little comfortable with it. From the Quick Links page, I can click on Lessons or Read More, depending on what I want. So, like the Violin class above, The Read More selection brings you to information about the class as well as the instructor, and the Lessons selection brings you straight to the lesson.
None of the kids wanted their picture taken just standing there speaking, and I don't blame them, so I don't have any pictures of that class. I like that this course gives help with writing the actual speech rather than just the speaking part. That is another thing that my kids need to do more on. We took a year off from writing last year and again, after seeing what college classes Ryan has taken so far, I need to do MORE writing this year, not less… There is also an Advanced Public Speaking course, that I will look at after the first one.
Now, we have only been logged into SchoolhouseTeachers.com for a short time, so I am excited to look around even more. Our school year starts on January 11th, so you can bet that I will be adding a few courses to our schedule!
There are so many different things that are included in this one site, you will definitely have to at least check it out! There is even a large section just for parents! Whole food cooking, special needs section… And they are adding things all the time!
If you are interested in trying it out, you can try it out for only $1 like I did a while back! When you decide that you can't live without it, go ahead and sign up! Regular price is $12.95/month or $139 for the year. That is per FAMILY, not per child, which is great! But, since I am doing this review for Schoolhouse Review Crew, you can use the code CREWFOLLOWER and that will give you 50% off of a year subscription! The code only lasts until January 31st, so if you want to use it, use it soon!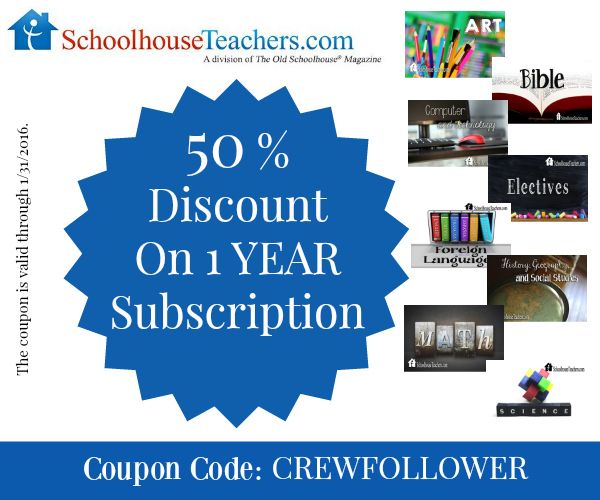 If you are interested in reading what other reviewers had to say about their time with SchoolhouseTeachers.com feel free to click below! I always love reading different viewpoints with curriculum because sometimes my children are different ages and I may read something else helpful on another review… 🙂

Don't forget to take advantage of that coupon, it is a great deal!
SchoolhouseTeachers.com {Review}