Unless you are living under a rock you know that there is an election coming… This year in our homeschool we are working on a Civics course. We are using Notgrass Uncle Sam and You for our yearlong study, but as is often the case, I like to do things on the side to really get the points across.
I was excited to work on this lapbook from
Home School in the Woods
! 
HISTORY Through the Ages Hands-on History Lap-Pak: U.S. Elections
is a wonderful lapbook all about the United States Elections and the things involved. I love me a good unit study! Even though my kids are older, I think they like them too.. 😉 So yes, my 11th grader is cutting out, coloring and gluing with the others.
We were sent a digital file that had everything organized into folders. Now, it just may be my age, but it took me a while to figure out where everything was and to find exactly everything that I needed. But once I did, I was able to know which folders I had to open each day that we worked on a project. If you are like me, you may want to make a note on a separate piece of paper when you figure that out. 😉
On another note…I think I need to find some left handed scissors. Both boys are left handed, but only one has issues with using scissors.. I may need to look into that!
This isn't an overwhelming unit study like some of them can get, but I have noticed that it is quite thorough! For each of the 21 sections there is a matching craft to make. Even just something small gets read and even re-read, so that they totally understand the point by the time they are done with their cutting and gluing.
What I like about this unit study is it also has an audio file that you can listen to as you do each lesson. The kids love that because it is one less thing that they have to hear my voice on, haha! It saves my voice too! They are just short little snippets of information ranging from about two-five minutes each. There is another folder that shows where to start the mp3 for your next lesson and with that, a picture button that you can click to see a finished product for that day's project. That is very handy…
This is our project from today. I would say it was one of the simpler ones. Basically cutting, folding and stapling. It made a cute little book though!
As I was looking at the supply list that was provided before we started, I just blindly went and got different things off the list at the store. Turns out I got the wrong size cardstock, but that's fine, I can just trim it to fit into the printer. I don't know what I was thinking about that when I got it.. A lot of the stuff on the supply list were things that we already had at home, but I did make a special trip for some random things, but nothing crazy.
As you complete your projects, you are simply putting them into a big zippered plastic bag to keep until the end. I am taking my time with this unit study as we are doing it to supplement our current civics curriculum so we aren't complete, but after today we are half way done.
I did run out of white paper early on, so I need to make a note of that for my next shopping list. We are just now half way through this unit study so I am sure there will be need for more. We have used random colors often, but I think that just adds to the individual look of each one once it is complete.
Once are done with all of the little projects, you end up assembling everything together in your lapbook. Since we aren't done, I don't have any finished images of that, but I do have a picture off of the website that shows one complete.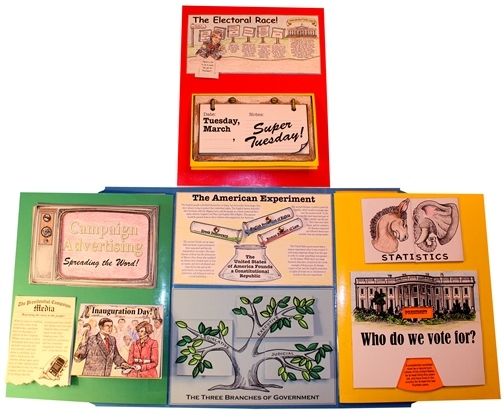 Isn't that awesome? I can see some of the projects we have already done on this picture. Everything just fits together in one file folder. This is something that they can keep for a long time and look back on. I really think that lap books are something that a lot of kids take pride in and it is a great way to get extra learning in.
The suggested grade level for this is 3-8, but like I said, my high schooler did it with us with no complaints! You can go to the Home School in the Woods website and see all that it comes with and read more about it. There is even a free sample of the audio that you can click on to see how that sounds and to see other pictures of completed projects.
I am looking forward to finishing our product in a few weeks. I think this will make the upcoming election make much more sense to my kids as well!
If you want to see what other people thought about their use of this lapbook, feel free to check out: