I forgot how short February is, even with a leap day! But I still managed to get a good amount of books read, go me!! 😉 I slowed at the end because we just haven't been at home as much, but I know it will pick back up in a while. I am still four books ahead of schedule, so I have a little leeway. I was hoping to get a few books ahead of schedule so that I could read the next book in the Outlander series some time soon…Those take me a long time!
Have you read any great books lately? I will take any suggestions!! I do look at all of them that are sent to me! 🙂
Here is what I read in February, you can let me know if you have read any of these also!
How to be a Grown-Up by Emma McLaughlin and Nicola Kraus – Rory McGovern is entering the ostensible prime of her life when her husband, Blake, loses his dream job and announces he feels like taking a break from being a husband and father. Rory was already spread thin and now, without warning, she is single-parenting two kids, juggling their science projects, flu season, and pajama days, while coming to terms with her disintegrating marriage. And without Blake, her only hope is to accept a full-time position working for two full-time twenty-somethings.
A day out of b-school, these girls think they know it all and have been given the millions from venture capitalists to back up their delusion that the future of digital media is a high-end lifestyle site for kids! (Not that anyone who works there has any, or knows the first thing about actual children.) Can Rory learn to decipher her bosses lingo, texts that read like license plates, and arbitrary mandates? And is there any hope of saving her marriage? With her family hanging by a thread, Rory must adapt to this hyper-digitized, over-glamorized, narcissistic world of millennials whatever it takes.
What I thought: Now, by the little snippet the book gave, I wasn't sure if I would be able to get into this book at all! But thankfully it turned out to be a great book. I really got into the main character. It was still a book that you could guess what was going to happen, after all, everyone loves a happy ending, but I thought it was done well…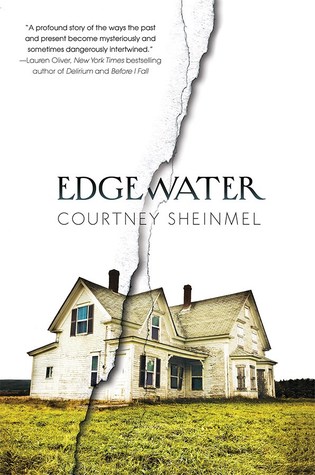 Edgewater by Courney Sheinmel – Lorrie Hollander used to be a rich girl who spent her money on boarding school and equestrian camp. But that was before. It's been twelve years since Lorrie's mother skipped town and left Lorrie and her sister in the care of her unstable aunt Gigi. Together they live in a decaying mansion called Edgewater, the eyesore in a town of extraordinary wealth and privilege.
While Lorrie is desperately trying to keep her family from collapse, she meets Charlie, the son of an esteemed senator. Terrified that he will learn the truth about her, she holds him at a distance. But Charlie's family is hiding something, too. And Lorrie could never have imagined how their secrets, and their lives, are inextricably bound.
Courtney Sheinmel's Edgewater is a gripping story of scandal and romance, shame and redemption, and how one girl must come to terms with a shocking past in order to understand who she truly is.
What I thought: I thought this book was nicely done too! I love when people make it easy to get into the main character. I love that I felt like I could yell at them to do something different or that they were being an idiot, lol. But I did enjoy the story and I didn't guess at the ending…
The Magician's Nephew by C.S. Lewis – When Digory and Polly are tricked by Digory's peculiar Uncle Andrew into becoming part of an experiment, they set off on the adventure of a lifetime. What happens to the children when they touch Uncle Andrew's magic rings is far beyond anything even the old magician could have imagined.
Hurtled into the Wood between the Worlds, the children soon find that they can enter many worlds through the mysterious pools there. In one world they encounter the evil Queen Jadis, who wreaks havoc in the streets of London when she is accidentally brought back with them. When they finally manage to pull her out of London, unintentionally taking along Uncle Andrew and a coachman with his horse, they find themselves in what will come to be known as the land of Narnia.
What I thought: I have no idea how it was that I hadn't ever read this book before, but, there you go! I loved this story. That's almost a given though, ha! The storyline was fantastic and definitely was able to keep my interest…

The Restaurant Critic's Wife by Elizabeth LaBan –
Lila Soto has a master's degree that's gathering dust, a work-obsessed husband, two kids, and lots of questions about how exactly she ended up here.
In their new city of Philadelphia, Lila's husband, Sam, takes his job as a restaurant critic a little too seriously. To protect his professional credibility, he's determined to remain anonymous. Soon his preoccupation with anonymity takes over their lives as he tries to limit the family's contact with anyone who might have ties to the foodie world. Meanwhile, Lila craves adult conversation and some relief from the constraints of her homemaker role. With her patience wearing thin, she begins to question everything: her decision to get pregnant again, her break from her career, her marriage—even if leaving her ex-boyfriend was the right thing to do. As Sam becomes more and more fixated on keeping his identity secret, Lila begins to wonder if her own identity has completely disappeared—and what it will take to get it back.
What I thought: I liked this book. Didn't love..but definitely liked. It was a little far-fetched, but I guess I could understand once I think about it, lol. There was some laughter in there though, which always helps me like a book better…

Maternity Leave by Julie Halpern – Thirty six year old Annie Schwartz-Jensen is a middle school teacher on maternity leave-a time she imagined as uninterrupted, blissful bonding with her baby. Instead she is dealing with her body leaking from every possible orifice, a baby who won't sleep, a husband who still wants to have sex with her (is he nuts??), single friends who are clueless, and a mother who picked now to take a vacation. The only people who REALLY understand Annie are the wonderful people she spends sleepless nights with on QVC: Keep those velveteen table runners and non-jiggle stretch pants coming!
As Annie navigates life with her new baby, she realizes that not all Mommies are created equal. But she is determined to find her way, love her baby, her husband, herself—even if she has to wear nipple protectors for the rest of her child-bearing life.
What I thought: I laughed. A lot of what was said was right on as far as pregnancy and babydom are concerned. So, I got it. It was a cute story and I enjoyed it.

Lincoln A Photobiography by Russell Freedman – Abraham Lincoln stood out in a crowd as much for his wit and rollicking humor as for his height. This Newbery Medal-winning biography of our Civil War president is warm, appealing, and illustrated with dozens of carefully chosen photographs and prints.
Russell Freedman begins with a lively account of Abraham Lincoln's boyhood, his career as a country lawyer, and his courtship and marriage to Mary Todd. Then the author focuses on the presidential years (1861 to 1865), skillfullly explaining the many complex issues Lincoln grappled with as he led a deeply divided nation through the Civil War. The book's final chapter is a moving account of that tragic evening in Ford's Theatre on April 14, 1865. Concludes with a sampling of Lincoln writings and a detailed list of Lincoln historical sites.
What I thought: Well, I didn't know much of this stuff about Lincoln at all! I thought it was a great read into the life of this famous president.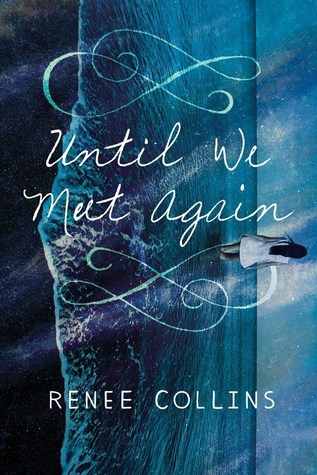 Until We Meet Again by Renee Collins – Cassandra craves drama and adventure, so the last thing she wants is to spend her summer marooned with her mother and stepfather in a snooty Massachusetts shore town. But when a dreamy stranger shows up on their private beach claiming it's his own—and that the year is 1925—she is swept into a mystery a hundred years in the making.
As she searches for answers in the present, Cassandra discovers a truth that puts their growing love—and Lawrence's life—into jeopardy. Desperate to save him, Cassandra must find a way to change history…or risk losing Lawrence forever.
What I thought: I seem to read a lot of these kind of books, at least lately. This was done differently though and I enjoyed that it was different. It was a good story and I liked the details from the 1920's…
That's it for February! I am getting busy reading what I can for March at the moment now! 🙂