My kids are all older and in our homeschool we do a lot of the same subjects together. That means that I read out loud. A lot. That made me even more excited to try out Heirloom Audio Productions audio story of The Dragon and the Raven. I mean, to have someone else talk for a change is awesome! haha!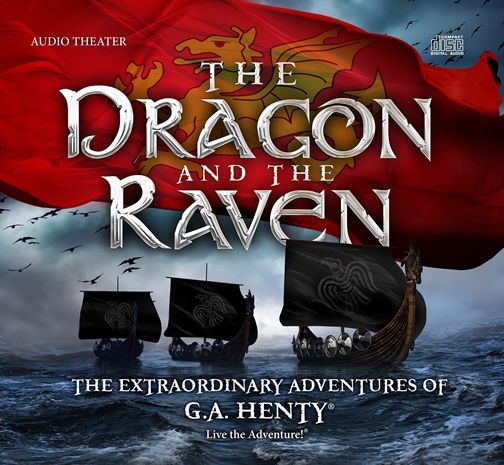 Honestly, I think I was more excited than the kids while we were waiting for it to come! It finally came and I was impressed with how it was presented! It just screams 'adventure'..
The storyline is adapted from the book, The Dragon And The Raven, by G.A. Henty. Toward the beginning of the story, the action immediately starts out when the Danes have been attacking everything in sight. The action hits too close to home for the characters Edmund and Alfred shortly after. They have a lot to go through still in the rest of the story..
On the first day we listened to it, my kids all said that one of the characters sounded like Harry Potter. I thought that was funny, but I did hear that as well! I am sure it was just the accents that helped.. The cast has an amazing collection of actors. People from Lord of the Rings, Star Wars, The Hobbit, etc. They did a great job!
As part of the package that we got, it included a bunch of online extras. One that I was extremely happy about was the study guide! Now, it says on the website that it is printable, but I just got a new printer and didn't want to use all of my ink, especially since the pages were all rustic colored. But, I think it would be a great idea to take it to a printers to have it printed, and maybe even spiral bound! Since we do school around the table, it was just easy for me to bring it up on my laptop and go over the questions that way.The study guide is broken down nicely! Each listening session varies in time, but none of them are very long. On each page of the study guide it mentions what track to use as well as the listening time. The actual page has different sections:
1. The Listening Well has questions that you can ask about what your child remembers about what they heard. Some are easier than others, but some had us listening to the days lesson more than once to make sure we were able to get the answer!
2. The Thinking Further section are more in depth questions, to get them thinking more. It puts a more personal spin on each question.
3. The last section are words that were mentioned in that days story section. Now, I thought that the words would be easy, since my kids are older and the story says it is good for children as young as six years old, but I found myself looking up words more than once! 😉
At the end of the study guide there is a reading list as well as some Bible studies and historical notes. We aren't done with the whole study yet, but I am going to look into those as we get closer!
As I was perusing the online bonuses, I found so many interesting things that went along with the story! One of the things I found online was a recipe for Alfred Cakes. There is a storyline about King Alfred being driven out by the Danes and in the process he disguised himself and took refuge in a peasant woman's home. The woman had asked Alfred to watch her cakes for her, but he was under so much stress and thinking so deeply that he burned the cakes.
Fortunately, I had everything needed to make the recipe without having to go to the store! Unfortunately, After I had the dough rolled out, we had to go outside and deal with all of our birds and it kind of went flat during that time. I decided to cook them anyway. They had a very mild flavor and I imagine they would be wonderful rolled in melted butter and then some cinnamon sugar. Of course that is true with a lot of things, ha! But that wouldn't be specific to the era that they were meant for and we try to stay to that as much as possible. We tried ours with some jam like was suggested on the recipe, and that was tasty!
We still aren't through with our story as we have been digging deeper into each days reading and doing extra things such as these Alfred Cakes. We are looking forward to finishing though!
If you want to see what other people have thought of The Dragon and the Raven from Heirloom Audio Productions, feel free to click the box below! 🙂 They have more stories as well that you may want to check out on the website!
Heirloom Audio Productions {Review}