When we were still living in Arizona we had been using
Grapevine Studies
for our Bible curriculum. This was about five years ago or so! We had gone through the whole Old Testament with what was available back then as well as a few side subjects. I had to laugh when I showed the kids what we were going to do and they all talked about the purple triangle, haha! If you have used Grapevine at all then you know that the purple triangle stands for God in the drawings.. Well, this go around we were able to do the
New Testament Overview Part 1
! This covers the birth of John to Jesus' Ministry. Included in this timeline are the events surrounding the birth of Jesus, when He was baptized, how He was tempted, and who He chose as disciples. That is pretty thorough and that is just Part 1! We used Level 4 since that was the best for us age wise.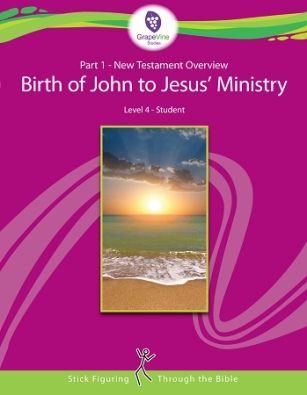 Now, my kids love art in general, but all three of them LOVE drawing stick figures. They are easy. They are fast. You don't have to be an artist in order to get your point across. So, my kids all appreciate the Grapevine drawings.
The way we typically use Grapevine is a four day school week. I usually print the weeks lesson out over the weekend prior. There are physical books available, but for some reason I just prefer the downloadable product. Plus, with multiple children, it just seems to work better. There really isn't much to print on each page, so it doesn't tax my printer out either, which I absolutely love! If you have one child, or just prefer the workbook style, you might want to try the physical product!
My absolute favorite part about Grapevine Studies are that they are so easy. SO easy! And you don't need anything crazy! We have colored pencils for the kids and a white board with markers for me. I draw each frame of the story on the white board and they are able to copy that onto their own papers. During that time we are reading the story from the Bible, so not only are they listening, they are drawing…and then they associate what they drew with what they heard. It is a fantastic way of teaching!
Each square on the paper is broken down into a few verses from the Bible. For example, the first lesson that we did was about Zacharias and Elizabeth. On the kids paper it mentions which verses we are reading about which in this case was Luke 1:1-7. On my papers it also has that written down so that I know which verses to read aloud. It has a little snippet about what to talk about those verses, the main idea that they should get from our reading, and that is typically what the drawing includes. So, our first square was two stick figures, a male and female, standing for Zacharias and Elizabeth.
I mentioned that we do a four day a week lesson… The first day we work on a Timeline and a memory verse. The timeline is basically a few pages long that includes things that will happen over the course of however long it takes us to go through the main lesson. I always questioned that, but it made sense as I realized it reiterated what we will learn later! A bell went off when I figured that one out, ha! The next two days are filled with the two days of drawing and reading. Then the last day we usually go over the questions that are on the teachers page as well as looking up any words in the concordance that are given. We have a review over what we learned as well. The lessons tend to be pretty quick for us, but I attribute that to my kids being older.. Now, if your kids are younger and still figuring out drawing, it may take a little longer. The lessons are also easier if you get different levels! For the super young ones, they have Traceables available to get them used to drawing.. Such a great idea! Here is a chart to help you figure out where to start, this makes it so easy!
If you have been searching for a Bible curriculum for your kids, I honestly think this is the best one out there. I have suggested it to many friends and other homeschoolers. They have a sample page of lessons also that you can try it out! If you want to see what other families thought of their time with Grapevine Studies, feel free to click the box below! They may have kids closer in age to your own children and you might get a better idea of how it works for them… 🙂
Grapevine Studies {Review}