Shortly after we moved here a few years ago, Kyle got interested in everything having to do with stopmotion videos. He tried to make a few with his dinky little camera, but it kept falling over and it just wasn't the greatest. He saved up for a better camera but then it was discontinued so he just got a different camera all together. He was still interested in the stopmotion, but he wasn't sure what to do.. Sooo, you can bet we were excited to receive the Stopmotion Explosion Animation Kit! And I do mean we, because it is just awesome!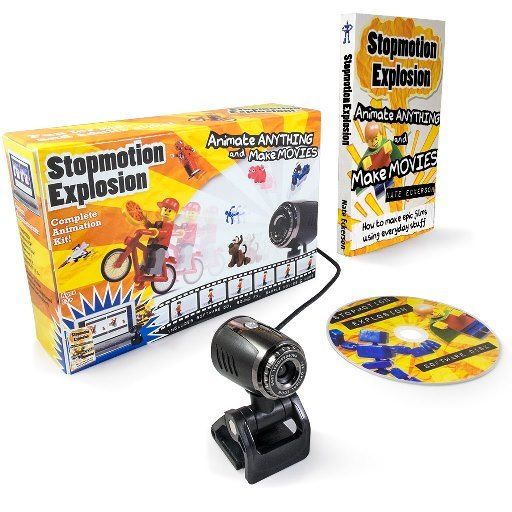 Stopmotion Explosion
sent us this kit which includes everything you  need to get started! Well, minus the computer, but still! 🙂 Kyle freaked out when he saw the camera, it was the answer to all of his problems! Also included was a quick start guide. It is just a few pages long, but really, it is all very user friendly and Ryan was the first to play with it and he didn't even open the guide or anything. He put the CD in the computer, hooked up the camera and was playing around with a couple lego pieces! It really is that easy..
These pictures kind of show our set up. We used a tri-fold science fair board for the background. We did start with a lamp, but it was kind of in the way with our limited space where we were set up. The camera had heavy duty tape on the bottom so that it would stay put and your movie would be cohesive from slide to slide.
After Ryan had his turn with it, they all decided to work on one together. It took a lot of planning! In the book that came with the kit, Animate Anything and Make Movies, it goes into SO much detail about all that you can do with these stopmotion movies. I honestly had no idea. It starts out with a little bit about the history of movies, which is a wonderful thing! I would imagine a lot of kids don't know what movies started out like. It goes into a lot of tips and hints on making your own movies as well as how to make them extra special with audio and extra editing. Included in the program are some audio files that you can use in your movie too! We didn't get that far, but they are excited about it and bursting with ideas!
One section talked about various things you can animate. Now, I didn't think beyond using Lego bricks…but they had all kinds of suggestions in the book. Even Silly Putty was talked about. They mentioned that was their go to first thing to animate for beginners. I never would have thought of that! We just used Lego bricks for all of our movies, but everyone now has some great ideas for future movies! On the Stopmotion Explosion website, you can purchase some moveable figures for $5 and $10 which is a great deal!
Now, get out the tiny violin…and read our sob story.. ha! The first movie that was made was awesome! It didn't take a long time or anything, but there was definitely a lot of work put into it. It was on Jeffy's computer….which totally crashed and died shortly after the movie was saved. No fault of the movie or anything, it was an old laptop and on its last legs anyway, I mean, the space bar didn't work.. So, there goes that movie. Then, the kids all worked really hard together on another movie on my laptop. It's only a year old, so, that's good.. But our wifi went out, which happens a lot here, and in the process of my laptop trying to sort itself out, it shut down and when it restarted again, that awesome movie was gone. Now, this is one that they had been working on a long time! So, cut back to a week ago and I tell them to make the movie again. They all cooperated so well together, put this little movie together like it was as easy as breathing. Now, it isn't as great as their previous movie, but I still give them credit for coming up with what they did in a short time!
The next ones they make will have better lighting and effects and such, but I still think they did a good job! They are excited to work with some of the sound effects that were included. Especially the horse one, I thought that would have been cute at the end of this little video. 🙂
If you want to check out some of the other videos that people made with Stopmotion Explosion, feel free to click the box below! I have seen a couple already and people are so creative! And I like that they all didn't use Lego bricks, not that there is anything wrong with that.. It's just different than what we did..

Stopmotion Explosion {Review}