When the kids were quite younger they all went through a painting phase…but all three having some sort of sensory issue it looked different for each kid. One didn't want to deal with the texture at all, one wanted the paint on everything and one just wanted all of the things to look pretty. 😉 I was happy to be able to review this Kwik Stix 12 pk. from The Pencil Grip, Inc.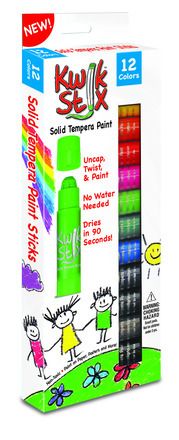 I had never heard of these before, but now that I have, I have seen them a few times. But they are great for kids of all ages and hey, I enjoyed them too! We took one day as a group and painted whatever came to mind and then there have been various single painting sessions as well. This is tempera paint but in an easy to use stick. So, the best part? You don't need a cup of water to rinse out brushes…which also means the paint dries fast. Coolest ever!
You use the paint sticks like you would a glue stick. Pull of the cap and then twist the bottom to get as much showing as you need and then just go! I would say the consistency of the paint is kind of like drawing with a lipstick. All the kids did a lot of painting with their paints. I just kind of played around with mine and it was all very light, so it kind of looks like crayon. I was trying to do the Nightmare Before Christmas version of Starry Night and well…it was tricky since I was using yellow construction paper.
I would say that I wish they also came in a skinnier pen type paint so as to be able to draw a little bit of the finer details. For mine I had to use the edge of the paint stick and I could only do so much with it.. I loved that you could paint some, wait 90 seconds until it dried, and then paint a different color on top. Or even layer a bit while they are still a little damp.
I thought it funny that this day the kids all decided to do a sort of nature/landscape type painting. They just kind of sat down and starting painting without looking at what the others were doing. 😀 Gotta love it.. I like how they are all varied. I can kinda get a sense of their personalities coming through the paintings as well. 🙂
Lauren was the only one that had light colored paper to use so hers just seems extra bright even with the bright colors she used. I had planned on using it with newsprint paper, but I couldn't find where it got moved. Hmm… We did find out that the Kwik Stix will draw on balloons! They dry so fast that there isn't a mess either!
I think these are a great product, and they have more choices on their site. They have metalix and neon colors as well as different quantities in each box. The 96 pk. would be great for groups of kids like in a co-op setting or even a birthday party! 🙂
As much fun as we had with these Kwik Stix, the kids spent a lot of time with a sample that we were also sent of The Pencil Grip. My kids all write horribly. I admit it! Two are lefties, but that has nothing to do with it as there are many lefties with beautiful handwriting! But they started out when they were young holding their pencils perfectly. Now? Not so much, I don't know WHAT happened.. So, I show them how to use this Pencil Grip. They all try it. And keep trying it. And laughing. They couldn't quite get how to use it to hold the pencil correctly because they have been so off for so long! I find it very comfortable to use because, well, I write correctly…unless I get tired…lol. These are very inexpensive and can be used with both righties and lefties. You put your thumb on either the R or the L on each Pencil Grip. I am thinking of getting a couple more to hopefully get them to write correctly again!
If you want to check out what others from the group painted, feel free to click on the box below! 🙂

Kwik Stix 12pk. {Review}