Since today is the last day of May…I figured I would let you in on our little 'thing' that we are doing. What's so big about May? Well, May is National Foster Care Awareness Month! And this is all about our new fostering journey..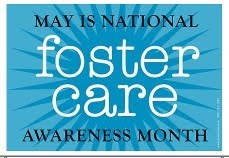 Earlier this month we started classes to become foster parents. Now, I realize I could have said something earlier this month to help make you all more…aware…but honestly, everything happened pretty quickly! When we called our county office to get information we were told that they were having an orientation the next day! So we went! Our classes started the following week and are every week until the end of June.
We didn't tell many people at all what we were doing since it all happened so suddenly. Is that weird? lol. We have gotten 'in trouble' in the past for not keeping people in the know about our lives, but really, it's our lives, so…. :shrug: That's neither here nor there though, so anyway….
A while back we were astounded with the stats coming from Arizona about the need for more foster homes. There was a little graphic going around listing the ages of boys and girls going around that were sleeping in offices because there just aren't enough homes for these children. I was recently told that in one year, Arizona had 749 new foster homes open. That is awesome news for the 19,000 kids in care there. But…there were also 742 foster homes that closed. That means a gain of only seven homes for a state where 38 kids are removed daily.
I don't have the stats for North Carolina at the moment, but I am sure it isn't the greatest either. Every state needs help!
As a few more of my friends decided to foster, Jeffy and I tossed the idea around. Back and forth we went, the idea was dropped numerous times and brought back up again just as many if not more. So many things influenced our decision.
Jason Johnson wrote a blog post about loving a child that may leave. Seriously, it is such a good read. These kids NEED that kind of love. And that's who this is really all about, the kids.
I don't have any fancy words or anything in this post and my laptop battery is about to die, but I did want to get something out there.
If you want any information on fostering, or wanting to help out in any way, feel free to contact me! If I can't help you, I will get you in contact with someone who will. Because I don't know a ton right now, but I would love to help you even a little…
I love this graphic…
Fostering isn't for everyone, and we get that. But if you feel called to help in any way, there are options both big and small!
I will be posting periodically throughout our process!
Ok, gotta post before the batter dies! 🙂