What comes to your mind when I say the word math? I don't know about you, but I cringe..and maybe do a little eye roll. I know that is bad, being a homeschool parent and all, but I just can't help it, lol. With that being the case, I am constantly looking for new ways for the kids to learn math. LearnBop has come out with LearnBop for Families and we have been playing with it for a few weeks now!

We haven't done a ton of math stuff online, so this was new to us for the most part. Everyone has their own computer, so I thought it was worth a try! LearnBop for Families isn't one of those programs that is made for schools and then as an afterthought offered to families, it was made for students and parents for at home use! I love that!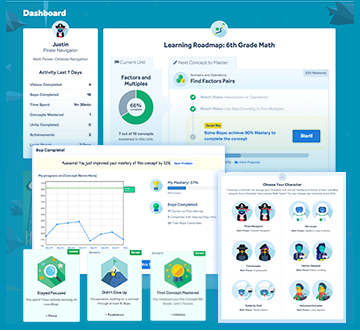 It is a simple program but with a lot built in, if that makes sense, lol. I will go into how we used it. First, I signed in as the parent. Now, with the family subscription, you are able to do the math too if you'd like! Hey, who doesn't need a refresher, eh? 😉 You can add each child onto the account and note what math level/grade level they are in as well as make up their screen name and password.
Then it is time to log your kids in! When they first log in they can choose their little avatar. I was curious as to which ones my kids would pick, just for the fun of it, lol. When they first log in, they will each see their own dashboard. It is a very clean layout, I love the ease of it on my eyes and it just makes sense.
One of the first things they will see is this:
Since the account is already set up, the next thing they want is for them to do a warm-up. It will basically figure out where they are in this math concept, what needs to be worked on, and come up with a plan. Then, they can get to work on the 5 Bops. Bops are basically just each question that is given.
For my kids, I just entered their grade level. It mentions it is geared towards kids in grades 3-12, but I would imagine there is some wiggle room on either side depending on how your kids are doing in math. What I love about this program is that you can just switch to a student account without having to log out and log someone else in. It seems like such a simple thing, but it is totally great!

For Lauren, I put her down for 7th grade and she did the warm up. The unit it put her in was Proportional Reasoning. It started her on using variables to write expressions. She did that all relatively easily. Next was Operations with Radicals. That was fairly simple for her as well, although sometimes the wording of the questions threw her a little and she had to work harder on that. She did comment that it wanted her to do math a different way than how she has learned in the past and it made no sense to her but she was able to figure out how to do what they were asking even if it was different than what she was used to.
For Kyle, I put him down for 8th grade. It started him on Developing Understanding of Similarity and the first concept was to Describe Effects of Rotations/Reflections. Now, we haven't worked on this before, so it was all new to him. Once we were able to figure out what was expected it worked a lot better. It basically wanted him to figure out what to do to make a shape in one location get to another location with the same layout. It took a while for him to get what they wanted, but he finally got there.. Next was to Determine Congruence. This one was definitely easier, probably because he was used to the program and how it worked.

Lastly we have Ryan. I put him in 11th grade level. The unit it put him in was An Extension of the Number System. The first concept was Graph Lin/Quad functions. I had no idea what it was talking about when I glanced at it, lol. I am glad that Ryan got it! The next concept was Explain Solutions.  He worked harder on this one. He got stumped one section because the answer that he came up with wasn't listed as one of the choices. I looked at it and I came up with the same answer he did. Maybe we did something wrong, but there is a button at the bottom of the screen to notify if there is a problem with the answers. We pushed that and realized that it sends it to me to review and I can take further action from there. Not a big deal really…
As I mentioned previously, each child has their own dashboard and as a parent, you can also get a view of what they are doing….or not doing, lol. So as I click on Ryan's dashboard I can see what Roadmap he is on and how well he is doing. It breaks it down from Roadmap to Current Unit to Active Concept. In the next box it shows his recent progress. It tells you how long he has spent on something and what he got done in that time. Under that is the Achievement box. This shows the little achievements they earn for doing random things such as working for an hour straight that earns a focus achievement, to Didn't Give Up which gives him a persistence achievement. I like this idea! On the left side of the screen is a break down of the last 30 days.

Now, we took some time off when family was in town visiting, but you can see that he logged in for seven days in a row! Which is crazy, because I told him that he should do it three days a week, which is a school week. Who knew he would do it on weekends too, lol… Maybe to make up for the time we took off…hmm…I am not going to argue. Anyway, he didn't have to spend that much time, almost 2.5 hours, and he completed 29 Bops and watched 8 videos.
All of the kids said they learned a lot in the short time that they have been working on this program. They liked that the videos explained what they were going to learn and if they didn't get the answer the first time, it would break it down until they understood it better. I am impressed that even though the concepts were new, or they didn't understand the questions, they didn't give up. I am looking forward to seeing how well they do over the next few months!
If you want to see what other people thought of their time with LearnBop for Families, feel free to click on the banner below!

LearnBop for Families {Review}