I know I have mentioned a couple times that we are putting a heavy emphasis on reading/writing as well as art this year. It must be that side of the brain working…ha! We have been working on the Entire Level III bundle from ArtAchieve lately and have been loving it!

Now, this isn't JUST an art program! I will get to that in a little bit… But, this art program is so thorough! You can tell that it was made by someone that homeschooled their own children. 😉 First of all, each image that is being taught is taken from one of their many visits to different countries, over thirty! So, it isn't something that is just being made up, but it actually exists in another country somewhere.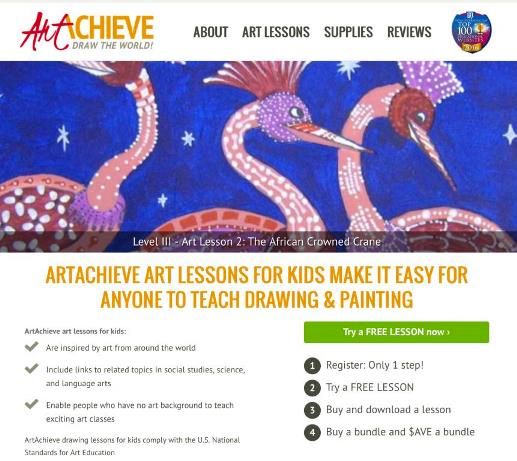 First of all, the site is very easy to use, that is always a plus in my book. It looks just like that image above. All of the tabs at the top will give you all the information that you need. You can also register and try a free lesson if you'd like to give it a try before deciding.  To figure out what level to start with, it basically just goes by how much experience you have with drawing in general. If you have never drawn or still fairly new, you should start with level one, no matter your age! Since we have been doing a lot of art in our homeschooling I decided to try level three.
We did a couple different lessons in our level, but so as not to get confused, I will just focus on just one that we did. As you click the top of the screen where it says Art Lessons it will bring down a drop menu and you can choose level three if you'd like to look at the bundle. This bundle includes twelve different lessons. It varies with each level. There is a bundle price that will have you save money rather than buying each lesson separately. But that is a choice too if you just wanted to try random ones! Those are very inexpensive to buy a couple here and there!

The lesson that I will mention is lesson 4, The Face From The Gambia. This lesson is given in  a PowerPoint version as well as a video version! That is such a great idea! I think both have their pluses and therefore we used both during different times during the lesson. The lesson starts out with a little history on the image that is going to be drawn, where it was located, that sort of thing. This image is a bas-relief piece and that is explained so you know what that is. This original face was actually sheet metal, not a drawing or painting. I thought that was interesting!
There is a supplies list that you should have ready before you start your lesson. When we started this one, I forgot that we had packed up our armoire that includes all of our art supplies so I had some last minute substitutions, but there really wasn't a large supply list on this lesson. There is also a warm up that you can do, to get used to drawing lines and different shapes. They have you use a sharpie or marker to do this, so that you don't go back and correct your mistakes. I like how it is all mixed up on the paper so that you don't feel like it has to be a perfect face. That's a great idea for confidence! It is also suggested to do a relaxation technique and turn on soft music without vocals. It helps you focus!

There are some tips on how hard or light to draw with your pencil before the lesson as well as some tips later in the lesson on shading and which pencils to use. For the lesson, we started with the video, but also had the PowerPoint lesson loaded up and ready to look at as well. Sometimes it was just a different view or we didn't have to worry about pausing the video to look at something again. The teacher is pretty calm and easy to understand during the video. I would imagine if you had a large group that the PowerPoint would just be easier to maybe put on a big screen or something.
Our lesson didn't take very long at all…about an hour and a half from sitting down to finishing. The kids mostly had issues with shading and were questioning themselves on how their individual drawings turned out but that is addressed at the beginning. Not to say you don't like your drawing until you are done with it. I like how they are all different, and really, I can see their personalities shining through, lol. The main part of the drawing went pretty fast, it was mostly just various shapes.

Now, remember how I mentioned at the beginning how it was much more than an art lesson? If you click on the lesson I did, The Face From The Gambia you will notice as you scroll down past the supply list some suggestions for things you can add to your study to learn more about the area where the lesson is from! I love that so much you don't even know. We didn't do as many lessons as we could have because we took a lot of extra time learning about these places. The Gambia is quite fascinating and really, I had no clue about any of this stuff that was included. It is just not a place that we have ever studied before! Like I mentioned, this is so very thorough! I really enjoyed learning about The Gambia like we did as well as the drawing lesson!

If you want to check out what lessons and levels others did, to help you get more of a feel on what level you might want to try, feel free to click the banner below!

 ArtAchieve {Review}