A year or two ago I purchased a writing curriculum from Sharon Watson called Jump In. It is geared toward the middle school age group. It was great! So I was really excited to try out the next book, The Power in Your Hands: Writing NonFiction in High School 2nd Edition from Writing with Sharon Watson.

I know how I mentioned that we were really working on writing this year now that I know how often Ryan needed to write a paper in his college courses! This book is so thorough that I really believe it will help us a lot as we go through it more…
The set includes the Teacher's Guide as well as the larger student book. I am going to start by going over the student book…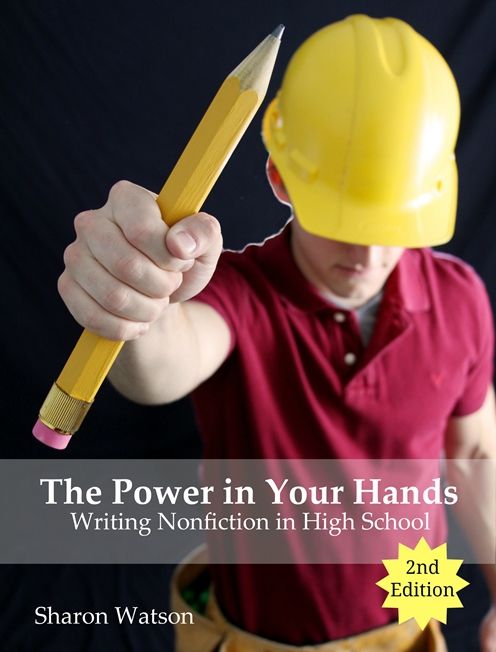 Now this is a thick book, y'all! Over 400 pages full of great information! What I like about it though is that you can pretty much give it to the student and have them work on it, there isn't much for the parent/teacher to do to prepare! The book is written in a very easy to read, friendly manner..which I think is important if you are talking to students.
The book opens with a little section to help you figure out your writing self. There is something similar in the Jump In book as well. I think that helps the student realize that nobody has to be the same when it comes to writing. I like that it mentions to find a topic that interests the student, because a bored student writes a boring paper…that is so true! I remember some very boring subjects I had to write papers on in school. :yawn: But others I was much happier about!
After that, it gets right into the lessons! There is a little section on opinions  and how you want your paper to be written. The first 140 or so pages are devoted just to persuasion papers. This book is written for varied levels of writers, so if you are more advanced, you can skip around a little bit. But I like that it teaches to various levels like that as I have kids in different grades and some know a lot more than others! For the essays, there are topics given, but they give you an out if you feel the topic is boring or just not something you care to write about.
There are so many tips throughout the book, tips that are so very handy to have, that I would have never thought to mention to my child as he was writing! They suggest that writing an essay should take about an hour for every 100 words. That gives a realistic guide to someone that may not be familiar with writing and thinking that they can do the whole thing in an hour.
I love the little time chart when it is time to write an essay. It is very helpful! It is spread out over six days, which worked perfectly for us since we did this three times a week due to our schedule. And that way it isn't so overwhelming as sitting down and doing it in one or two sittings. Eek, I don't know how anyone could enjoy that! ha!
Now, we haven't gotten past the Persuasion section, but I am looking forward to the next couple sections of proofreading and common grammar mistakes. The next big section is Exposition and then a couple smaller sections of Description and Narration.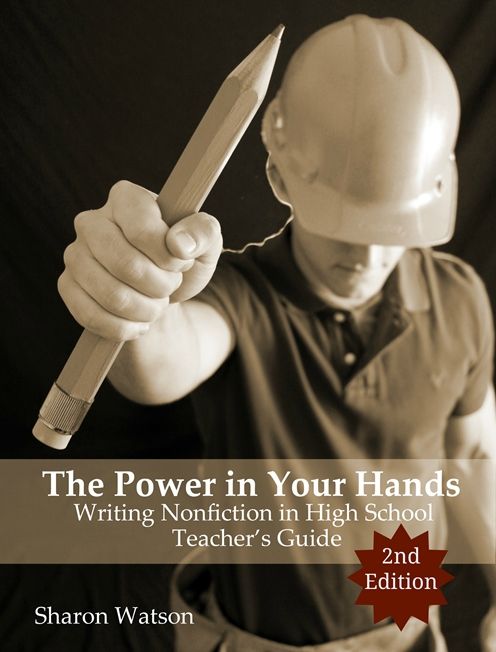 The other book is the Teacher's Guide and is much smaller at a little over 200 pages. One of my favorite things in the Jump In book version were the little writing prompts. These are just a little bit longer, at 14 minutes. Now, they are broken up into months as well as weeks, so you could use one for four days a week every month! We don't use them that often, but I like to break them out if we've had a long writing day already, or if they just need a break from a long school day. The one thing I didn't like was that they were broken down for a 'typical' school year and our school year is from January to October.. So, we just started with the November section. One interesting one was from week one day 2: What annoys you? Oh goodness…they had a lot to write…thank goodness it was only 14 minutes..ha! Another favorite was from day 4: Theodore Roosevelt is the only U.S. president to date to give an inaugural speech without the word "I" in it. You are running for office. Write a speech without using "I". I thought that was fitting for an election year…
Anyway, earlier in the book are examples of papers and the grades they earned and why. I love this example because sometimes you just don't know exactly what grade to give on an essay! In this edition, there is a wonderful grading grid and it is so helpful! She suggests breaking down the grading by grammar/mechanics and then content as well. That takes such a load off my shoulders when looking over these essays!
The Teacher's Guide just goes along with the student book and let's you know where they are as well as what is coming up. You can also give them some hints and suggestions along the way.
We weren't in any hurry going through this book as we wanted to take more time and do it correctly. But I am looking forward to getting further along and seeing how the essays improve over time!
If you have a 1st edition set, make sure you notice the changes that the 2nd edition offers, especially the SAT section as that has been updated.. Make sure you check out the website to see all the changes and you can also get a free section to see how it is laid out..
If you want to read what other crew members thought of their experience, make sure to click on the banner below. Some crew members reviewed different things as well!

The Power in Your Hands {Review}