Sooo, how is your Goodreads challenge coming along? I am surprisingly 14 books ahead of schedule…but I don't know how the rest of the year is going to go, so maybe that's a good thing… I took a break from the library a bit this month and decided to read some books that I had at home. I have so many that are just sitting here waiting to be read! Have you read any great books lately? Here is what I read in July!
Most Wanted by Lisa Scottoline – Christine Nilsson and her husband, Marcus, are desperate for a baby. Unable to conceive, they find themselves facing a difficult choice they had never anticipated. After many appointments with specialists, endless research, and countless conversations, they make the decision to use a donor.
Two months pass and Christine is happily pregnant. but one day, she is shocked to see a young blond man on the TV news being arrested for a series of brutal murders-and the blond man bears an undeniable and uncanny resemblance to her donor.
Delving deeper to uncover the truth, Christine must confront a terrifying reality and face her worst fears. Riveting and fast-paced, with the depth of emotionality that has garnered Lisa Scottoline legions of fans, Most Wanted poses an ethical and moral dilemma: What would you do if the biological father of your unborn child was a killer?
What I thought: This is one of my favorite authors but I was kind of disappointed in this book.. I hate to say it.. It had a good story line but for some reason it didn't do it for me…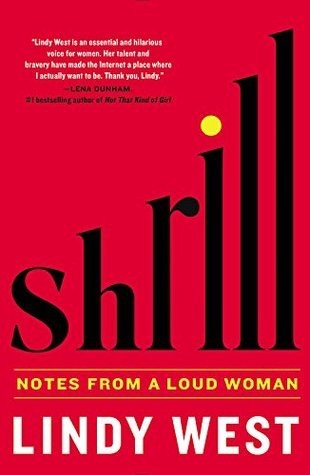 Shrill by Lindy West – Coming of age in a culture that demands women be as small, quiet, and compliant as possible–like a porcelain dove that will also have sex with you–writer and humorist Lindy West quickly discovered that she was anything but.
From a painfully shy childhood in which she tried, unsuccessfully, to hide her big body and even bigger opinions; to her public war with stand-up comedians over rape jokes; to her struggle to convince herself, and then the world, that fat people have value; to her accidental activism and never-ending battle royale with Internet trolls, Lindy narrates her life with a blend of humor and pathos that manages to make a trip to the abortion clinic funny and wring tears out of a story about diarrhea.
With inimitable good humor, vulnerability, and boundless charm, Lindy boldly shares how to survive in a world where not all stories are created equal and not all bodies are treated with equal respect, and how to weather hatred, loneliness, harassment, and loss–and walk away laughing. Shrill provocatively dissects what it means to become self-aware the hard way, to go from wanting to be silent and invisible to earning a living defending the silenced in all caps.
What I thought: Well.. I laughed a bit. It seemed like a lot of the book was repetitious in a way? I didn't agree with her on a lot of things, but that really doesn't matter in a book. It was ok…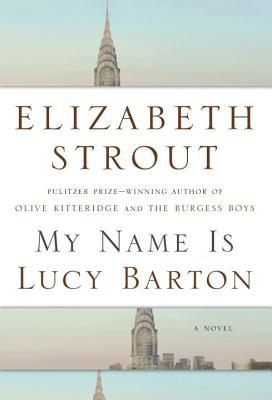 My Name is Lucy Barton by Elizabeth Strout – A new book by Pulitzer Prize winner Elizabeth Strout is cause for celebration. Her bestselling novels, including Olive Kitteridge and The Burgess Boys, have illuminated our most tender relationships. Now, in My Name Is Lucy Barton, this extraordinary writer shows how a simple hospital visit becomes a portal to the most tender relationship of all—the one between mother and daughter.
Lucy Barton is recovering slowly from what should have been a simple operation. Her mother, to whom she hasn't spoken for many years, comes to see her. Gentle gossip about people from Lucy's childhood in Amgash, Illinois, seems to reconnect them, but just below the surface lie the tension and longing that have informed every aspect of Lucy's life: her escape from her troubled family, her desire to become a writer, her marriage, her love for her two daughters. Knitting this powerful narrative together is the brilliant storytelling voice of Lucy herself: keenly observant, deeply human, and truly unforgettable.
What I thought: This was a different book for me. It was interesting and then a little weird.. It was good..but it wasn't a favorite.
Rich and Pretty by Rumaan Alam – This irresistible debut, set in contemporary New York, provides a sharp, insightful look into how the relationship between two best friends changes when they are no longer coming of age but learning how to live adult lives.
As close as sisters for twenty years, Sarah and Lauren have been together through high school and college, first jobs and first loves, the uncertainties of their twenties and the realities of their thirties.
Sarah, the only child of a prominent intellectual and a socialite, works at a charity and is methodically planning her wedding. Lauren—beautiful, independent, and unpredictable—is single and working in publishing, deflecting her parents' worries and questions about her life and future by trying not to think about it herself. Each woman envies—and is horrified by—particular aspects of the other's life, topics of conversation they avoid with masterful linguistic pirouettes.
Once, Sarah and Lauren were inseparable; for a long a time now, they've been apart. Can two women who rarely see one other, selectively share secrets, and lead different lives still call themselves best friends? Is it their abiding connection—or just force of habit—that keeps them together?
With impeccable style, biting humor, and a keen sense of detail, Rumaan Alam deftly explores how the attachments we form in childhood shift as we adapt to our adult lives—and how the bonds of friendship endure, even when our paths diverge.
What I thought: It is kind of odd reading a book about female relationships written by a man. He did a pretty good job though. The story was basically like I was eavesdropping in their lives. It just kept going. Life just went on. There really wasn't a big aha moment or anything…It was ok…
Misty of Chincoteague  by Marguerite Henry – On an island off the coasts of Virginia and Maryland lives a centuries-old band of wild ponies. Among them is the most mysterious of all, Phantom, a rarely seen mare that eludes all efforts to capture her–that is, until a young boy and girl lay eyes on her and determine that they can't live without her. The frenzied roundup that follows on the next "Pony Penning Day" does indeed bring Phantom into their lives, in a way they never would have suspected. Phantom would forever be a creature of the wild. But her gentle, loyal colt Misty is another story altogether.
What I thought: This was my first time reading this story and I think it was done well! I really don't have any complaints.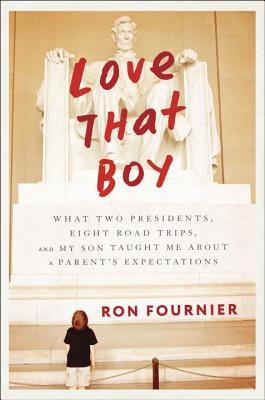 Love That Boy by Ron Fournier – Tyler and I inch toward the Green Room, in line with blow-dried TV anchors and stuffy columnists. He's practicing his handshake and hello: "It's a pleasure to meet you, Mr. President. It's a pleasure to meet you, Mr. President. It's a pleasure to meet you, Mr. President." When the couple in front of us steps forward for their picture, my teenager with sky-blue eyes and a soft heart looks up at me and says, "I hope I don't let you down, Dad."
What kind of father raises a son to worry about embarrassing his dad? I want to tell Tyler not to worry, that he'd never let me down. That there's nothing wrong with being different. That I actually am proud of what makes him special. But we are next in line to meet the president of the United States in a room filled with fellow strivers, and all I can think about is the real possibility that Tyler might embarrass himself. Or, God forbid, me.
LOVE THAT BOY is a uniquely personal story about the causes and costs of outsized parental expectations. What we want for our children—popularity, normalcy, achievement, genius—and what they truly need—grit, empathy, character—are explored by National Journal's Ron Fournier, who weaves his extraordinary journey to acceptance around the latest research on childhood development and stories of other loving-but-struggling parents.
What I thought: What an interesting book. I think every parent should read it, honestly.. It made me think about parenting a little differently…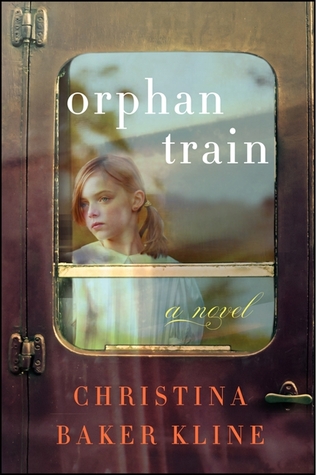 Orphan Train by Christina Baker Kline – The author of Bird in Hand and The Way Life Should Be delivers her most ambitious and powerful novel to date: a captivating story of two very different women who build an unexpected friendship: a 91-year-old woman with a hidden past as an orphan-train rider and the teenage girl whose own troubled adolescence leads her to seek answers to questions no one has ever thought to ask.
Nearly eighteen, Molly Ayer knows she has one last chance. Just months from "aging out" of the child welfare system, and close to being kicked out of her foster home, a community service position helping an elderly woman clean out her home is the only thing keeping her out of juvie and worse.
Vivian Daly has lived a quiet life on the coast of Maine. But in her attic, hidden in trunks, are vestiges of a turbulent past. As she helps Vivian sort through her possessions and memories, Molly discovers that she and Vivian aren't as different as they seem to be. A young Irish immigrant orphaned in New York City, Vivian was put on a train to the Midwest with hundreds of other children whose destinies would be determined by luck and chance.
The closer Molly grows to Vivian, the more she discovers parallels to her own life. A Penobscot Indian, she, too, is an outsider being raised by strangers, and she, too, has unanswered questions about the past. As her emotional barriers begin to crumble, Molly discovers that she has the power to help Vivian find answers to mysteries that have haunted her for her entire life – answers that will ultimately free them both.
Rich in detail and epic in scope, Orphan Train is a powerful novel of upheaval and resilience, of second chances, of unexpected friendship, and of the secrets we carry that keep us from finding out who we are.
What I thought: I thought this was a great story. So many people going into the intricacies of it and it is just a story. Granted there are a lot of generalizations, but I think the story was told well. I loved it and it was a quick read for me..
Well, that's what I read in July, did you read anything great lately?? 🙂