When we started homeschooling about six years ago I never knew how much I enjoyed history. It was always so boring in school! Mix that with my love of reading and these books that I am going to mention are definitely a winner! They are the If You Were Me and Lived in…series brought to you by Carole P. Roman and Awaywegomedia.com.
The author, Carole P. Roman started writing on a dare from one of her sons and ever since has won all sorts of awards for a variety of books. The children's books have been quite popular though and I am personally glad that she wrote them! ha!
I read four of these books during school over the last few weeks. I am actually looking at getting a couple more when we study those time periods in our next school year.
The first book we read was If You Were Me and Lived in…Colonial America (An Introduction to Civilizations Throughout Time) (Volume 4) This was perfect since we were reading a lot about that time period.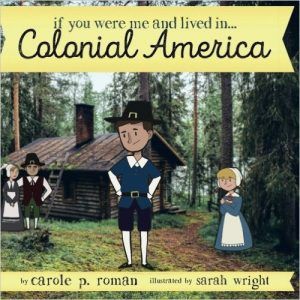 This story is 53 pages long and also has a section in the back that showed some people who influenced the colonies on the entire eastern seaboard. There is also a glossary that includes pronunciations which is nice. There are some pronunciations throughout the book, but there are quite a few extra in this section.
The book itself is very easy to read. We read aloud and it flowed smoothly. A lot of the time it is a few sentences on one side of the page and then a drawing on the other side. The illustrations are very cute for this book.
In this book you are a young boy and it tells the story of your travels from England to the New World. It talks about building houses and then that becoming a plantation. It talks about meeting a native boy from the Wampanoag tribe and how he traded corn and gave planting advice. It mentions what the clothes were like, a little bit about schooling options and what people did for fun.
The book really talked a lot about what life was like during that time period, but in a way that kids would understand. It isn't written in a babyish way either, my kids are all teens and they loved it! I read it old school style showing them the pictures on each page as I went, lol.
The next book we read was If You Were Me and Lived in…the Middle Ages (An Introduction to Civilizations Throughout Time) (Volume 6) as we were doing that in school as well.
This story was quite a bit longer than the previous one. It is about 76 pages and the text on each page is longer as well. The illustrator is different as you can tell just from the book cover image. It has a softer feel to illustrations.
In this book you are a newly turned teen girl. It mentions how your father is already talking about your wedding! It talks about the differences between your family and the rest of the village. I think in this book we were most fascinated with learning about the barber-surgeon. They did operations, pulled out teeth and also haircuts! Crazy! ha!
At the end of this book it showed some famous people from the middle ages and talked a little bit about them. Ryan was learning about a couple of them in his college history class so he was happy to tell me more about them. There is a glossary in this book as well.
The next book is If You Were Me and Lived in…Ancient China: The Han Dynasty. You were a boy in this book. And this book had the same illustrator as the previous one I mentioned.
Even though we aren't studying this at the moment, we have studied it recently.. So when the book started mentioning the Silk Road we already knew what it was and could not our heads in recognition.
Also like the previous book, you were better off than other people as your father was a doctor. I like how it talked about the house differences as we really didn't touch on that in our studies. It mentioned how your house was like everyone else's in your city, in a courtyard. But the poor had many small houses around a courtyard.
Another thing we commented on was that people in northern China ate millet. That is what we use now to train our guineas. We had a little chuckle at that and of course imagined them eating it in its raw form like how we use it. Ack!
The rest of the book talked about school, music, festivals, and just daily life. It is about 65 pages long and has quite a bit of text. Important people of China and a glossary finish up the end of the book.
The last book is If You Were Me and Lived in… Elizabethan England (An Introduction to Civilizations Throughout Time) (Volume 3). You were a girl in this book and it had a new illustrator. I think this illustrator really did a good job on depicting the time that this book was meant for. A lot of darker colors but more detail.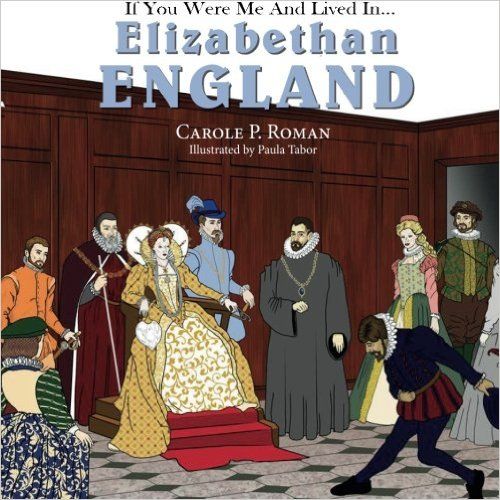 The only time we have really talked about England is reading Charles Dickens stories. So, this was all pretty new for us in school. They were grossed out at how dirty it was. I mean, we have all of our birds and goats and all…but that sounds pleasant compared to what they were saying in the book. Ew..
We also read how houses in the country had roofs made of thatch..but that while it looked nice, a lot of stuff lived in the thatch. Even cats! So when it rained sometimes cats and dogs fell through the thatch! They think that is where the saying "it's raining cats and dogs" came from. 😀
This book had you as being in the middle of the rich and poor, so it was a little different than the other books. It was nice having a different viewpoint. It was interesting to read that nobody drank water. Interesting because our water wasn't working for a couple days and that's all we wanted! ha!
This book was on the shorter end at about 40 pages. Again it had a section of important people and a glossary to finish it.
I am very pleasantly happy about these books! At first I thought they would be a touch young for my kids, and some may say they are, but we learned a lot… We also appreciated that they were written in a way that was easy to understand and it didn't just spew out facts. It put you in the spot of the person in the story.
I will definitely be looking into some of the other titles! If you want to read about what titles others wrote about, feel free to click on the link below!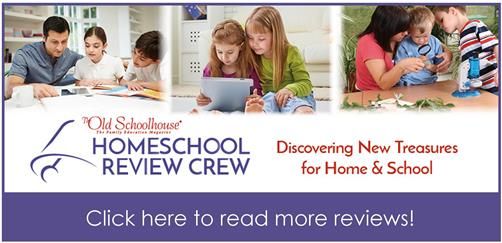 Carole P. Roman {Review}