Ok, this year is just going wayyyy too fast, do you feel that way too? I didn't get to enjoy my October as much as I like to, so maybe that is part of it. I'm really hoping that November is a tad slower. Jeffy has two weeks of travel left and then nothing for the rest of the year…hopefully. I'm just not ready for January to come… I am wondering how many books I will read the rest of the year since I have already passed my Goodreads goal! Anyway, here is what I read in October!
The Connected Child by Karyn B. Purvis – The adoption of a child is always a joyous moment in the life of a family. Some adoptions, though, present unique challenges. Welcoming these children into your family–and addressing their special needs–requires care, consideration, and compassion.
Written by two research psychologists specializing in adoption and attachment, "The Connected Child" will help you: Build bonds of affection and trust with your adopted child Effectively deal with any learning or behavioral disorders Discipline your child with love without making him or her feel threatened.
What I thought: This was recommended by so many people that I thought I should just go ahead and read it. I thought there was a lot of good information that would be helpful for all families, not just adoptive families…the beginning was slightly repetitive, but there's a point to that…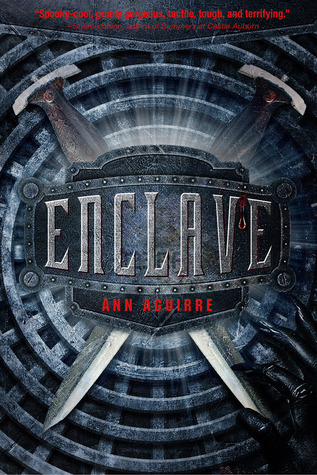 Enclave by Ann Aguirre – New York City has been decimated by war and plague, and most of civilization has migrated to underground enclaves, where life expectancy is no more than the early 20's. When Deuce turns 15, she takes on her role as a Huntress, and is paired with Fade, a teenage Hunter who lived Topside as a young boy. When she and Fade discover that the neighboring enclave has been decimated by the tunnel monsters–or Freaks–who seem to be growing more organized, the elders refuse to listen to warnings. And when Deuce and Fade are exiled from the enclave, the girl born in darkness must survive in daylight–guided by Fade's long-ago memories–in the ruins of a city whose population has dwindled to a few dangerous gangs.
Ann Aguirre's thrilling young adult novel is the story of two young people in an apocalyptic world–facing dangers, and feelings, unlike any they've ever known.
What I thought – I thought this was a different take on the whole dystopia style books, but it had some similarities to others I have read. Good combo I guess, lol. I enjoyed the characters and was curious as to where the story was going to go. I could see reading the next one…
People Who Knew Me by Kim Hooper – Everything was fine fourteen years after she left New York.

Until suddenly, one day, it wasn't.
Emily Morris got her happily-ever-after earlier than most. Married at a young age to a man she loved passionately, she was building the life she always wanted. But when enormous stress threatened her marriage, Emily made some rash decisions. That's when she fell in love with someone else. That's when she got pregnant.
Resolved to tell her husband of the affair and to leave him for the father of her child, Emily's plans are thwarted when the world is suddenly split open on 9/11. It's amid terrible tragedy that she finds her freedom, as she leaves New York City to start a new life. It's not easy, but Emily—now Connie Prynne—forges a new happily-ever-after in California. But when a life-threatening diagnosis upends her life, she is forced to rethink her life for the good of her thirteen-year-old daughter.
A riveting debut in which a woman must confront her own past in order to secure the future of her daughter, Kim Hooper's People Who Knew Me asks: "What would you do?"
What I thought – I was fascinated at this story. I thought it unbelievable but then I thought maybe it was believable after all! I kept reading and it went in ways that I wasn't expecting. The ending could have been a little better, but I liked it overall!
Down With the Shine by Kate Karyus Quinn – Make a wish…
Lennie always thought her uncles' "important family legacy" was good old-fashioned bootlegging. Then she takes some of her uncles' moonshine to Michaela Gordon's annual house party, and finds out just how wrong she was.
At the party, Lennie has everyone make a wish before drinking the shine—it's tradition. She toasts to wishes for bat wings, for balls of steel, for the party to go on forever. Lennie even makes a wish of her own: to bring back her best friend, Dylan, who was murdered six months ago.
The next morning gives Lennie a whole new understanding of the phrase be careful what you wish for—or in her case, be careful what wishes you grant. Because all those wishes Lennie raised a jar of shine to last night? They came true. Most of them came out bad. And once granted, a wish can't be unmade…
What I thought – This was a fun book to read. Kinda silly.. I liked it for a quick read. I wasn't expecting the book to be the way it was, but it was enjoyable.
Lost On a Mountain in Maine by Donn Fendler as told to Joseph B Egan – Based on the true account of a boy's harrowing journey through the vast wilderness of the Katahdin Mountains, Lost on a Mountain in Maine is a gripping survival story for all ages.
Twelve-year-old Donn Fendler steps away from his Boy Scout troop for only a minute, but in the foggy mountains of Maine, a minute is all it takes. After hours of trying to find his way back, a nervous and tired Donn falls down an embankment, making it impossible for him to be found. One sleepless night goes by, followed by a second . . . and before Donn knows it, almost two weeks have passed, leaving him starving, scared, and delirious.
With rainstorms, black bears, and his fear of being lost forever, Donn's journey is a physically, mentally, and emotionally charged story told from the point of view of the boy who lived it.
What I thought – This was a great story of a boy lost in the woods. It was hard to know that it was a true story. There wasn't much 'feeling' in the story, but it told a lot of what was going on. I would like to know more about how much he was feeling or something more personal. I can't imagine being that young and in that position though…
Only Ever You by Rebecca Drake – Jill Lassiter's three-year-old daughter disappears from a playground only to return after 40 frantic minutes, but her mother's relief is short-lived–there's a tiny puncture mark on Sophia's arm. When doctors can find no trace of drugs in her system, Jill accepts she'll never know what happened, but at least her child is safe.
Except Sophia isn't. Someone is watching the Lassiter home in an affluent Pennsylvania suburb, infiltrating the family's personal and professional lives. While Jill struggles to balance building her photography business with parenting high-spirited Sophia, and David is distracted by pressure to make partner at his law firm, both of them are holding on in a marriage that's already been rocked by loss.
Three months after the incident at the park, Sophia disappears again, but this time Jill and David become the focus of police and media scrutiny and suspicion. Facing every parent's worst nightmare a second time, Jill discovers that someone doesn't just want Sophia for her own, she wants to destroy the entire family.
What I thought – This book kept me guessing for quite a while! I had thought the book would go one way and then it went a different way or two and then it went back to the way that I originally thought, lol. Even the ending was surprising!! I loved it!
The Book That Matters Most by Ann Hood – An enthralling novel about love, loss, secrets, friendship, and the healing power of literature, by the bestselling author of The Knitting Circle.
Ava's twenty-five-year marriage has fallen apart, and her two grown children are pursuing their own lives outside of the country. Ava joins a book group, not only for her love of reading but also out of sheer desperation for companionship. The group's goal throughout the year is for each member to present the book that matters most to them. Ava rediscovers a mysterious book from her childhood—one that helped her through the traumas of the untimely deaths of her sister and mother. Alternating with Ava's story is that of her troubled daughter Maggie, who, living in Paris, descends into a destructive relationship with an older man. Ava's mission to find that book and its enigmatic author takes her on a quest that unravels the secrets of her past and offers her and Maggie the chance to remake their lives.
What I thought – I really enjoyed this book. It is told by two characters pretty much and it was interesting to hear the two different lives throughout the year. I totally had guessed the ending, but I loved it anyway…
Well, that's what I read in October! Let me know if you have read any of these or have any favorite books! 😀