Happy New Year!! I can't believe Christmas is over, let alone that it is a new year already. :sigh: Fall is my favorite time of year and now I have to wait forever for it to come around again.. Alas, I have high hopes that 2017 is going to be a great year! 🙂 Did you make your Goodreads goal this year?? I passed mine by quite a bit, I was surprised! I don't think I will up it this year, because who knows, we may get a placement or something and I won't have as much time to read. We will see! Well, let's get with it! Here is what I read in December! I would love to know your favorite books of 2016!!
The Assassin's Blade by Sarah J. Maas – Celaena Sardothien is her kingdom's most feared assassin. Though she works for the powerful and ruthless Assassin's Guild, Celaena yields to no one and trusts only her fellow killer for hire, Sam.When Celaena's scheming master, Arobynn Hamel, dispatches her on missions that take her from remote islands to hostile deserts, she finds herself acting independently of his wishes–and questioning her own allegiance. Along the way, she makes friends and enemies alike, and discovers that she feels far more for Sam than just friendship. But by defying Arobynn's orders, Celaena risks unimaginable punishment, and with Sam by her side, he is in danger, too. They will have to risk it all if they hope to escape Arobynn's clutches–and if they fail, they'll lose not just a chance at freedom, but their lives . . .A prequel to Throne of Glass, this collection of five novellas offers readers a deeper look into the history of this cunning assassin and her enthralling–and deadly–world.Included in this volume: "The Assassin and the Pirate Lord""The Assassin and the Healer""The Assassin and the Desert""The Assassin and the Underworld""The Assassin and the Empire"
What I thought: We all read this for the kids book club book. It was kind of odd having a bunch of shorter stories mixed in, but I think it worked. They were well written and got our attention!
Truly Madly Guilty by Liane Moriarty – ix responsible adults. Three cute kids. One small dog. It's just a normal weekend. What could possibly go wrong?
Sam and Clementine have a wonderful, albeit, busy life: they have two little girls, Sam has just started a new dream job, and Clementine, a cellist, is busy preparing for the audition of a lifetime. If there's anything they can count on, it's each other.
Clementine and Erika are each other's oldest friends. A single look between them can convey an entire conversation. But theirs is a complicated relationship, so when Erika mentions a last minute invitation to a barbecue with her neighbors, Tiffany and Vid, Clementine and Sam don't hesitate. Having Tiffany and Vid's larger than life personalities there will be a welcome respite.
Two months later, it won't stop raining, and Clementine and Sam can't stop asking themselves the question: What if we hadn't gone?
In Truly Madly Guilty, Liane Moriarty takes on the foundations of our lives: marriage, sex, parenthood, and friendship. She shows how guilt can expose the fault lines in the most seemingly strong relationships, how what we don't say can be more powerful than what we do, and how sometimes it is the most innocent of moments that can do the greatest harm.
What I thought: Well, it was definitely interesting, in a weird way. It was a little all over the place, but sometimes that is just how the characters are, or how the writer is…I guess it worked. I liked it. I guess I am surprised that SO many people loved this book though…
Here's to Us by Elin Hilderbrand – Laurel Thorpe, Belinda Rowe, and Scarlett Oliver share only two things; a love for the man they all married, Deacon Thorpe–a celebrity chef with an insatiable appetite for life–and a passionate dislike of one another. All three are remarkable, spirited women, but they couldn't be more different. Laurel: Deacon's high school sweetheart and an effortlessly beautiful social worker; Belinda: a high-maintenance Hollywood diva; and Scarlett: a sexy southern belle floating by on her family money and her fabulous looks. They've established a delicate understanding over the years–they avoid each other at all costs.
But their fragile detente threatens to come crashing down after Deacon's tragic death on his favorite place on earth: a ramshackle Nantucket summer cottage. Deacon's final wish was for his makeshift family to assemble on his beloved Nantucket to say good-bye. Begrudgingly, Laurel, Belinda, and Scarlett gather on the island as once again, as in each of their marriages, they're left to pick up Deacon's mess. Now they're trapped in the crowded cottage where they all made their own memories–a house that they now share in more ways than one–along with the children they raised with Deacon, and his best friend. Laurel, Belinda, and Scarlett each had an unbreakable bond with Deacon–and they all have secrets to hide.
Before the weekend is over, there are enough accusations, lies, tears, and drama to turn even the best of friends–let alone three women who married the same man–into adversaries. As his unlikely family says good-bye to the man who brought them together–for better or worse–will they be able to put aside their differences long enough to raise a glass in Deacon's honor?
What I thought: Hmm, another pretty random book…lol. I liked it well enough, but the whole thing seemed kinda pointless in a way. It took me ages to read through…and was glad to have it finished.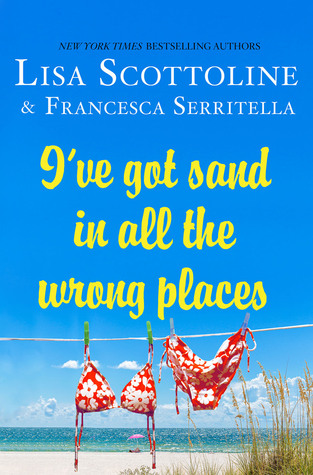 I've Got Sand in All the Wrong Places by Lisa Scottoline & Francesca Serritella – Lisa and Francesca are back with another collection of warm and witty stories that will strike a chord with every woman. This six book series is among the best reviewed humor books published today and has been compared to the late greats, Erma Bombeck and Nora Ephron. Delia Ephron said of the fifth book in the series, Have a Nice Guilt Trip, "Lisa and Francesca, mother and daughter, bring you the laughter of their lives once again and better than ever. You will identify with these tales of guilt and fall in love with them and fierce (grand) Mother Mary." This seventh volume will not disappoint as it hits the humorous and poignant note that fans have come to expect from the beloved mother-daughter duo.
What I thought: As much as I like Lisa Scottline for her mystery novels, I am so happy that I like the more humorous stuff. I wish I could be her friend..lol. I love the mother daughter stories and how well they mesh together. Good short stories that are an easy read…
So, that's what I read in December. It was pretty lackluster for me, but I was happy to end it on a happy note. I did finish one one book already this year and I loved it, so that's a great start to the year! You will have to read next month to see what that is… 😉