Wow! I read a lot this month! I guess traveling will do that, but I was still surprised. Turns out I am 15% done with my reading challenge already! I just started a new book and I think it is going to take me a while to get through it. Just a little slow at the moment, hopefully it picks up. Have you read anything wonderful lately? I love being able to read some of your suggestions! Anyway, here is what I read in January!
Leave Me by Gayle Forman
For every woman who has ever fantasized about driving past her exit on the highway instead of going home to make dinner, for every woman who has ever dreamed of boarding a train to a place where no one needs constant attention–meet Maribeth Klein. A harried working mother who's so busy taking care of her husband and twins, she doesn't even realize she's had a heart attack.
Afterward, surprised to discover that her recuperation seems to be an imposition on those who rely on her, Maribeth does the unthinkable: She packs a bag and leaves. But, as is so often the case, once we get to where we're going, we see our lives from a different perspective. Far from the demands of family and career and with the help of liberating new friendships, Maribeth is finally able to own up to secrets she has been keeping from those she loves and from herself.
With big-hearted characters who stumble and trip, grow and forgive, Leave Me is about facing our fears. Gayle Forman, a dazzling observer of human nature, has written an irresistible novel that confronts the ambivalence of modern motherhood head-on.
What I thought: I have read this author with YA novels and was intrigued on the adult book. I actually liked it! It was told in such a way that you just understood where she was coming from. I hope she writes more books!
The Christmas Angel Project by Melody Carlson
Five women from different walks of life have become close friends through their book club–enjoying one another's company even more than they enjoy the books. So when the leader of the book club unexpectedly passes away on the cusp of the Christmas season, the four remaining friends are stunned. They relied on Abby for inspiration and motivation. She was the glue that held them together, and they're sure that without her the group can't continue.
When the group gathers "one last time" to open a bag Abby's husband gives them, they find Abby had made each of them an angel ornament for Christmas, crafted especially for each woman and accompanied by a sweet and personal note. Inspired by their beloved friend, together Cassidy, Louisa, Grace, and Belinda decide to commit themselves to becoming Christmas Angels to others in need. Each woman will use her life situation and talents to reach out and help others in her own unique way–little knowing that her own life and her relationships will be changed forever.
Fan favorite Melody Carlson is back with another touching Christmas story sure to grip readers' hearts and perhaps inspire them to become Christmas Angels themselves.
What I thought: I had gotten this book in December but didn't get to it until January. Things happen I suppose! But it was a cute Christmas story that was better than I thought it would be. A very fast read. For a shorter book, the main character was done pretty well!
The Family Plot by Cherie Priest
Chuck Dutton built Music City Salvage with patience and expertise, stripping historic properties and reselling their bones. Inventory is running low, so he's thrilled when Augusta Withrow appears in his office offering salvage rights to her entire property. This could be a gold mine, so he assigns his daughter Dahlia to personally oversee the project.
The crew finds a handful of surprises right away. Firstly, the place is in unexpectedly good shape. And then there's the cemetery, about thirty fallen and overgrown graves dating to the early 1900s, Augusta insists that the cemetery is just a fake, a Halloween prank, so the city gives the go-ahead, the bulldozer revs up, and it turns up human remains. Augusta says she doesn't know whose body it is or how many others might be present and refuses to answer any more questions. Then she stops answering the phone.
But Dahlia's concerns about the corpse and Augusta's disappearance are overshadowed when she begins to realize that she and her crew are not alone, and they're not welcome at the Withrow estate. They have no idea how much danger they're in, but they're starting to get an idea. On the crew's third night in the house, a storm shuts down the only road to the property. The power goes out. Cell signals are iffy. There's nowhere to go and no one Dahlia can call for help, even if anyone would believe that she and her crew are being stalked by a murderous phantom. Something at the Withrow mansion is angry and lost, and this is its last chance to raise hell before the house is gone forever. And it seems to be seeking permanent company.
The Family Plot is a haunted house story for the ages-atmospheric, scary, and strange, with a modern gothic sensibility to keep it fresh and interesting-from Cherie Priest, a modern master of supernatural fiction.
What I thought: I wasn't sure what to think of this book when I picked it up. There were a couple spooky bits in it but it was one book that I didn't want to put down. It was a unique story for me, especially since I don't read many books like this, about a haunted house. I was definitely intrigued though!
The Island House by Nancy Thayer
The charms of Nantucket tempt a woman to leave her established life in Kansas City—but with a piece of her heart, and a love interest, in each world, she discovers she must look within to choose the right path.
Every summer since college, twenty-nine-year-old Jenny has traded the familiarity of the Midwest for the allure of Nantucket. Now an established university professor in Kansas City, she finds herself caught between two lifestyles and two very different men. She chooses Nantucket and the glamorous life she associates with it, unaware that the summer will take an unexpected turn, and she will have to let her heart decide what it truly wants.
What I thought: This was another cute story, you know, a typical beach read that I read in the middle of winter, lol. I enjoy this author, I think I have read a few of her books. They are all pretty light to read, which I wanted after the spooky book, lol.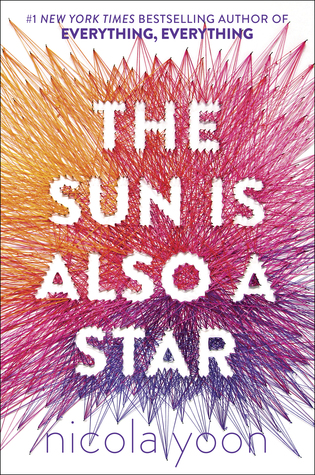 The Sun is Also a Star by Nicola Yoon
Natasha: I'm a girl who believes in science and facts. Not fate. Not destiny. Or dreams that will never come true. I'm definitely not the kind of girl who meets a cute boy on a crowded New York City street and falls in love with him. Not when my family is twelve hours away from being deported to Jamaica. Falling in love with him won't be my story.
Daniel: I've always been the good son, the good student, living up to my parents' high expectations. Never the poet. Or the dreamer. But when I see her, I forget about all that. Something about Natasha makes me think that fate has something much more extraordinary in store—for both of us.
The Universe: Every moment in our lives has brought us to this single moment. A million futures lie before us. Which one will come true?
What I thought: YES!! I so loved this book! The story was completely about what happened in one day. It was so great reading from different viewpoints, whereas a lot of the time I don't like that as much. It was done so so well! I want to read more!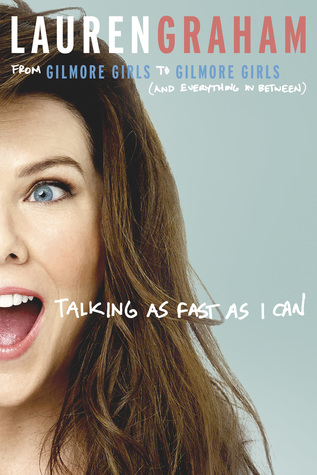 Talking as Fast as I Can by Lauren Graham
In this collection of personal essays, the beloved star of Gilmore Girls and Parenthood reveals stories about life, love, and working as a woman in Hollywood—along with behind-the-scenes dispatches from the set of the new Gilmore Girls, where she plays the fast-talking Lorelai Gilmore once again.
In Talking as Fast as I Can, Lauren Graham hits pause for a moment and looks back on her life, sharing laugh-out-loud stories about growing up, starting out as an actress, and, years later, sitting in her trailer on the Parenthood set and asking herself, "Did you, um, make it?" She opens up about the challenges of being single in Hollywood ("Strangers were worried about me; that's how long I was single!"), the time she was asked to audition her butt for a role, and her experience being a judge on Project Runway ("It's like I had a fashion-induced blackout").
In "What It Was Like, Part One," Graham sits down for an epic Gilmore Girls marathon and reflects on being cast as the fast-talking Lorelai Gilmore. The essay "What It Was Like, Part Two" reveals how it felt to pick up the role again nine years later, and what doing so has meant to her.
Some more things you will learn about Lauren: She once tried to go vegan just to bond with Ellen DeGeneres, she's aware that meeting guys at awards shows has its pitfalls ("If you're meeting someone for the first time after three hours of hair, makeup, and styling, you've already set the bar too high"), and she's a card-carrying REI shopper ("My bungee cords now earn points!").
Including photos and excerpts from the diary Graham kept during the filming of the recent Gilmore Girls: A Year in the Life, this book is like a cozy night in, catching up with your best friend, laughing and swapping stories, and—of course—talking as fast as you can.
What I thought: I loved this book! I mean, I like all of the shows that Lauren Graham is in and she does have a wonderful way of talking very fast, lol. It was a great behind the scenes kinda read. Not much behind the scenes, but it got you a little glimpse. And you can totally hear the way she talks in her writing… 🙂
Purple Hibiscus by Chimamanda Ngozi Adichie
Fifteen-year-old Kambili and her older brother Jaja lead a privileged life in Enugu, Nigeria. They live in a beautiful house, with a caring family, and attend an exclusive missionary school. They're completely shielded from the troubles of the world. Yet, as Kambili reveals in her tender-voiced account, things are less perfect than they appear. Although her Papa is generous and well respected, he is fanatically religious and tyrannical at home—a home that is silent and suffocating.
As the country begins to fall apart under a military coup, Kambili and Jaja are sent to their aunt, a university professor outside the city, where they discover a life beyond the confines of their father's authority. Books cram the shelves, curry and nutmeg permeate the air, and their cousins' laughter rings throughout the house. When they return home, tensions within the family escalate, and Kambili must find the strength to keep her loved ones together.
Purple Hibiscus is an exquisite novel about the emotional turmoil of adolescence, the powerful bonds of family, and the bright promise of freedom.
What I thought: I wasn't sure where this story was going to go at the beginning, but I got into it the more I read. The main character was so well written that you felt close to her. I really enjoyed this book, I just wish it had ended differently..
Shelter by Jung Yun
Kyung Cho is a young father burdened by a house he can't afford. For years, he and his wife, Gillian, have lived beyond their means. Now their debts and bad decisions are catching up with them, and Kyung is anxious for his family's future.
A few miles away, his parents, Jin and Mae, live in the town's most exclusive neighborhood, surrounded by the material comforts that Kyung desires for his wife and son. Growing up, they gave him every possible advantage—private tutors, expensive hobbies—but they never showed him kindness. Kyung can hardly bear to see them now, much less ask for their help. Yet when an act of violence leaves Jin and Mae unable to live on their own, the dynamic suddenly changes, and he's compelled to take them in. For the first time in years, the Chos find themselves living under the same roof. Tensions quickly mount as Kyung's proximity to his parents forces old feelings of guilt and anger to the surface, along with a terrible and persistent question: how can he ever be a good husband, father, and son when he never knew affection as a child?
What I thought: This was another different book for me! It kept taking different turns and I wasn't sure how it was going to end for a while.. I love that, it makes me keep reading! The description of the book just is a quick glance as there is so much more in this story!
Invincible Summer by Alice Adams
Four friends. Twenty years. One unexpected journey. Inseparable throughout college, Eva, Benedict, Sylvie, and Lucien graduate in 1997, into an exhilarating world on the brink of a new millennium. Hopelessly in love with playboy Lucien and eager to shrug off the socialist politics of her upbringing, Eva breaks away to work for a big bank. Benedict, a budding scientist who's pined for Eva for years, stays on to complete his PhD in physics, devoting his life to chasing particles as elusive as the object of his affection. Siblings Sylvie and Lucien, never much inclined toward mortgages or monogamy, pursue more bohemian existences-she as an aspiring artist and he as a club promoter and professional partyer. But as their twenties give way to their thirties, the group struggles to navigate their thwarted dreams. Scattered across Europe and no longer convinced they are truly the masters of their fates, the once close-knit friends find themselves filled with longing for their youth- and for one another. Broken hearts and broken careers draw the foursome together again, but in ways they never could have imagined.
A dazzling depiction of the highs and lows of adulthood, Invincible Summer is a story about finding the courage to carry on in the wake of disappointment, and a powerful testament to love and friendship as the constants in an ever-changing world.
What I thought: So, if you have read my reading blogs for any length of time you know that I prefer not to read multiple viewpoints. It usually confuses me. This one was done with perfection though! I loved all of the characters! There was pretty much one main character and then the rest, but it starts out around college and goes through 20 years of life stories. It was like glancing in on their lives from the outside, which is quite fascinating, lol. Loved this book!
Ok, that's what I read in January! Have you read any of these? Have any recommendations for me? 🙂 Let me know!