Our school year officially started this week! Well, kind of. We are still waiting for a few things to arrive. But, we like to take a slow start to school and not rush in full on. We are going to work really hard on geography this year as Lauren is still having issues in that subject. We are also going to be doing World History this year. Home School in the Woods has come out with HISTORY Through the Ages Project Passport World History Study: Ancient Greece.  I am all about the unit studies, friends! They make me so happy! Such a fun, easy way to learn!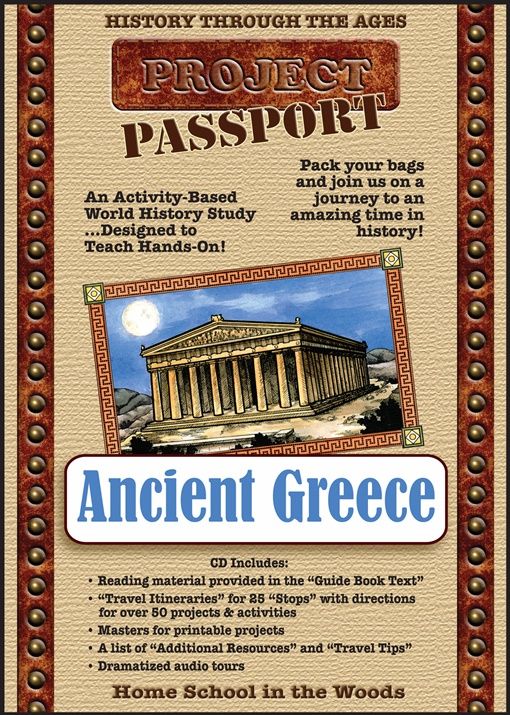 I got the downloadable format, but it also comes as a CD. Now, I will warn you, there are a lot of files! When that happens, I tend to get overwhelmed until I get the hang of where things are and what I am doing with them. That was the case with this. I looked at each folder of files, looked through the files a bit, acquainted myself with everything and then I was good to go.
The study is broken down into stops, there are 25 total. Each stop has a list of things that are accomplished, which is nice, I love when things are easy like that. And here comes another warning…that first stop is a doozy! I suggest pre-printing everything for stop one before you start. A lot of the other stops build on what is printed in step one, so it just gets easier after that first step.
These unit studies are made for grades 3-8, but let me tell you, my older kids all enjoy them! Even Ryan, who is graduating this year, ha! We all work on them together and have a good time..
When you have three kids working on this unit study, be prepared to print a lot. I don't mind this at all, as it is such a fantastic study. There are so many projects, things to work on and put together that it doesn't even seem like school is happening! You don't have to do everything either..you can pick and choose! We like to do them all though, so we just print away!
On a typical stop, this is what we do… We start by reading that days text, which I read aloud. Then, I use the travel itinerary for that stop to see what we do next. For example, stop #3 is the Archaic Period. It starts out with adding things to your Snapshot Moments section. This is kind of a timeline that goes with what is read that day. You can color, cut and place the different items on the corresponding pages. I will admit that we don't color the items, but I think younger kids totally would want to do that!
Step two has us adding to the newspaper which is called "Greek Weekly". Kids can't write article and also place things on the newspaper, like ads, which are given for you to cut out.
Step three is working with postcards! One of the earlier stops had them make a postcard rack.. So each stop has a postcard provided that has something to do with that days reading. They cut those out, draw a picture on the other side, and put them in their postcard rack. My kids do draw on the postcards.. Here is a picture from an earlier stop.
They do a lot of work with maps. This helps to get them familiar with the locations are that are being talked about. They fill in a little bit each day. By Stop #3 they are working with three different maps. You can choose if the children cut out the different locations from a file provided, or they can just write them in. I have one that cuts out and two that write in..just to make it interesting, lol.
There are master files provided that show you how the finished projects are supposed to look, where things are placed on the maps, etc. I have used this plenty of times already!
Once you complete all of the stops, you can then put your lapbook together! This is where the magic happens and you can then keep all of your projects in a safe place all together! It all just fits in there somehow, ha! I am so glad that I don't have to figure that out and it is already done for me!
Eventually there are even some MP3's to listen to, which is a nice break for the kids not having to hear more of my voice..ha! But there is over an hour of listening on these files!
What I love about unit studies is that you can make it work for your family. We did this two times a week. It helped me have time to print and organize everything on the off days, and I could get everything prepared. Also, with Ryan's college schedule, it just worked out better for us that way. In the end, it will take us longer to complete the whole study, especially since we take longer at each stop because I want to get some extra learning in since they are older.
This unit study is so well put together, once I get everything organized in my own mind, that you can't help but to love it. It tells you what to do every day and there is one file that has all of the stops on just a couple pages, so you can glance and see what is coming next.
If you want to read about some of the other unit studies from Home School in the Woods, feel free to click on the banner below for some more reviews on Ancient Greece as well as Ancient Egypt, The Middle Ages, and Renaissance & Reformation. I am also excited that Ancient Rome is coming out in 2018!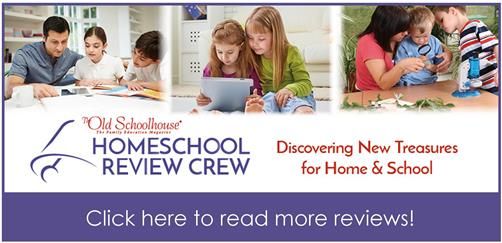 Home School in the Woods – Ancient Greece