Today is one of my least favorite days of the year. I just don't like April Fool's Day! The only good thing about it is the funny stuff that online business put little ads out for. Those make me chuckle. But I just don't like tricks and other things like that… Blah.. But, I do like reading, right?? 😉 So, this is what I read in March!
Things We Have in Common by Tasha Kavanagh – Fifteen-year-old Yasmin Doner is a social misfit—obese, obsessive and deemed a freak by her peers at school. With her father dead and her mother in a new relationship, Yasmin yearns for a sense of belonging, finding comfort only in food and the fantasy of being close to Alice Taylor, a girl at school. Yasmin will do anything to become friends with pretty and popular Alice—even if Alice, like everyone else, thinks she's a freak.
When Yasmin notices a sinister-looking man watching Alice from the school fence, she sees a way of finally winning Alice's affection—because how this stranger is staring is far more than just looking, it's wanting. Because this stranger, Yasmin believes, is going to take Alice. Yasmin decides to find out more about this man so that when he does take Alice, Yasmin will be the only one who knows his name and where he lives…the only one who can save her.
But as Yasmin discovers more about him, her affections begin to shift. Perhaps she was wrong about him. Perhaps she doesn't need Alice after all.
And then Alice vanishes.
What I thought: Well, I wasn't sure how this was going to go, but it ended up just being an eh book for me. The way it was written, the characters.. Neither really did it for me. There were a lot of good ratings on Goodreads, so I was hopeful.. Ah well, maybe you will like it!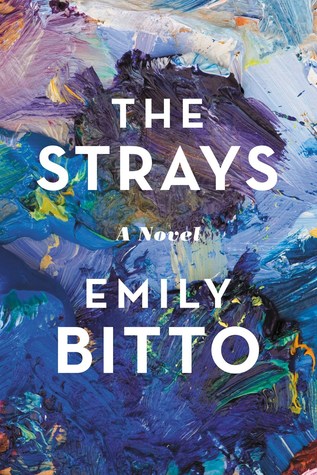 The Strays by Emily Bitto – On her first day at a new school, Lily befriends Eva and her sisters Beatrice and Heloise, daughters of the infamous avant-garde painter Evan Trentham. An only child from an unremarkable, working-class family, Lily has never experienced a household like the Trenthams'–a community of like-minded artists Evan and his wife have created, all living and working together to escape the stifling conservatism of 1930's Australia. And Lily has never met anyone like Eva, whose unabashed confidence and worldly knowledge immediately draw her in.
Infatuated by the creative chaos of the Trenthams and the artists who orbit them, Lily aches to fully belong in their world, craving something beyond her own ordinary life. She becomes a fixture in their home, where she and Eva spend their days lounging in the garden, filching cigarettes and wine, and skirting the fringes of the adults' glamorous lives, who create scandalous art during the day and host lavish, debauched parties by night. But as seductive as the artists' utopian vision appears, behind it lies both darkness and dysfunction. And the further the girls are pulled in, the greater the consequences become.
With elegance and vibrancy, THE STRAYS evokes the intense bonds of girlhood friendships, the volatile undercurrents of a damaged family, and the yearning felt by an outsider looking in.
What I thought: I enjoyed the read, although it wasn't an absolute favorite. I liked how there is a past and present. You understand more of what went on, especially toward the end.. hmm…
The Mother's Promise by Sally Hepworth – With every book, Sally Hepworth becomes more and more known for her searing emotional portraits of families—and the things that test their bonds. In The Mother's Promise, she delivers her most powerful novel yet: the story of a single mother who is dying, the troubled teenaged daughter who is battling her own demons, and the two women who come into their lives at the most critical moment.
Alice and her daughter Zoe have been a family of two all their lives. Zoe has always struggled with crippling social anxiety and her mother has been her constant and fierce protector. With no family to speak of, and the identity of Zoe's father shrouded in mystery, their team of two works—until it doesn't. Until Alice gets sick and is given a grim prognosis.
Desperate to find stability for Zoe, Alice reaches out to two women who are practically strangers, but who are her only hope: Kate, her oncology nurse, and Sonja, a social worker. As the four of them come together, a chain of events is set into motion and all four of them must confront their sharpest fears and secrets—secrets about abandonment, abuse, estrangement, and the deepest longing for family. Imbued with heart and humor in even the darkest moments, The Mother's Promise is an unforgettable novel about the power of love and forgiveness.
What I thought: I really enjoyed this book. You really got in with the characters and I enjoyed the way the book was written. You get a sense of the different characters and you can still see the whole story.. I think I will look for more books by this author!
Always by Sarah Jio – While enjoying a romantic candlelit dinner with her fiance, Ryan, at one of Seattle's chicest restaurants, Kailey Crane can't believe her good fortune: She has a great job as a writer for the Herald and is now engaged to a guy who is perfect in nearly every way. As they leave the restaurant, Kailey spies a thin, bearded homeless man on the sidewalk. She approaches him to offer up her bag of leftovers, and is stunned when their eyes meet, then stricken to her very core: The man is the love of her life, Cade McAllister.
When Kailey met Cade ten years ago, their attraction was immediate and intense everything connected and felt "right." But it all ended suddenly, leaving Kailey devastated. Now the poor soul on the street is a faded version of her former beloved: His weathered and weary face is as handsome as Kailey remembers, but his mind has suffered in the intervening years. Over the next few weeks, Kailey helps Cade begin to piece his life together, something she initially keeps from Ryan. As she revisits her long-ago relationship, Kailey realizes that she must decide exactly what and whom she wants.
Alternating between the past and the present, Always is a beautifully unfolding exploration of a woman faced with an impossible choice, a woman who discovers what she's willing to save and what she will sacrifice for true love.
What I thought: At one point I really got into the book, but then it kept getting stagnant again. I liked the story line idea… it was just kind of predictable in a way? A good beach read…
Bessie's Pillow by Linda Bress Silbert – May this pillow bring you peace. So reads the pillow entrusted, in 1906, to 18-year-old Boshka Markman as she prepares to board a train in Vilna, Lithuania. One of hundreds of thousands of Jewish immigrants who will leave Europe to escape persecution, she travels to America alone. This is not just a story about a pillow, however. A masterful blending of history and life in the early 20th century as seen through one woman's eyes, it is also a story of resilience-one that reminds us that no matter when or from where we came to America, we are not so different. This is not only Bessie's story-it is ours. Based on the true story of Bessie Markman Dreizen, this story crosses genres like few others, offering a glimpse of what it was like for the thousands who came to America between 1880 and 1920 and a front-row view through a child's eyes at the persecutions endured by the Jews of the Pale of Settlement at the hands of the Russian Czar. But this book's greatest gift is education not only of the mind…but of the heart. As Bessie says in the prologue, no matter what challenges we may face, "Happiness will come again."
What I thought: I reviewed this book here if you wanted to see what I thought. But I definitely enjoyed this book and knowing it was based on a true story made it even better!
Robinson Crusoe by Daniel Defoe – A shipwreck. A sole survivor, stranded on a deserted island. What could be more appealing to children than Robinson Crusoe's amazing adventure? Set in the 17th century, and unfolding over a 30-year period, it offers plenty of suspense and everyday detail about how Crusoe manages to stay alive. Additionally, it paints a fascinating portrait of the age—including references to slavery and Europe's view of the "New World."
What I thought: Ok…who doesn't know this book? And again, it was one of those that I never had read! It was slow going for me, the way it was written and the whole story line. I mean, I get that it is a classic and written hundreds of years ago…so there's that. :shrug:
The You I've Never Known by Ellen Hopkins – For as long as she can remember, it's been just Ariel and Dad. Ariel's mom disappeared when she was a baby. Dad says home is wherever the two of them are, but Ariel is now seventeen and after years of new apartments, new schools, and new faces, all she wants is to put down some roots. Complicating things are Monica and Gabe, both of whom have stirred a different kind of desire.
Maya's a teenager who's run from an abusive mother right into the arms of an older man she thinks she can trust. But now she's isolated with a baby on the way, and life's getting more complicated than Maya ever could have imagined.
Ariel and Maya's lives collide unexpectedly when Ariel's mother shows up out of the blue with wild accusations: Ariel wasn't abandoned. Her father kidnapped her fourteen years ago.
What is Ariel supposed to believe? Is it possible Dad's woven her entire history into a tapestry of lies? How can she choose between the mother she's been taught to mistrust and the father who has taken care of her all these years?
In bestselling author Ellen Hopkins's deft hands, Ariel's emotionally charged journey to find out the truth of who she really is balances beautifully with Maya's story of loss and redemption. This is a memorable portrait of two young women trying to make sense of their lives and coming face to face with themselves—for both the last and the very first time.
What I thought: I really enjoyed this book! The main character was really well written.. There were a couple cheesy parts, but really, they had to happen anyway.. I liked the way the story was told as well. I want to say one thing but will give it away so….you will have to read it for yourself. Ahh, the easy way out, lol.
Class by Lucinda Rosenfeld – A satirical novel about a mother whose life spirals out of control when she's forced to rethink her bleeding heart liberal ideals
For idealistic forty-something Karen Kessler, it isn't enough that she works full-time in the non-profit sector, aiding an organization that helps hungry children from disadvantaged homes. She's also determined to live her personal life in accordance with her ideals. This means sending her daughter, Ruby, to an integrated public school in their Brooklyn neighborhood.
But when a troubled student from a nearby housing project begins bullying children in Ruby's class, the distant social and economic issues Karen has always claimed to care about so passionately feel uncomfortably close to home. As the situation at school escalates, Karen can't help but wonder whether her do-gooder husband takes himself and his causes more seriously than her work and Ruby's wellbeing.
A daring, discussable satire about gentrification and liberal hypocrisy, and a candid take on rich and poor, white and black, CLASS is also a smartly written story that reveals how life as we live it–not as we like to imagine it–often unfolds in gray areas.
What I thought: Well, I didn't enjoy this book much at all. There were a couple good parts. But for the main of it, I thought the character to be a whiny girl who is upset at life and who worries too much on what people think of her. Ick. It says satire, but I just say no…lol.
The Nerdy and the Dirty by B.T. Gottfred – Pen Lupo is sick and tired of hiding who she is. On the outside, Pen is popular, quiet, and deferential to her boyfriend. On the inside, however, Pen is honest, opinionated—and not quite sure that she's like other girls. Do they have urges like she does?
His classmates may consider him a nerd, but Benedict Pendleton knows he's destined for great things. All he has to do is find a worthy girlfriend, and his social station will be secured. Sure, Benedict is different–but that's what he likes about himself.
When fate intervenes, both Pen and Benedict end up at the same vacation resort for winter break. Despite their differences, the two are drawn together. But is there such a thing as happily ever after for a nympho and a nerd?
What I thought: I totally liked this book! I mean, it went places that I wasn't expecting, but I loved the dueling writing by the two main characters, you got to really know them. Very cute book, fast read…
Ok, I didn't really think that I had read so many books this month, wow!! I am up to 25 for the year already! Let me know if you have read any great books, I am always up for suggestions!!