With all three of my kids doing high school work, I figured I should be looking at some languages for them! Ryan has been interested in Latin but the opportunity came for us to try out the First Form Greek Complete Set from Memoria Press and I jumped on it! We have used Memoria Press for a few things and always love how thorough they are! I figured since Ryan had a little bit of experience with the Latin that he would be the best to try out the Greek. At the time, we were also finishing up a unit study on Greece, so the timing was perfect!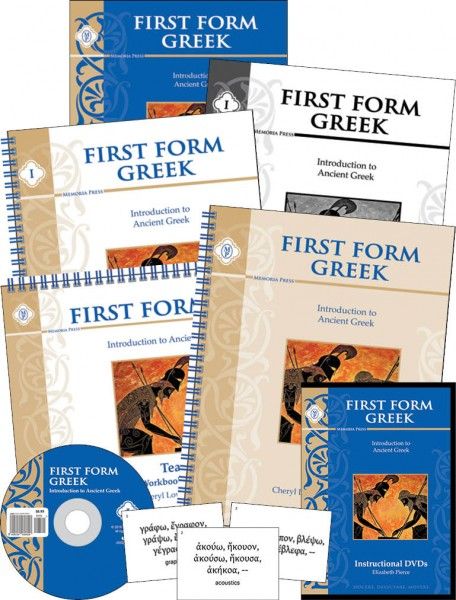 Now,
Memoria Press
doesn't mess around with their curriculum. Like I mentioned they are very thorough! The
First Form Greek
didn't disappoint either! The picture above shows what all is included and I will go over it all in a bit.
I will mention…while this is designed for people with or without experience in Greek, it would be suggested to start at least after learning the alphabet. Memoria Press sells a Greek Alphabet Book that would be a great extra if your student doesn't know the alphabet. But don't despair, it was also suggested that you could spend more time in Lesson one to master the alphabet…and that is what we did! ha!
It took a good while for him to get the alphabet down. Once he figured that out, he was able to continue with more confidence and work on a more typical schedule. He would work on it Wed-Fri as those are the days he has extra time and he thought that it would be good to do it three days in a row as opposed to breaking it up throughout the week.
First you have the Teacher Manual and Teacher Key. In the Teacher Key introduction they list an ideal scope and sequence to learn Greek, and that is quite interesting…Years 5+ they suggest Greek literature…wow, I just can't imagine some of the titles they list and being able to understand. Exciting! Anyway, that section also describes how the lessons are typically and any info to help with that.. And then, if you know me you know I love this, it tells you what to do each day. It breaks it down so completely that there should be no question. Lesson one day one is the longest lesson I think, of course we haven't made it through the whole book..but it is understandable. It tells you what to read, what to review, what to work on in the workbook and there are little squares next to each that you can check off when completed! So great!
The Teacher Key is a book of answers for the workbook, quizzes and tests. I like how the answers are written in a very easy to see and understand format. They match up to how they are written in the student workbook. They are also listed in blue, which helps a lot as well! Some answer books are very hard to understand and aren't very user friendly. I always appreciate when companies put extra thought into their items.
Next are the student books. The Student Text is a very short but informative text book. It gets right into the heart of everything. But a little extra that is included with all of the language information are little snippets that are Greek related somehow. What we did was when one of these came up we spent a little extra time learning about whatever was mentioned.
The workbook is basically like what you would think a workbook would be. It is all fill in the blank and has plenty of room to write in your answers.
There is also a booklet of Quizzes and Tests and it has tear out pages which is so nice! I print and make copies of so many other things on a daily basis, that I appreciate the tear out pages so much!
The last few things are great extras that really complete this package. The thing that really helped was the pronunciation CD. I mean, how many people could look at the Greek characters and know how to pronounce them..ha! So this saved us quite a few times!
The DVD's are amazing and so full of information. There are five disks and the lessons covered aren't very long.. Sometimes these were watched a few times in order to get it correct, it is such a good companion to the books.
Last are the flash cards. I know some people aren't flash card people, but they really go over well here. These really helped for the quizzes and tests as well as just for the workbook.
These extras make it so much more interesting than just having the books.
Even though Ryan had a little knowledge of Latin, we basically started from scratch with this. It is a pretty difficult language to learn, but I think that this set is something that will definitely help you learn it. Following their schedule in the book that I mentioned above or the one mentioned on their website would give you a very thorough education on the Greek language.
Memoria Press has so many different things to offer, one of which is a set that involves the Iliad and the Odyssey. That might be something that we look at for next year.. If you want to look and see what others thought of this First Form Greek and a few other curriculum choices, feel free to click the banner below… 🙂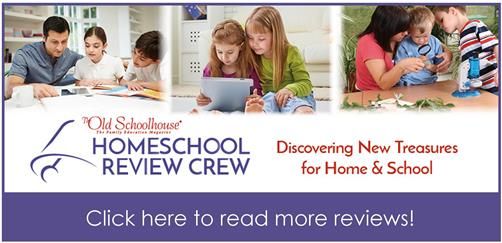 Memoria Press First Form Greek Complete Set