It is already May!! May is going to be quite busy by the looks of it, so I am not sure how many books I will get read this month. Jeffy is traveling a bit more than normal since he doesn't travel much in June or July, so maybe I will get some reading done then.. Anyway, here is what I read in April.. Let me know any book titles that you have loved lately, or old favorites that you think I should read! 🙂
It always kind of surprises me when I go to make these posts about what books I read in a month. Sometimes there is such a variety of books it makes me chuckle, other times it is a lot of the same.. Funny how that happens.
Into White by Randi Pink – When a black teenager prays to be white and her wish comes true, her journey of self-discovery takes shocking–and often hilarious–twists and turns in this debut that people are sure to talk about.
LaToya Williams lives in Birmingham, Alabama, and attends a mostly white high school. She's so low on the social ladder that even the other black kids disrespect her. Only her older brother, Alex, believes in her. At least, until a higher power answers her only prayer–to be "anything but black." And voila! She wakes up with blond hair, blue eyes, and lily white skin. And then the real fun begins . . .
Randi Pink's debut dares to explore provocative territory. One thing's for sure–people will talk about this book.
What I thought: It was just an odd book. I mean, I get the storyline and all, but the way it was done was just a little odd and I couldn't get into it 100%. I liked bits of it though.
The Cat of Bubastes by G.A. Henty – Chebron, the young son of an Egyptian high priest, and Amuba, a young slave in the boy's household, are close friends; but their lives are greatly altered when Chebron accidentally kills a cat, an animal held sacred by the ancient Egyptians. Forced to flee for their safety, the boys and their companions begin a long and dangerous journey. A thrilling adventure story, this is also a tale packed with historical facts. Among other fascinating details, young readers learn about the Egyptian religion and geography, how the Nile was used for irrigation, and how the Egyptians made war and were prepared for burial. A captivating book that accurately describes life in a once magnificent civilization, this volume will especially appeal to youngsters fascinated by the life and customs of ancient Egypt.
What I thought: I really enjoyed the way the book was written, it got you involved in the story with the characters. It's a little slow at times but I think it is just the way the author writes..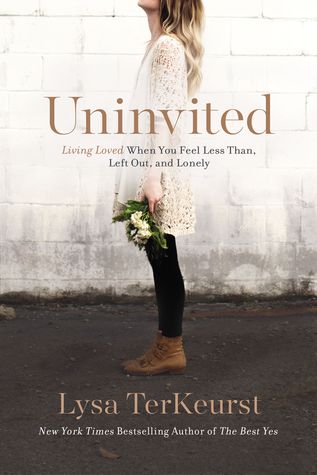 Uninvited by Lysa TerKeurst – The enemy wants us to feel rejected . . . left out, lonely, and less than. When we allow him to speak lies through our rejection, he pickpockets our purpose. Cripples our courage. Dismantles our dreams. And blinds us to the beauty of Christ's powerful love.
In Uninvited, Lysa shares her own deeply personal experiences with rejection—from the incredibly painful childhood abandonment by her father to the perceived judgment of the perfectly toned woman one elliptical over.
With biblical depth, gut-honest vulnerability, and refreshing wit, Lysa helps readers:
Release the desire to fall apart or control the actions of others by embracing God-honoring ways to process their hurt.
Know exactly what to pray for the next ten days to steady their soul and restore their confidence.
Overcome the two core fears that feed our insecurities by understanding the secret of belonging.
Stop feeling left out and start believing that "set apart" does not mean "set aside."
End the cycle of perceived rejection by refusing to turn a small incident into a full blown issue.
What I thought: I totally saw some things in this book that reminded me of things in my past. Past friends, past experiences… Gah.. But I enjoyed the way the book was told. Some bits were repetitive, but I think I have mentioned that before with these sorts of books. I guess it is a common theme..
Walden by Henry David Thoreau – Henry David Thoreau, noted transcendentalist, wrote Walden as a reflection upon simple living in natural surroundings. The work is part personal declaration of independence, social experiment, voyage of spiritual discovery, satire, and manual for self-reliance.
Nature was a study for the essayist, naturalist, and environmentalist David Thoreau. He communed from his cabin on Walden Pond, owned by Ralph Waldo Emerson, to -live deliberately, to front only the essential facts of life, and… learn what it had to teach.-
Walden is landmark book on self-reliance and simple living.
What I thought: So, I was reading this out loud and I am sure that made a difference but it was hard to get into it that way. Some of the words and writing were just difficult to get across. I liked the storyline well enough but nothing really grabbed my attention for too long.
Another Place at the Table by Kathy Harrison – The startling and ultimately uplifting narrative of one woman's thirteen-year experience as a foster parent.
For more than a decade, Kathy Harrison has sheltered a shifting cast of troubled youngsters-the offspring of prostitutes and addicts; the sons and daughters of abusers; and teenage parents who aren't equipped for parenthood. All this, in addition to raising her three biological sons and two adopted daughters. What would motivate someone to give herself over to constant, largely uncompensated chaos? For Harrison, the answer is easy.
Another Place at the Table is the story of life at our social services' front lines, centered on three children who, when they come together in Harrison's home, nearly destroy it. It is the frank first-person story of a woman whose compassionate best intentions for a child are sometimes all that stand between violence and redemption.
What I thought: I enjoyed reading a little about the life of this long term foster family. I know some things have changed in foster care since this is written, and that is a good thing. I enjoyed reading about the different kids, although sometimes it was hard to keep up between them all.
Perfect Little World by Kevin Wilson – When Isabelle Poole meets Dr. Preston Grind, she's just about out of options. She recently graduated from high school and is pregnant with her art teacher's baby. Her mother is dead and her father is a drunk. The art teacher is too much of a head-case to help raise the child. Izzy knows she can be a good mother but without any money or prospects, she's left searching.
So when Dr. Grind offers her a space in The Infinite Family Project, she accepts. Housed in a spacious compound in Tennessee, she joins nine other couples, all with children the same age as her newborn son, to raise their children as one extended family. Grind's theory is that the more parental love a child receives, the better off they are.
This attempt at a utopian ideal-funded by an eccentric billionaire-starts off promising: Izzy enjoys the kids, reading to them and teaching them to cook. She even forms a bond with her son more meaningful than she ever expected. But soon the gentle equilibrium among the families is upset and it all starts to disintegrate: unspoken resentments between the couples begin to fester; the project's funding becomes tenuous; and Izzy's feelings for Dr. Grind, who is looking to expunge his own painful childhood, make her question her participation in this strange experiment in the first place.
Written with the same compassionate voice, disarming sense of humor, and quirky charm that made The Family Fang such a success, PERFECT LITTLE WORLD is a poignant look at how the best families are the ones we make for ourselves.
What I thought: I found this interesting as it broke it down by year. A project that people would probably be very fascinated by if it was a real life occurrence. Who knows, maybe people have done it, lol. But I did like the main character even though you don't get a ton of info on who she is..
The Art of War by Sun Tzu – Preserved in China for more than 2,000 years before it was brought to the West by the French, this compact little book is widely regarded as the oldest military treatise in the world. Rumored to have been used by Napoleon in his campaigns to conquer Europe, it today retains much of its original merit. American officers read it closely during World War II. The Japanese army studied the work for decades, and many 20th-century Chinese officers are said to have known the book by heart. More recently, it has also been viewed as a valuable guide to competing successfully in business.
Stressing the importance of attacking your enemy when he is unprepared and scheming to discover his plans, the author advises avoiding the strong and striking at the weak, and using spies for every kind of business. Principles of strategy, tactics, maneuvering, and communications, the treatment of soldiers, the importance of strong troops and well-trained officers, and the administration of rewards and punishments all have a modern ring to them.
A valuable guide to the conduct of war, this classic of military strategy is indispensable to military personnel, history enthusiasts, and anyone intrigued by competition and rivalry.
What I thought: Well, it was definitely unlike any other book I have read, lol. It's basically a plan on war and how to win it. I read that people use the book in relationships and such as well. I just don't know..lol. But I do like some of the ideas in the book. It was just another that was hard to get into.
Well, that's it for this month! I have a feeling it will definitely be less for May, but you never know..