I have always wanted to travel and see new things. I haven't traveled as much as I have wanted, but I have been able to go to a few places. I don't have a passport so I haven't been out of the country except to Mexico and Canada back when you didn't need a passport in order to cross the border. Are you a traveler?
This has been floating around facebook for years now I think and I look every now and again to see if any states have changed. It surprises me when I can add in another state, lol.
A few months ago I was able to add another state and next month I will be able to add in another state or two, maybe even three. Exciting! I don't know if I will ever fill in the whole map, but it is still fun to see where I have been and where I still need to go.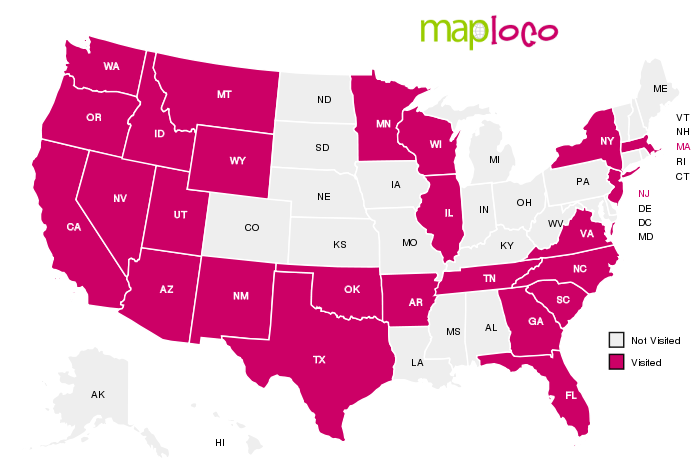 Create Your Own Visited States Map
Now, I am hoping that I remembered all of the ones that I have been to. For some reason Colorado is questionable in my mind.
It's funny seeing all of the little pockets of places that I haven't been.. Now that I am on this side of the country where the states are much smaller, I am hoping to fill in some of the blanks over here.
I am wondering if I will ever leave the country again. I would like to get a passport though, just in case… We were supposed to do something for our 20th anniversary, but something else was more important.. So, maybe an upcoming year it will happen. Better get on that passport thing, eh?
You can click on the link to make your own map.
What does your map look like? Is it more pink or more grey?
Are there places that you really want to visit or are you happy with what you have?
Inquiring minds want to know! 🙂