Ok, the time is just slipping away from me.. Too many things happening all at once! I hope to be caught up soon, especially since I know some people are counting on me for certain things. Eek! I haven't been this busy in a long time.. Anyway… there is still time to talk about what books I read last month! 🙂 So, here is what I read in May!
Swimming Lessons by Claire Fuller – Ingrid Coleman writes letters to her husband, Gil, about the truth of their marriage, but instead of giving them to him, she hides them in the thousands of books he has collected over the years. When Ingrid has written her final letter she disappears from a Dorset beach, leaving behind her beautiful but dilapidated house by the sea, her husband, and her two daughters, Flora and Nan.
Twelve years later, Gil thinks he sees Ingrid from a bookshop window, but he's getting older and this unlikely sighting is chalked up to senility. Flora, who has never believed her mother drowned, returns home to care for her father and to try to finally discover what happened to Ingrid. But what Flora doesn't realize is that the answers to her questions are hidden in the books that surround her. Scandalous and whip-smart, Swimming Lessons holds the Coleman family up to the light, exposing the mysterious truths of a passionate and troubled marriage.
What I thought: I enjoyed the tale that was told in this book. It never really had an aha moment or anything like that, it was just a nice calm read…
Julius Caesar by William Shakespeare – Great tragedy based on Plutarch's account of the lives of Brutus, Julius Caesar, and Mark Antony. Evil plotting, ringing oratory, high tragedy with Shakespeare's incomparable insight, dramatic power. Reprinted complete and unabridged from an authoritative English edition. Explanatory footnotes.
What I thought: Who doesn't know Julius Caesar? lol But I will say it was definitely interesting reading this one out loud…I could understand as I was reading, but I have no idea what the kids were thinking.. 😉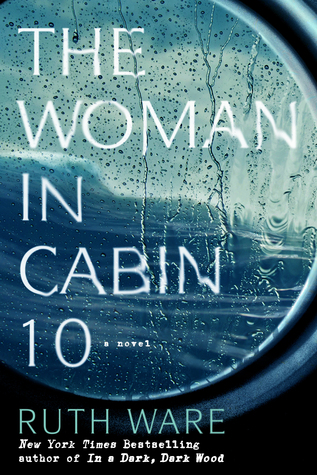 The Woman in Cabin 10 by Ruth Ware – In this tightly wound story, Lo Blacklock, a journalist who writes for a travel magazine, has just been given the assignment of a lifetime: a week on a luxury cruise with only a handful of cabins. At first, Lo's stay is nothing but pleasant: the cabins are plush, the dinner parties are sparkling, and the guests are elegant. But as the week wears on, frigid winds whip the deck, gray skies fall, and Lo witnesses what she can only describe as a nightmare: a woman being thrown overboard. The problem? All passengers remain accounted for—and so, the ship sails on as if nothing has happened, despite Lo's desperate attempts to convey that something (or someone) has gone terribly, terribly wrong…
With surprising twists and a setting that proves as uncomfortably claustrophobic as it is eerily beautiful, Ruth Ware offers up another intense read.
What I thought: This definitely had me going 'huh?' quite a few times, but I enjoyed the story. It wasn't a favorite, but I also didn't feel like I wasted my time either. Good entertainment.. 🙂
C.S. Lewis by Janet & Geoff Benge – From his earliest childhood, C.S. Lewis (1898 -1963) loved to hear and tell stories. Persuaded that stories could reveal the truth about the real world in a unique way, the literature professor would write more than thirty books, including science fiction, theology, literary criticism, and fantasy. In an era marked by two world wars, Lewis attacked tough questions about life and faith headfirst. Convinced that the story of Jesus Christ is the truest of all stories, and known for searching out the truth with honesty, clarity, and imagination, the former atheist would become one of the most influential Christians of the twentieth century.
What I thought: I really learned quite a bit about C.S. Lewis in this book! I love reading about peoples lives like this, in a story format. There is a review on the blog that goes into more detail with this book!
And Then There Was Me by Sadeqa Johnson – Bea and Awilda have been best friends from the moment Awilda threw her fourteen year-old self across Bea's twin-sized bed as if they had known each other forever. Bubbly, adventurous Awilda taught sheltered, shy Bea how to dress, wear her hair and what to do with boys. She even introduced Bea to her husband, Lonnie, in college, who pledged to take good care of her for the rest of their lives. But philanderer Lonnie breaks that promise over and over again, leaving Bea to wrestle with her self-esteem and long time secret addiction.
Recently Lonnie has plopped the family in a New Jersey upper class suburb, which lacks the diversity that Bea craves but has the school district and zip code envy that Lonnie wants. The demands of carrying a third child and fitting into this new environment while pretending that her husband is not cheating on her again, is more than she can handle. And just when she thinks things can't get any worst, the ultimate deception snaps the little thread that was holding her life together and all comes tumbling down.
What I thought: This seemed kind of soap opera-ish to me…but it was still a little entertaining.. 🙂
The Wonder of Us by Kim Culbertson – Riya and Abby are: Best friends. Complete opposites. Living on different continents. Currently mad at each other. About to travel around Europe.
Riya moved to Berlin, Germany, with her family for junior year, while Abby stayed behind in their small California town. They thought it would be easy to keep up their friendship—it's only a year and they've been best friends since preschool. But instead, they ended up fighting and not being there for the other. So Riya proposes an epic adventure to fix their friendship. Two weeks, six countries, unimaginable fun. But two small catches:
They haven't talked in weeks.
They've both been keeping secrets.
Can Riya and Abby find their way back to each other among lush countrysides and dazzling cities, or does growing up mean growing apart?
What I thought: While this book was definitely in the YA category, I enjoyed the two main characters. Who doesn't have a falling out with their best friend, right? I liked reading about their travels around Europe. A good quick read…
Well, those are all the books I read this past month! Do you have any favorites recently? I love taking suggestions!