I have been a fan of Memoria Press for quite a while now! You will recall that we recently tried out the First Form Greek Set with Ryan. One thing that was mentioned as we tried that set out was that it is better to have used the First Form Latin Complete Set before starting the Greek. So, while I had originally planned on having one of the younger kids use this Latin Set, I decided to have Ryan use it to see if it would help him when he goes back to the Greek.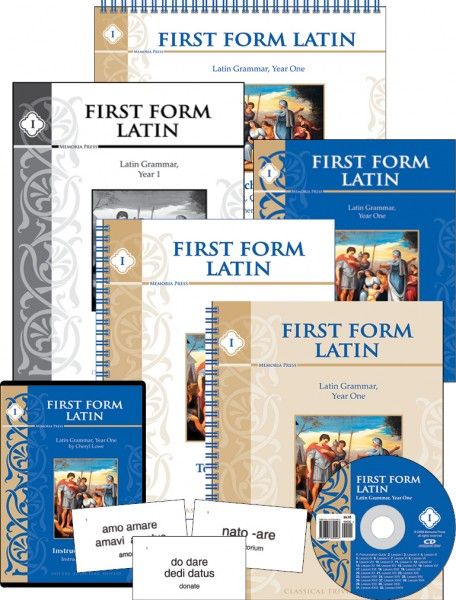 You can see that the included items are almost identical to how they are in the Greek Set. That was very helpful for us in that we were already used to how the Greek set worked. I definitely enjoy the variety in the materials included.
For the student books, you have the text and the workbook. The Text book is a great size, not cumbersome at all, which is nice. The book is broken down into units and then into lessons within that unit. After the first unit, they do a review of what you just learned, a review on previous units and then the next unit introduction. Each unit is not very long at all, but there is a lot of material covered. So while it may sound overwhelming, it really isn't.
The workbook works well with the textbook. In lesson twenty for example, it starts out with Grammar Review. It is a fill in the blank review section from the text. Then there is a vocabulary section that you can see here. You are supposed to practice completing the chart orally and on paper until you have it mastered.
Ryan did this a lot on blank pieces of paper because his handwriting doesn't fit in these boxes and he could also coordinate where he wanted things to go on his paper. He has all of his papers in a three ring binder so that they are in an order that he likes and are not going to get lost.
There is also a section for Declensions and form drills. Different drills ask for different things and you just fill these out. Lastly is a Translation Skills section. There are different phrases in Latin that you are supposed to translate, a couple that you are to diagram and then in this lesson there is a Latin Sayings Review section. Different sayings in English that you are to translate.
As you progress of course the lessons get more involved…and as well, the lessons previous to this aren't as involved.. It's definitely a slow progression so as not to overwhelm you.
One of the things that I love about Memoria Press books is how everything works together. The teacher key is set up just like the student workbook. Of course, since Ryan wrote down his answers on another paper, it wasn't as easy to just look through the book, but it was still easy to see what the answer needed to be.
The teacher manual goes over each lesson and what is needed, in order. Each lesson plan has four sections: Opening, Recitation, Review; Latin Saying; Vocabulary; and Grammar – Syntax.
At the beginning of the book there are a lot of suggestions on how to do different things to make learning more interesting. I highly suggest reading the whole beginning sections just to make it easier in general, but also for the fun games and such..
There is also a book of quizzes and tests that have perforated papers that you can just tear out when it is time. Thankfully a lot of the spaces are bigger and Ryan could use these with no problem.
Lastly, and definitely not least…also included are three DVD's that cover 9 hours and only 15-20 minutes per lesson. The information covered is extremely helpful, especially when it comes to diagramming because sometimes that gets difficult in English! Or is that just me…ha!
There is also a cd and some flash cards. Like I mentioned above, everything works so well together! The cd includes a pronunciation guide which is a necessity if you ask me! The flashcards are helpful for keeping fresh what you learned.
Ryan definitely could see a difference in learning with this First Form Latin Complete Set before doing the Greek and he suggests that for everyone. If your kids are younger, Memoria Press includes many levels of Latin learning! There really is something for all levels!
If you want to see what others though of First Form Latin, other levels of Latin, or even some sciences, feel free to click the link below! You will find something that works best for your child…or even for yourself!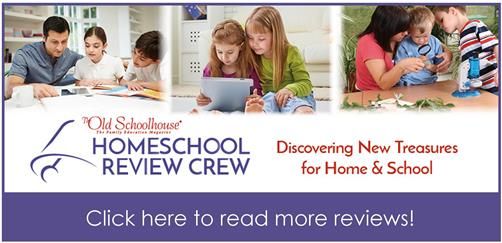 Memoria Press First Form Latin Complete Set