When Ryan first started taking his college courses a few years ago, we didn't know that he was going to be taking a public speaking class that involved quite a bit of speech writing. It was a required class so it just had to be done. We didn't do a lot of speech writing in our homeschool to that point! So I wanted to make sure that we had something for Kyle and Lauren when it was their turn to take that class! Hewitt Homeschooling has a Speech course that has saved the day for us all!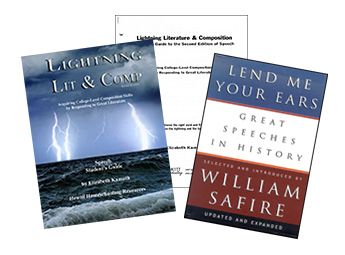 The
Lend Me Your Ears
text has over 1100 pages of speeches! It is a thick book! The authors of the speeches are quite varied; Demosthenes, Queen Elizabeth I, Dalai Lama, John F. Kennedy, Edgar Allan Poe are just a few of the authors included! In this updated version there is a section of undelivered speeches that I find fascinating!
Included in both the student and teacher's guides are two schedules. One is for their suggested semester schedule. This is the schedule they recommend. They also offer a full-year schedule, and this is the one we chose to follow after looking over the materials.
The student guide is not very long, but there is a lot of information inside. There is a great introduction section that I highly suggest being read and it is the first assignment to be done in the course. It is only about ten pages. It gives information on how to use the guide and also explain more about the course.
Each lesson isn't very long, but there is a lot in each lesson. Does that make sense? I will try and explain.
Take the first lesson…it is all about the opening of a speech. The first page lists the selections to be read from the Lend Me Your Ears text. For this lesson there are eight different speeches.


Next is a While You Read section. This section is focusing on the opening of the different speeches. This is good to read before you actually read the selections on the previous page.

Next are some comprehension questions. These are important when you read anything, but definitely helpful with these speeches! I know sometimes if I am listening to a speech that isn't grabbing me my mind has a tendency to wander. A lot of these are great speeches though, so that shouldn't happen..
Next is the Literary Lesson.. This is the longest section in the lesson. It will give you different ways to go about, in this case, your opening. I LOVE this.. There isn't one right way to right a speech, and with the options given, I think it gives students ideas that they may not have had before! Also, speeches can be intimidating to write, and this helps with that.
In this lesson they use a commencement speech as an example. They then go through eight different ways to write an opening of a commencement speech.. What a way to get your mind thinking!

Lastly are some writing exercises. You only have to choose one exercise for this lesson, not all five. These are pretty thorough exercises and really make you think! My kids like having choices, we do that a lot in school, so this is perfect for us.. We have made it through Unit 1 Lesson 1 and are all excited to work on the rest of the book!
At the back of the book there is appendix A that has some discussion questions, broken down by lesson, appendix B has lists of additional reading by lesson, and appendix C is where the schedules are.
The Teacher's Guide has some of the same things that the student's guide does. The schedules, the writing exercises, and discussion questions…but it also has the answers to the comprehension questions. This is definitely good to have. The best part is the grading section. I find grading writing papers difficult. The address certain things that are pretty much all things that I have thought, so this was helpful for me!
The student's guide is only eight lessons long, but each one is so full of things to do that by the time you are done, a full speech has been picked through for you to learn by!
This is going to be a great addition to our school year and definitely a good start for when they start their college courses their junior year!
Hewitt Homeschooling has all sorts of Lightning Literature and Composition kits for high school that I am going to look into as well. I am drawn to the World Literature! If you are interested in checking out what others thought of the Speech that I did or possibly finding out what they thought of something your own kids ages, feel free to click the link below! There really is something for everyone!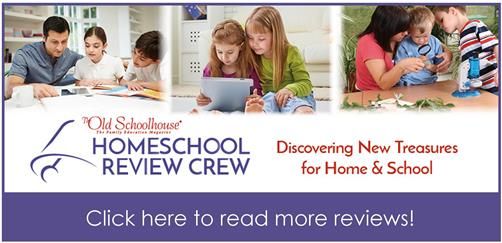 Hewitt Homeschooling Speech