You guys know how much we enjoy using Home School in the Woods products. My kids enjoy the hands-on approach to the way they do things, so this is just perfect for them! We have done a variety of different ones in the past, but one that I was really looking forward to trying was Wonders of the World, which is a part of the Lap-Paks line.
What I especially loved about this one is that it included Ancient, Medieval, Modern, and Natural. Not just one section out of those!
Most of our schooling is reading. I mean, we go through books and books and more books. Sometimes they just get a little tired of my voice, and, let's be honest, my voice gets tired! lol. This set comes with mp3's that you can use if you'd like, or it comes with a text booklet that you can print out. You can mix it up if you want, even have a child read aloud one day!
The best thing about Home School in the Woods is that it truly is a hands-on project set! Every wonder of the world has them making something new that will eventually fill up a lap book!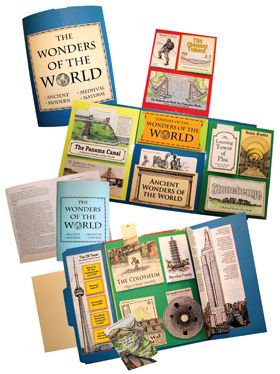 Granted, my kids don't color much anymore, so it won't look like this one once completed, but the content will still be there. With it being something that they put together, I think it is something that will want to be looked at over and over!
We have made our way through Ancient and are working on the Medieval set now. Even though the information provided isn't lengthy, it is very interesting and you still learn a lot. I have learned quite a few things myself!
Here are a few examples of our latest activities.


This one actually has layers that you use cardboard to help lift it off the page. It is hard to tell in the photo. One of my kids figured out that the thick double sided tape works well for that too! We will have to remember that for the future! But I love how it makes it look 3-D.


This one is obvious what it is…lol. But you can make the tower lean or make it straight. I think it looks funny if it isn't leaning though, right?


This one has a tab that you pull up and the knight appears. Put the tab back down and he disappears. Just like those books that you always read with kids. So fun for them to actually make these!
I love all the creativity that Home School in the Woods uses in their products and then also that you do in putting them together.
Everything is included for the lapbook activities except the actual craft stuff. Paper, tape, that sort of thing. But the files for everything are there. What we do is print of the days text assignment and project direction the night before. I make sure we have everything ready and just get it all situated for all three kids. We read or listen to the corresponding information and then we work on the project!
The direction sheet has photos with along with the steps so you can see what you are supposed to be doing. Also included in another file is just a file of pictures of the completed projects. That comes in handy too!
In the past we worked on U.S. Elections and you can read my review for that here. Most recently we did the HISTORY Through the Ages Project Passport World History Study: Ancient Greece and you can read my review here. I am very pleased with the Project Passport choices the more we work on Geography, so I will be looking into doing more of those in the future!
Most recently they came out with a la carte projects! I am fascinated with this idea! This is perfect if you are learning about one topic or the other and want to do a little extra without getting the whole kit. I am looking at Get Your Kicks on Route 66 since we went that way for a little bit on our way out to NC from AZ! If you are interested, you can use the code alacarte at checkout to get the Erie Canal project on that page for free. It's a great way to check out how they work!
These kits are geared toward grades 3-8, but like I said, my high school kids all enjoy doing these! If you are interested in what other courses look like, feel free to click on the banner below!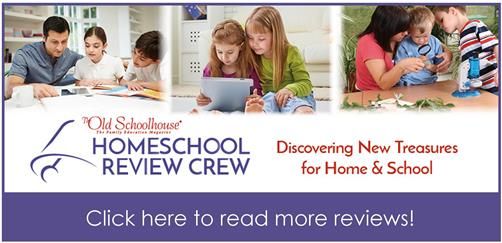 Home School in the Woods Wonders of the World