WOW!! I didn't think I read too many books in July. I guess I was wrong! I just logged in to my Goodreads account and sat there wondering if it was playing tricks on me! Granted, Jeffy has been gone a bit this month and I tend to read at night rather than watch tv since it isn't fun without him…but still. I really am shocked, lol. So, here is my very random list of what I read in July. 🙂
The Leavers by Lisa Ko – One morning, Deming Guo's mother, an undocumented Chinese immigrant named Polly, goes to her job at the nail salon and never comes home. No one can find any trace of her.
With his mother gone, eleven-year-old Deming is left with no one to care for him. He is eventually adopted by two white college professors who move him from the Bronx to a small town upstate. They rename him Daniel Wilkinson in their efforts to make him over into their version of an "all-American boy." But far away from all he's ever known, Daniel struggles to reconcile his new life with his mother's disappearance and the memories of the family and community he left behind.
Set in New York and China, The Leavers is a vivid and moving examination of borders and belonging. It's the story of how one boy comes into his own when everything he's loved has been taken away–and how a mother learns to live with the mistakes of her past.
What I thought: This book was good and then kind of questionable and I just didn't know how I felt about it while reading. It kind of jumped around a bit. I did end up liking it well enough in the end as everything made more sense to me.
At Any Cost by Mike & Hayley Jones – When Mike and Hayley set out to adopt a child from Sierra Leone, Africa, never in their wildest imaginations did they dream this venture would lead to the "Jones Dozen." This dramatically moving story will amaze and inspire any reader. Their stunning observation: "It was the least we could do!"
What I thought: I enjoyed reading the story of this couple adopting so many children! Some parts of the book jumped around a bit as well as repeated itself a bit..but in the end it was a well told story!
Love Was Near by Sandra Martin – Love Was Near, offers a deeper look into the movie, Trust Fund, exposing what's behind the story and what Reese is thinking. Like all of us, Reese is ready to forget some of the things she's done and head towards a brighter future. But before she slams this chapter of her life shut, she takes a final glance back. She doesn't turn to salt, but she does find she has plenty to learn about life, love and the risk of trusting others.
Reese invites us to join her on a very personal journey as she shares with us her everyday struggles and answers our questions of who did what and why. Leading us to questions about our own identity, purpose, and life plan. Don't worry about having the right answers; there are none. Just be honest, if not for you, for the future you; It's your story!
What I thought: This book goes with the movie Trust Fund that I talked about in this review. It was a journal type book, but it had a few punctuation errors that kind of drove me a little batty, but the overall idea was good.
The Imitation of Christ by Thomas a Kempis – This classic of Christian devotional literature has brought understanding and comfort to millions for centuries. Both Protestants and Catholics — as well as mystics and historians of religious thought — have studied these meditations on the life and teachings of Jesus, finding in them a path to prayer and spiritual guidance. Written in a candid and conversational style, The Imitation of Christ discusses liberation from worldly inclinations, recollection as a preparation for prayer, the consolations of prayer, and the place of eucharistic communion in a devout life. With its simple, readable text, this translation will appeal to new readers as well as to those already familiar with this religious classic.
What I thought: Reading this aloud probably changed how I feel about it…but it was a hard read. It seemed repetitive quite a bit. I did get a lot of out it though!
Such Small Hands by Andres Barba – It was once a happy city; we were once happy girls. . . . Life changes at the orphanage the day Marina shows up. As she tries to find her place, she creates a game whose rules are dictated by a haunting violence. In hypnotic, lyrical prose, Andrés Barba evokes the pain of loss and the hunger for acceptance—a masterwork from the Spanish writer at the peak of his powers.
What I thought: This was definitely a different kind of book than what is normal for me. I was confused through a lot of the book, although it was interesting in a weird way. The ending was just kind of abrupt and I questioned the whole story, lol.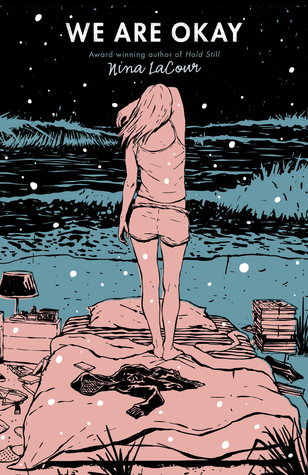 We Are Okay by Nina LaCour – You go through life thinking there's so much you need…
Until you leave with only your phone, your wallet, and a picture of your mother.
Marin hasn't spoken to anyone from her old life since the day she left everything behind. No one knows the truth about those final weeks. Not even her best friend, Mabel. But even thousands of miles away from the California coast, at college in New York, Marin still feels the pull of the life and tragedy she's tried to outrun. Now, months later, alone in an emptied dorm for winter break, Marin waits. Mabel is coming to visit, and Marin will be forced to face everything that's been left unsaid and finally confront the loneliness that has made a home in her heart.
What I thought: I was intrigued by the characters in this book…even the ones that weren't in it all that much. The author did a great job with them. I enjoyed the story as well!
The Rising by Heather Graham and Jon Land – Twenty-four hours. That's all it takes for the lives of two young people to be changed forever.
Alex Chin has the world on a plate. A football hero and homecoming king with plenty of scholarship offers, his future looks bright. His tutor, Samantha Dixon, is preparing to graduate high school at the top of her class. She plans to turn her NASA internship into a career. When a football accident lands Alex in the hospital, his world is turned upside down. His doctor is murdered. Then, his parents. Death seems to follow him wherever he goes, and now it's after him.
Alex flees. He tells Samantha not to follow, but she became involved the moment she walked through his door and found Mr. and Mrs. Chin as they lay dying in their home. She cannot abandon the young man she loves. The two race desperately to stay ahead of Alex's attackers long enough to figure out why they are hunting him in the first place. The answer lies with a secret buried deep in his past, a secret his parents died to protect. Alex always knew he was adopted, but he never knew the real reason his birth parents abandoned him. He never knew where he truly came from. Until now.
What I thought: I enjoyed this book! It was a little weird, a little cool.. I think I read this one pretty quickly!
And We're Off by Dana Schwartz – Seventeen-year-old Nora Holmes is an artist, a painter from the moment she could hold a brush. She inherited the skill from her grandfather, Robert, who's always nurtured Nora's talent and encouraged her to follow her passion. Still, Nora is shocked and elated when Robert offers her a gift: an all-expenses-paid summer trip to Europe to immerse herself in the craft and to study history's most famous artists. The only catch? Nora has to create an original piece of artwork at every stop and send it back to her grandfather. It's a no-brainer: Nora is in!
Unfortunately, Nora's mother, Alice, is less than thrilled about the trip. She worries about what the future holds for her young, idealistic daughter and her opinions haven't gone unnoticed. Nora couldn't feel more unsupported by her mother, and in the weeks leading up to the trip, the women are as disconnected as they've ever been. But seconds after saying goodbye to Alice at the airport terminal, Nora hears a voice call out: "Wait! Stop! I'm coming with you!"
What I thought: I enjoyed this book, the story of a mother and daughter. It's probably pretty correct for a lot of relationships. I enjoyed reading about the various places they went to, and the people…
The Arrangement by Sarah Dunn – Lucy and Owen, ambitious, thoroughly-therapized New Yorkers, have taken the plunge, trading in their crazy life in a cramped apartment for Beekman, a bucolic Hudson Valley exurb. They've got a two hundred year-old house, an autistic son obsessed with the Titanic, and 17 chickens, at last count. It's the kind of paradise where stay-at-home moms team up to cook the school's "hot lunch," dads grill grass-fed burgers, and, as Lucy observes, "chopping kale has become a certain kind of American housewife's version of chopping wood."
When friends at a wine-soaked dinner party reveal they've made their marriage open, sensible Lucy balks. There's a part of her, though-the part that worries she's become too comfortable being invisible-that's intrigued. Why not try a short marital experiment? Six months, clear ground rules, zero questions asked. When an affair with a man in the city begins to seem more enticing than the happily-ever-after she's known for the past nine years, Lucy must decide what truly makes her happy-"real life," or the "experiment?"
What I thought: I enjoyed reading about this couple as well as the other characters in the book. The story goes pretty much as well as can be expected, but I liked how it was written.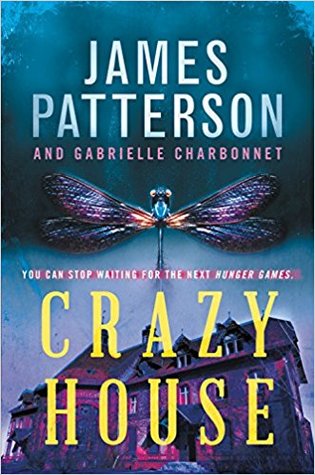 Crazy House by James Patterson and Gabrielle Charbonnet – No one gets out alive.
Seventeen-year-old Becca Greenfield was snatched from her home and thrown without reazon into a hellish prison known as the Crazy House. To avoid execution, she's told to shut her mouth and keep her head down.
Becca was never really good at either.
Her only hope for survival is for her sister, Cassie, to find her—that the "good twin" will stop following the rules and start breaking them, before it's too late. Because the jailers at Crazy House soon discover they made a mistake that could get both sisters killed…
What I thought: This book was pretty good, I read it pretty fast as I kept wanting to see what happened next. I could easily see a sequel being made of this and even possibly a movie. Loved it.
Here I stand by Roland H. Bainton – With sound historical scholarship and penetrating insight, Roland Bainton examines Luther's widespread influence. He re-creates the
spiritual setting of the sixteenth century, showing Luther's placewithin it and influence upon it. Richly illustrated with more than100 woodcuts and engravings from Luther's own time, Here I Stand dramatically brings to life Martin Luther, the great Reformer.
A specialist in Reformation history, Roland H. Bainton was forforty-two years Titus Street Professor of Ecclesiastical History at Yale, and he continued his writing well into his twenty years of retirement. Bainton wore his scholarship lightly and had a lively, readable style. His most popular book was Here I Stand: A Life of Martin Luther (1950), which sold more than a million copies.
What I thought: Again…reading this aloud was exhausting. Thankful for all of the pictures..lol. Sometimes it was hard to follow, but we got the basic idea…
The Nearness of You by Amanda Eyre Ward – Brilliant heart surgeon Suzette Kendall is stunned when Hyland, her husband of fifteen years, admits his yearning for a child. From the beginning they'd decided that having children was not an option, as Suzette feared passing along the genes that landed her mother in a mental institution. But Hyland proposes a different idea: a baby via surrogate.
Suzette agrees, and what follows is a whirlwind of candidate selections, hospital visits, and Suzette's doubts over whether she's made the right decision. A young woman named Dorothy Muscarello is chosen as the one who will help make this family complete. For Dorrie, surrogacy (and the money that comes with it) are her opportunity to leave behind a troubled past and create a future for herself—one full of possibility. But this situation also forces all three of them—Dorrie, Suzette, and Hyland—to face a devastating uncertainty that will reverberate in the years to come.
Beautifully shifting between perspectives, The Nearness of You deftly explores the connections we form, the families we create, and the love we hold most dear.
What I thought: I was caught up in the story pretty quickly. I was surprised at the jump in years when it happened, I wasn't quite ready for that as I was attached to the characters the way they were at that point. There were quite a few characters and I typically don't like jumping around from one to the other, but it worked out well…
:phew: If you read this far, you are amazing, lol. Let me know if you have any suggestions on other book titles! I am always looking for titles and most of the time I just grab books at the library that I am drawn to by the cover.. Like the last one has poppies which are my favorite flower. 🙂