So, I passed my Goodread's challenge goal this month!! That's crazy! I never know what to set my goal number to and now it has me wondering about next years! I love the school year because we read so many books that I never read in school that it seems like everyone else did. It's a good thing! Anyway, here is what I read in September!
Orleans by Sherri L. Smith – First came the storms.Then came the Fever.
And the Wall.
After a string of devastating hurricanes and a severe outbreak of Delta Fever, the Gulf Coast has been quarantined. Years later, residents of the Outer States are under the assumption that life in the Delta is all but extinct…but in reality, a new primitive society has been born.
Fen de la Guerre is living with the O-Positive blood tribe in the Delta when they are ambushed. Left with her tribe leader's newborn, Fen is determined to get the baby to a better life over the wall before her blood becomes tainted. Fen meets Daniel, a scientist from the Outer States who has snuck into the Delta illegally. Brought together by chance, kept together by danger, Fen and Daniel navigate the wasteland of Orleans.  In the end, they are each other's last hope for survival.
Sherri L. Smith delivers an expertly crafted story about a fierce heroine whose powerful voice and firm determination will stay with you long after you've turned the last page.
What I thought – Wow, I was reading this book during all of the hurricanes that were happening and it was just a little creepy… But I totally enjoyed this book! I could see it being made a movie as long as it wasn't done too cheesy. I mean, it would need a bit more umph, but yeah. I didn't see the ending coming right away.. It was a pretty good story!
The Hiding Place by Corrie ten Boom with John and Elizabeth Sherrill – At one time Corrie ten Boom would have laughed at the idea that there would ever be a story to tell. For the first fifty years of her life nothing at all out of the ordinary had ever happened to her. She was an old-maid watchmaker living contentedly with her spinster sister and their elderly father in the tiny Dutch house over their shop. Their uneventful days, as regulated as their own watches, revolved around their abiding love for one another. However, with the Nazi invasion and occupation of Holland, a story did ensue.
Corrie ten Boom and her family became leaders in the Dutch Underground, hiding Jewish people in their home in a specially built room and aiding their escape from the Nazis. For their help, all but Corrie found death in a concentration camp. The Hiding Place is their story.
What I thought – I thought this was fantastic! My friends had all talked about it here and there and I had never read it. What an insight into such a horrible time. I have been enjoying reading true historical books like these lately…
A Man Called Ove by Fredrik Backman – A grumpy yet loveable man finds his solitary world turned on its head when a boisterous young family moves in next door.
Meet Ove. He's a curmudgeon—the kind of man who points at people he dislikes as if they were burglars caught outside his bedroom window. He has staunch principles, strict routines, and a short fuse. People call him "the bitter neighbor from hell." But must Ove be bitter just because he doesn't walk around with a smile plastered to his face all the time?
Behind the cranky exterior there is a story and a sadness. So when one November morning a chatty young couple with two chatty young daughters move in next door and accidentally flatten Ove's mailbox, it is the lead-in to a comical and heartwarming tale of unkempt cats, unexpected friendship, and the ancient art of backing up a U-Haul. All of which will change one cranky old man and a local residents' association to their very foundations.
What I thought – Again, another book that all my friends have read ages ago that I finally got a chance to read. So glad I did, I thoroughly enjoyed it! I totally thought the main character sounded like Jeffy, lol.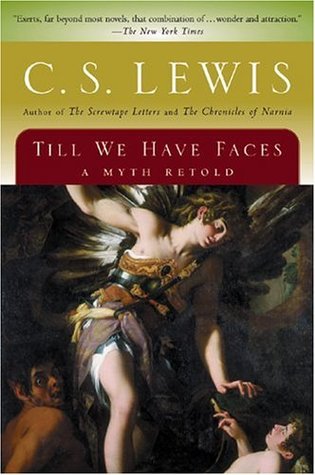 Till We Have Faces by C.S. Lewis – In this timeless tale of two mortal princesses- one beautiful and one unattractive- C.S. Lewis reworks the classical myth of Cupid and Psyche into an enduring piece of contemporary fiction. This is the story of Orual, Psyche's embittered and ugly older sister, who posessively and harmfully loves Psyche. Much to Orual's frustration, Psyche is loved by Cupid, the god of love himself, setting the troubled Orual on a path of moral development.
Set against the backdrop of Glome, a barbaric, pre-Christian world, the struggles between sacred and profane love are illuminated as Orual learns that we cannot understand the intent of the gods "till we have faces" and sincerity in our souls and selves.
What I thought – Eh…it was ok. It was a good story but after a while it just got frustrating and repetitive.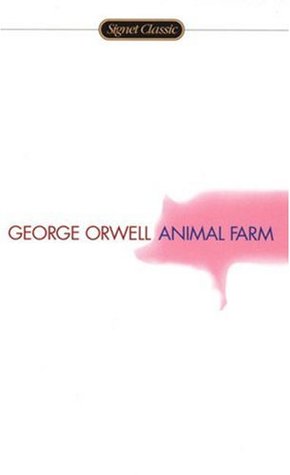 Animal Farm by George Orwell – A farm is taken over by its overworked, mistreated animals. With flaming idealism and stirring slogans, they set out to create a paradise of progress, justice, and equality. Thus the stage is set for one of the most telling satiric fables ever penned –a razor-edged fairy tale for grown-ups that records the evolution from revolution against tyranny to a totalitarianism just as terrible.
When Animal Farm was first published, Stalinist Russia was seen as its target. Today it is devastatingly clear that wherever and whenever freedom is attacked, under whatever banner, the cutting clarity and savage comedy of George Orwell's masterpiece have a meaning and message still ferociously fresh.
What I thought – How have I not read this one until now, right? Well, there are a slew of books that I haven't read… :sigh: But this one was just eh for me too. I liked it, but just… :shrug: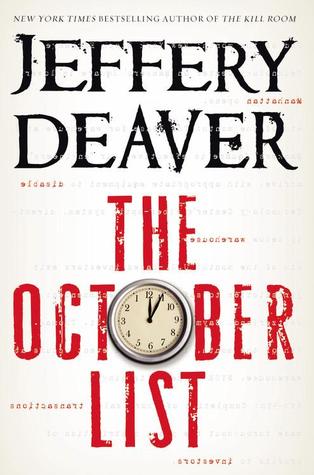 The October List by Jeffery Deaver – Gabriela waits desperately for news of her abducted daughter.
At last, the door opens.
But it's not the negotiators. It's not the FBI.
It's the kidnapper.
And he has a gun.
How did it come to this?
Two days ago, Gabriela's life was normal. Then, out of the blue, she gets word that her six-year-old daughter has been taken. She's given an ultimatum: pay half a million dollars and find a mysterious document known as the "October List" within 30 hours, or she'll never see her child again.
A mind-bending novel with twists and turns that unfold from its dramatic climax back to its surprising beginning, THE OCTOBER LIST is Jeffery Deaver at his masterful, inventive best.
What I thought- This book was so hard to get used to as it was written backwards. Some of the things I figured out ahead of time, but I still don't understand what exactly happened at the end…or is it the beginning, lol.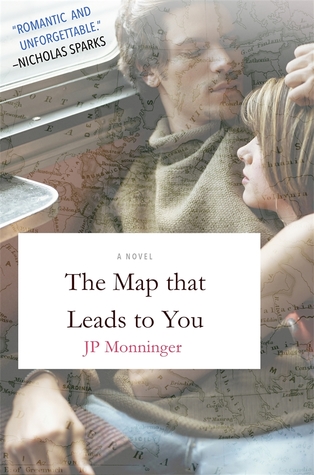 The Map that Leads to You by JP Monninger – A romantic, vivid novel that takes place in the tender time of a young woman's life: Heather has graduated from college and is traveling around Europe with her two best friends. She's left school responsibility behind and adult responsibility is looming, but this is her one, one last summer to be free. Heather doesn't expect to even meet Jack, let alone fall in love with him. Jack is an enigmatic Vermonter a few years older than she is, who is following his grandfather's journal to various cities around Europe. But in the same way that forces are bringing Jack and Heather together, life and duty are pushing them apart. And Jack has a secret that is going to change absolutely everything.
What I thought – It seems like a story somewhat told before but I really enjoyed the way it was done. All of the places they traveled to..the way it was written really made you feel like you were there. I could see this being a movie too in a way. I liked it!
Bridge to the Sun by Gwen Terasaki – Bridge to the Sun is a beautiful, tender, and moving love story — the true report of an international and interracial marriage of a an American girl from the mountains of Tennessee and a Japanese diplomat. They were married in 1931, just as tension between their two countries was mounting, and their constant dream was of a "rainbow across the Pacific," a bridge of peace between Japan and the United States.
In the following ten years, Mr. Terasaki's service with the Japanese Foreign Office took them to Japan, China (where their daughter Mariko was born), Cuba, and Washington, where they were living at the time of the attack on Pearl Harbor. As head of Japanese intelligence in the Western Hemisphere, Terasaki took enormous personal risks to avert war between the two countries. Mrs. Terasaki describes with rare perception and fine humor her months of internment with the Japanese diplomatic corps at Hot Springs and White Sulphur Springs, the long voyage back to Japan via Africa on the famed exchange ship Gripsholm, and the struggle of the war years in Japan which were marked by illness and near starvation. After the surrender, Mr. Terasaki, a courageous and brilliant man who had risked everything to avert the war, was appointed liaison between the Emperor and General MacArthur, and in this capacity, he made a lasting contribution to post-war relations between the two countries.
What I thought – This is another true story during a war.. I thought it was fascinating too, I loved reading how this family dealt with this particular war. This version that I had was filled with mistakes, so that made it a little more difficult to read, but otherwise it was really good…
That is what I read in September! Let me know if you have any book recommendations! I am always looking for some, even if it is a year down the road that I get to them, lol.