I am not sure where October went, how about you? It seems like I was at the airport every other day, which I probably was! Thankfully that season is about over…I did get a few extra pages read while waiting in the cell lot, so that's always nice. How close are you to reaching your Goodread's challenge goal? I still don't know if I should change mine for next year or not..I have a couple months to decide. Here is what I read in October, let me know if you have read these or if you have any suggestions for future reads!
Zenn Diagram by Wendy Brant – The more I touch someone, the more I can see and understand, and the more I think I can help. But that's my mistake. I can't help. You can't fix people like you can solve a math problem.
Math genius. Freak of nature. Loner.
Eva Walker has literally one friend—if you don't count her quadruplet three-year-old-siblings—and it's not even because she's a math nerd. No, Eva is a loner out of necessity, because everyone and everything around her is an emotional minefield. All she has to do is touch someone, or their shirt, or their cell phone, and she can read all their secrets, their insecurities, their fears.
Sure, Eva's "gift" comes in handy when she's tutoring math and she can learn where people are struggling just by touching their calculators. For the most part, though, it's safer to keep her hands to herself. Until she meets six-foot-three, cute-without-trying Zenn Bennett, who makes that nearly impossible.
Zenn's jacket gives Eva such a dark and violent vision that you'd think not touching him would be easy. But sometimes you have to take a risk…
What I thought: I thought this was a cute book and I enjoy the way it was told. I love books where someone has a strange 'gift' like that.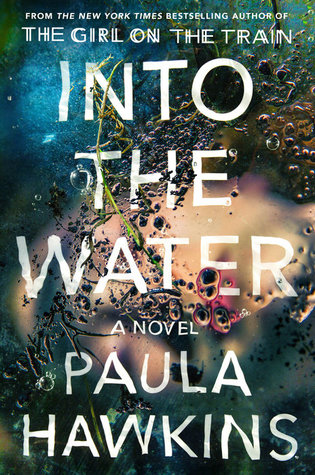 Into the Water by Paula Hawkins – In the last days before her death, Nel called her sister. Jules didn't pick up the phone, ignoring her plea for help.
Now Nel is dead. They say she jumped. And Jules has been dragged back to the one place she hoped she had escaped for good, to care for the teenage girl her sister left behind.
But Jules is afraid. So afraid. Of her long-buried memories, of the old Mill House, of knowing that Nel would never have jumped.
And most of all she's afraid of the water, and the place they call the Drowning Pool . . .
What I thought: While the story line was interesting, bits of the book seemed repetitive. I did enjoy the story…but.. I think the ending was a bit odd too if I remember right.
Cry, the Beloved Country by Alan Paton – Cry, the Beloved Country, the most famous and important novel in South Africa's history, was an immediate worldwide bestseller in 1948. Alan Paton's impassioned novel about a black man's country under white man's law is a work of searing beauty.
Cry, the beloved country, for the unborn child that is the inheritor of our fear. Let him not love the earth too deeply. Let him not laugh too gladly when the water runs through his fingers, nor stand too silent when the setting sun makes red the veld with fire. Let him not be too moved when the birds of his land are singing, nor give too much of his heart to a mountain or valley. For fear will rob him of all if he gives too much.
The eminent literary critic Lewis Gannett wrote, "We have had many novels from statesmen and reformers, almost all bad; many novels from poets, almost all thin. In Alan Paton's Cry, the Beloved Country the statesman, the poet and the novelist meet in a unique harmony."
Cry, the Beloved Country is the deeply moving story of the Zulu pastor Stephen Kumalo and his son, Absalom, set against the background of a land and a people riven by racial injustice. Remarkable for its lyricism, unforgettable for character and incident, Cry, the Beloved Country is a classic work of love and hope, courage and endurance, born of the dignity of man.
What I thought: I enjoyed this book! The story wasn't fast or anything but it was a very interesting read. I liked the main character and his adventures.
Death Comes for the Archbishop by Willa Cather – There is something epic—and almost mythic—about this sparsely beautiful novel by Willa Cather, although the story it tells is that of a single human life, lived simply in the silence of the desert. In 1851 Father Jean Marie Latour comes as the Apostolic Vicar to New Mexico. What he finds is a vast territory of red hills and tortuous arroyos, American by law but Mexican and Indian in custom and belief. In the almost forty years that follow, Latour spreads his faith in the only way he knows—gently, although he must contend with an unforgiving landscape, derelict and sometimes openly rebellious priests, and his own loneliness. One of these events Cather gives us an indelible vision of life unfolding in a place where time itself seems suspended.
What I thought: I just couldn't get into this book. I enjoyed some of the stores within, but overall it just seemed like it was all over the place.
The Girl Who Was Taken by Charlie Donlea – Nicole Cutty and Megan McDonald are both high school seniors in the small town of Emerson Bay, North Carolina. When they disappear from a beach party one warm summer night, police launch a massive search. No clues are found, and hope is almost lost until Megan miraculously surfaces after escaping from a bunker deep in the woods.
A year later, the bestselling account of her ordeal has turned Megan from local hero to national celebrity. It s a triumphant, inspiring story, except for one inconvenient detail: Nicole is still missing. Nicole's older sister Livia, a fellow in forensic pathology, expects that one day soon Nicole's body will be found, and it will be up to someone like Livia to analyze the evidence and finally determine her sister's fate. Instead, the first clue to Nicole's disappearance comes from another body that shows up in Livia's morgue that of a young man connected to Nicole's past. Livia reaches out to Megan for help, hoping to learn more about the night the two were taken. Other girls have gone missing too, and Livia is increasingly certain the cases are connected.
But Megan knows more than she revealed in her blockbuster book. Flashes of memory are coming together, pointing to something darker and more monstrous than her chilling memoir describes. And the deeper she and Livia dig, the more they realize that sometimes true terror lies in finding exactly what you've been looking for.
What I thought: I enjoyed this book! The characters were written well and I could really get into the story. One part was more of a 'duh' moment for me because of course it had to happen, but it didn't take away from the story for me..
The Proper Care and Maintenance of Friendship by Lisa Verge Higgins – What makes a wife a lover?
For Kate, the spark went out of her marriage long ago but her husband doesn't seem to notice. Their role as parents consumes their lives so they need to rekindle the romance they once shared.
What makes a woman a mother?
For Jo, a high-powered career has led her to believe that she doesn't have a single maternal instinct. When an orphan unexpectedly enters her life, she is forced to confront her own unhappy childhood and the walls it has built around her heart.
What makes a man the love of your life?
For Sarah, home is the steamy jungles of Africa while the man of her dreams waits in the air-conditioned confines of Los Angeles. Her longing for this man from the past is blinding her to a new love standing right in front of her.
What these women all have in common is a friend with a generous soul, an irrepressible spirit- and a serious illness. In her final letters, Rachel raises one last question: What makes a friend live in our hearts forever?
What I thought: Gah…to have friends like these! I really enjoyed this story and how everyone changed, it was nice to read..
Abolition of Man by C.S. Lewis – In the classic The Abolition of Man, C.S. Lewis, the most important Christian writer of the 20th century, sets out to persuade his audience of the importance and relevance of universal values such as courage and honor in contemporary society. Both astonishing and prophetic, The Abolition of Man is one of the most debated of Lewis's extraordinary works. National Review chose it as number seven on their "100 Best Nonfiction Books of the Twentieth Century."
What I thought: Well, I just don't even know what I read…bits of it were ok, but most just ended up being nothing. Maybe because I was reading this one out loud? Just seemed like someone would be yelling these words at me…just didn't like it.
Well, that's what I read in October! I hope you have read some good books lately!!